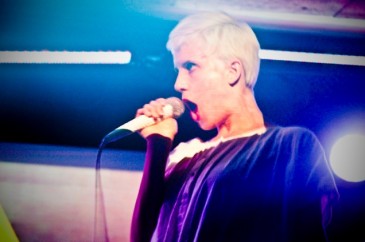 Befitting the venue's name, those in attendance at the Electric Owl received an entrancing set of electric coos courtesy of openers Purity Ring. The curtains opened to reveal the Edmonton-based twosome basking in the homemade glow of a single large drum and the illuminated knobby buds of a PVC piping-laden MIDI controller contraption. The crowd swooned to singer Megan James' delicate voice, which was electronically modulated to add more eerie prettiness. Musical partner Corin Roddick, twitching and hair-flicking the whole night through, tapped at the tubing of his homemade instrument – which looked not unlike a yard sale IKEA lamp – producing atmospheric, swirling melodies and pulsing beats. The irresistible sounds of such hexing tracks as "Lofticries" not only assured the audience's instant gratification, but Purity Ring's promising rise through the current ramble of electro-pop.
Though initially a solo project, YACHT are now performing as a five-piece. The troupe is led by the dynamic Jona Bechtolt and the magnificent Claire L. Evans, who generally had a long leg wrapped around the mic stand when she wasn't pulsing around the stage like an itchy chinchilla. Bechtolt and Evans had everyone joyfully hopping along with their semi-coordinated foot work during "Summer Song" while sparkly and paint-drizzling projections illuminated the stages.
It was impossible to resist the group's glitzy disco-pop, with most songs supplying spritzy beats and punchy bass lines. They kept things energized during "The Afterlife," wherein an all-limbs Evans dipped into the crowd, blessing foreheads and strutting rhythmically. "Dystopia (the Earth Is On Fire)" had Bechtolt battering a beat on the drums, while Evans removed her strappy shoes to leap and lurch around the monitors. "Never had a bad show here in Vancouver," she informed the panting audience, which was loose-knit enough for some two-step carryings-ons. "Psychic City," meanwhile, inspired an abundance of white-sneakered pogoing onstage from Bechtolt.
The radiant-when-not-verging-on-cheesy performance left a swell of goofy grins filing out of the Electric Owl. Evans at one point asked the crowd, "Do you believe in aliens?" If you can confirm for us exactly which hyper-happy pop planet you're from, then yes. Yes we do.