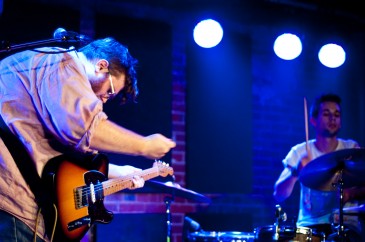 Early on, Paul Saulnier of PS I Love You skulked around the Electric Owl with his head hung low, his eyes occasionally glancing at the bleakly seated attendees during openers Philoceraptor's set. A stream of sudsy orbs emitted from a Hello Kitty bubble machine that sat onstage during the band's confusingly high-energy/low impact gig. One member, a George Michael look-alike, flailed around as though fire ants flooded the stage during the trio's squelchy set. Focusing on piercing, overly repetitive guitar riffs and boy-band harmonies, Philoceraptor couldn't quite get it together.
Atlanta, GA-based outfit Balkans proved to be an effing gem. I don't know if the stand-offish crowd was in a stupor or still recovering from the opening act, but there was surprisingly little visible reaction to this thoroughly solid set. The foursome, meanwhile, delivered a summer-rock set of dreamy vocals and dynamic drumming. Bassist Woody Shortridge furled over his instrument while vocalist/guitarist Frankie Broyles wailed passionately. No attitude, no guff, just super catchy, vaguely punkish, hate-to-have-missed-it splendour. Their tune "Troubled and Done" was especially noteworthy.
A small clique jostled from their seats to stand up front for PS I Love You, whose singer/guitarist Saulnier brandished an impressive double-neck guitar and a fine haircut. The duo started up slowly, with much ethereality, but gradually they built up momentum. And volume. Crushingly loud, Saulnier's six-string drowned out all but the most piercing vocal yelps, even overpowering drummer Benjamin Nelson's all-business percussive work.
After a few ear-slaughtering numbers, the sound guy reluctantly and apologetically requested Saulnier turn down his guitar. A bit miffed perhaps, the musician obliged as a favour to the club. Soon enough, though, he was wowing the audience again with his fast and fancy hammer-ons, his tongue stabbing outwards in concentration like a kindergartner connecting-the-dots. Nelson thrashed on with decidedly less emotion. Once audible, Saulnier's unique vocals came through with heartbreaking vulnerability, and veered with wonder and helplessness – an interesting and effective juxtaposition with the crunch and rumble of PS I Love You's fast and nasty riffs.
Nearing the end of the night, PS I Love You tossed the dog its bone, blazing through their single "Facelove," and then got the hell off the stage. Reappearing moments later to play a noisy encore, the Kingston, ON band left a couple audience members brimming with danced-out satisfaction and everyone else with a big old ringing in their ears.