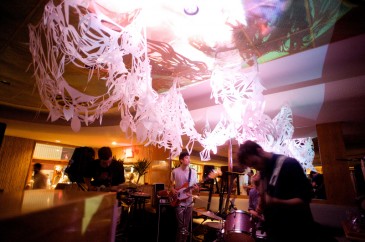 I've always felt people who think Vancouver is intrinsically boring are unresourceful chachis who are much more comfortable shopping at Metrotown and clubbing on the Granville strip than, well, doing genuinely interesting things. Still, it is odd that a city that started out as a seedy saloon town has such retrograde liquor laws. Unfortunately, that's meant that in recent history, dynamic off-the-grid venues have had to fly under City Hall's radar until ultimately being shut down by the police. Enter the renovated Waldorf Hotel, the crown jewel of the emerging Hastings-Sunrise nexus (also including the Perch, El Barrio, and the Princeton Pub, among others). The Waldorf contains several interconnected bars and a restaurant, all of which were opened up to host the New Forms Festival. This meant that at any given time on this Saturday night, there were three or four different performances going on. It was impossible to catch every act, but I did try.
Teen Daze's cosmic, atmospheric tracks were mesmerizing, albeit underappreciated by the still gathering crowd. Flash Palace's textured soundscapes sent ripples across the dancefloor (beautiful tracks like "Seventy Lives" can be heard on their Bandcamp page). Chicago DJ Andres Ordonez, aka Specter's, poppy house music, meanwhile, would have fit in much better at some terrible Granville Street night club that I would never go to.
While the Makeover combined super fun, '80s rhythmic sensibility with dancey, fine-tuned turntablism, ravey Ottawa crew A Tribe Called Red was too boring for a supposedly cutting-edge event like New Forms. Marcellus Pittman played some even more boring acid house, or some such genre of music that belongs under the used Kleenex at the bottom of the dustbin of music history.
Local virtuosic spunk-poppers MT-40 closed the house down with a sonorous wall of melodic synth punk that got the few of us who were still hanging around at 3 am hopping around euphorically. Despite the energetic closing set, overall Saturday night was a mixed bag.
It's worth mentioning that the second floor of the hotel housed a fascinating art exhibit curated by Instant Coffee's Jen Paparano. The highlight was undoubtedly a hotel room documenting Scott Kildall and Nathaniel Stern's performance art "Wikipedia art" page on Wikipedia. Check out https://wikipediaart.org/ for details.