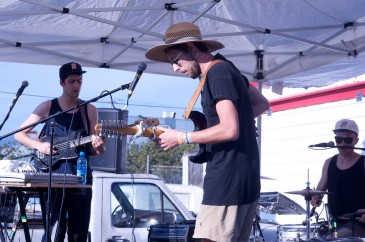 While partying into a Sunday in mid-September may not be everyone's idea of "throwing in the towel on the whole summer thing," I just had to see what would happen at New Forms Festival 2011. I was going to see Sun Araw, alright?
V. Vecker Ensemble played first. I heard that some of these guys are contributing members of Zitherist International, which means they're alright with me. I mean, what, are you going to get all up in the grill of a bunch of hardworking local artists because their improv-drone band doesn't sound perfect? No, no you're not. There's an audience for it and this audience was listening. If buddy is going to haul his organ all the way out of the basement of the Astoria, you're going to listen and l-o-v-e it.
Sun Araw Band was good; noisier than one might expect. It is apparent that these guys have a love for their gear. The ability to adjust to the immediacy of your aural environment and produce a foraging sequence of mood evoking tones is key to creating popular music. These doodz showcased something integral to American Art: the ability to find sacred balance in streams of constant thought, movement and experimentation.
No Gold sounded pretty damn '90s, save for that stellar modern drum pad. They earn bonus points for the occasional acid breaks- a nice companion to a hangover inspired by the previous night's Marcellus Pittman performance. After No Gold was finished, I sat alone by the baby-changing station, a.k.a the Waldorf Hotel's FIT tankstelle art installation for a moment.
While it was encouraging to see families reaping the benefits of British Columbia's marijuana trade, I had to go back to the stage and watch Danuel Tate & Tyger Dhula because, you know, I was on assignment. It was straight techno with jazz chords, big eyeballs and all the succulence you might expect from a guy named Tyger. Sorry to Montreal's Deadbeat, but I'm sure I'll catch one of your sets if I eff up a few more opportunities here and can afford a bus-ticket to the East Coast.