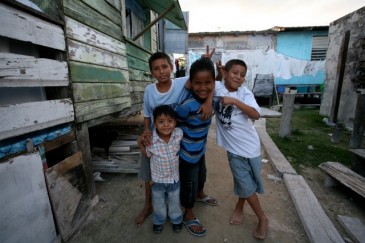 Danny Michel- Who's Gonna Miss You
Touring Canada is hard. We know this. It's been retold in iconic Canadian lyrics for decades, with stories of busted transmissions and overloaded tour vans reeking of old burgers and sweat. But for Kitchener-Waterloo's Danny Michel, the grind of touring isn't quite enough. On top of managing his own cross-Canada tour and doing it solo, Michel is also the driving force behind a charity project called the Ocean Academy Fund.

"I'm crazy busy," Michel said by phone between tour stops in Alberta. "I'm flying, renting amps, renting cars and hotels and everything every 24 hours. And on top of all of that I'm trying to raise money for these kids."
"Those kids" are students at Ocean Academy, a school in poverty-stricken Belize, where tuition, books and uniforms cost over $1,000 U.S. a year. The cost is so prohibitively high that only 15 per cent of the country's families can afford to send their kids to the classroom. Michel is hoping to help change that.
"Kids drop out around grade eight, so education is a no-brainer. Helping them get an education will change their lives, and have a direct impact on poverty as a whole."
Michel gained critical acclaim for his 2008 record Feather Fur and Fin, and shot the video for the title track in Belize. The country is also the inspiration behind his latest album Sunset Sea, which was also written there. The album, released in 2010, is more laid back than Michel's earlier work and makes use of a wide variety of instruments, including brass, banjos and all sorts of percussion. While it might not have the same cynical bite as Feather Fur and Fin, don't think it's missing a message. Tracks like the playful "Wish Willy," with it's simple guitar licks and gang vocals, speak to easy-going island life and "good, old-fashioned peace and love" that Michel says underpins his romance with the Caribbean country.
"I fell in love with Belize about a decade ago," Michel explains. "I've been going back almost every year since."
It was while shooting the "Feather Fur and Fin" video that Ocean Academy first approached Michel for help. "They asked if I could do a benefit show back [in Canada] for them. I decided I'd try to do them one better," he explained. Michel is currently pushing hard to raise $30,000 through his website by November, when he'll be heading back to Belize to deliver the cash and volunteer at the school for a month. Donors can follow his trip through video updates that he'll post to his website.
"I'll be doing tons, like helping the kids with a Christmas talent show. I'll even paint bathrooms if they need me to."
With just under a month to go, Michel is nearly halfway to his goal, and a number of big name Canadian musicians have thrown their weight behind him. Supporters include Blue Rodeo, Vinyl Café host Stuart McLean, Luke Doucet and Six Shooter Records.
"The music industry's response has been amazing," the musician said. "Blue Rodeo really stepped up, and Luke donated a personal guitar that auctioned for $500."
While he's down south, Michel will also start penning a follow-up to Sunset Sea, and hopes to rely on the kids for inspiration, and even the occasional backing vocals.
"We'll see what happens when I get down there. I'd love to have some of the kids from the school on the record."
Michel brings his Juno-nominated brand of charmingly cheeky folk-rock to the Biltmore Cabaret on October 13.