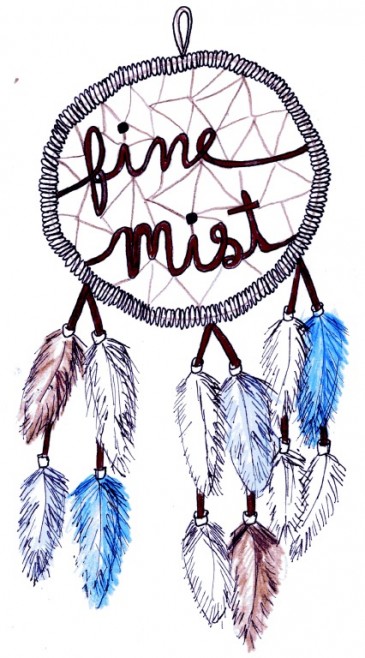 Happy release date!" exclaimed one of Jay Arner's friends, embracing him in a big, congratulatory hug near the wooden bar at the Railway Club.
It's Tuesday, Sept. 14, the official record release date for Public Domain, the first album from Fine Mist, the synth-pop duo of Arner and Megan McDonald. It's an exciting time for them, their friends and their fans. Over beers at the Railway that night, McDonald and Arner enthusiastically share about a number of topics: the genesis of the record, their past and future together, their creative process, ponies and Gossip Girl.
McDonald and Arner have been friends, roommates and bandmates for years, playing together in a series of bands (such as Poison Dart and International Falls) around Vancouver and the Pacific Northwest. Fine Mist, however, is the first project where both of the accomplished songwriters have collaborated closely, which began a fruitful creative partnership.
"When we started writing songs together, we wrote a lot of stuff really quickly," explained McDonald, whose day job sees her running a therapeutic horseback-riding centre for people (particularly children) with mental and physical disabilities (Arner volunteers there sometimes, too).
Arner continued, "I would write all the International Falls songs. She would write all the Poison Dart songs and we never collaborated so it was a lot slower. But when we started to collaborate, we were really cranking it out."
The way they answer questions and tell stories by trading off sentences is perhaps indicative of this simpatico wavelength they share. McDonald picked up that thread again, explaining how Arner "Starts out with a beat and some chords… then I'll record, and make a melody and lyrics over top. Sometimes I'll sing something that doesn't fit with it and Jay will change the music to suit it. Sometimes he'll get me to change what I'm doing, and we go back and forth like that. Basically there's a whole bunch of tracks on our computer, and when I feel like working on it, I'll go and listen to them and make a song."
Both members want to go against what Arner called "the perception of the electronic duo: girl singer and guy producer. I think it does Megan a big disservice to call her a 'girl singer'—she plays guitar and drums and other instruments, and she's a great songwriter … I think we make the music in a more 'songwritingly' way as opposed to from an electronic music perspective."
For most of Fine Mist's existence, the project has been largely "electronic"—songs composed and recorded on a computer and live performance where McDonald's expressive, brassy singing was accompanied only by Arner's backing vocals, some synths and an iPod playing the backing tracks.
Recently, however, Fine Mist has left the iPod at home and played a handful of shows with a full band, including some choice opening slots for touring acts such as Hercules & Love Affair and Born Ruffians, as well as local favourites You Say Party! "The full band is great," said McDonald. "They're people we spend a lot of time with anyway, and they're really amazing musicians."
The current performing lineup is Joseph Hirabayashi (keys) and Elliot Langford (bass), both of the SSRIs, with Patrick Geraghty from Role Mach on keys and Arner on drums.
The live instrumentation definitely adds a new element and depth to Fine Mist's live performance, but it was with tons of "iPod shows" around town as a duo that earned them their especially dedicated local fan base. Based solely on the strength of the singing and their songs, and their ineffable, undeniable stage presence and charisma, Fine Mist has garnered their own legion of supporters, known collectively and affectionately as "Fan Mist." "They call themselves Fan Mist! How adorable is that?" exclaimed an obviously pleased McDonald.
Now, Fine Mist's debut album—their very first physical release for that matter—will see an independent release thanks in part to some help from one of their devoted fans: local music writer/blogger/fan Quinn Omori, who commented that "they seem to have the kind of fans who are really passionate about their music, which is really cool for such a small band—and I'm definitely one of those."
Omori, who has contributed to Discorder and Exclaim! in addition to running his own music blog (From Blown Speakers), is candid when explaining how his involvement came about: "I was drunk."
"I knew they had this great album and no way to put it out," Omori said. So, one drunken night last winter, he "just grabbed Megan and said: 'I want to help you guys put out this record!'"
McDonald held him to it, and Omori helped provide some of the financial backing needed for the pressing of 500 (and change) vinyl copies of Public Domain. Omori enthused, "It's a great record. So if great music sells, we're gonna get the money back anyways."
Though some of these songs are totally new, a few will be familiar to local music fans, who have been passing around rough demos for a couple of years now. "Those were rough versions, so I'm really happy that people will be able to hear these new, real versions of the songs," said Arner, also pointing out that as of that day (the album release date), listeners can stream the entire album on the CBC Radio 3 website, where it's still available.
True to Omori's words, the album is chock full of excellent songs, including the standout dance anthem "Stop or Start," the heartbreaking yet bouncy "Because it's the Ocean" and the epic "Murder Murder," which culminates in a huge percussive crescendo featuring drumming from Japandroids' Dave Prowse and members of Basketball (the only live instrumentation on the album, apart from synthesizers).
With the excellent Public Domain now seeing the light of day, Fine Mist already have a second album in the pipeline, as well as a split single and a remix album (featuring Fine Mist tracks remixed by the likes of Babe Rainbow, Architecture in Helsinki and the No Kids/P:ano/Gigi pop-rock maven Nick Krgovich). On top of this, they're planning on "getting out of our comfort zone" to get on the road for some short bursts of touring dates. So every indication is that for 2011, Fine Mist (and Fan Mist) will continue to grow.