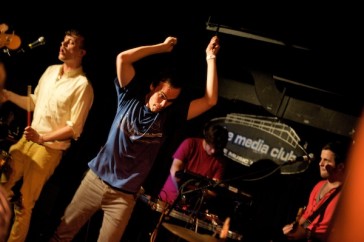 Buke & Gass of Brooklyn and Efterklang of Denmark filled the Media Club with wonderful music (and people eager to hear it) last Thursday. Duo Buke & Gass brought a unique brand of acoustic prog-folk. Labrynthine chord progressions, electronically-assisted pitch-shifting, vocal acrobatics and a rhythm section consisting of a bass drum with a tambourine in it—I'd never heard anything like it. They didn't play solos, but they obviously had chops; the shifting rhythms and harmonies attested to their mastery of their chosen instruments: the electric six-string ukulele (Buke) and guitar-bass (Gass).
Headliners Efterklang were very different—six times the personnel filled up the stage. Aside from a drummer, singer, guitarist and bass player, there was a violinist, keys player, and a musician with dual MacBook Pros and an array of blinking techno gadgets (including a super-cool Monome controller). The lead singer charmed the crowd right away with his humble, slightly awkward air, big smile, slightly broken English and incredible height.
When they launched into their songs, the band played together wonderfully, each one of them visibly feeling the music as if it were flowing through them. They had a very full sound, with lots of interplay and harmony between the members. Some songs were long with many sections, including synth interludes with sequenced samples; fevered group percussion passages with the lead singer drumming on the air ducts overhead; galloping sections with rich piano chords and violin melodies. Then, some songs rose from hushed whispers to a tremulous climax and ended unexpectedly in a minute. There was a triumphant positivity to their vibe that was very uplifting, and the way they blended electronic, symphonic and indie-rock instrumentation was very interesting. Efterklang, directly translated to "after-sound" from the Danish, means "echo" or "reverberation." Their performance will be reverberating with those who were present for a long while.