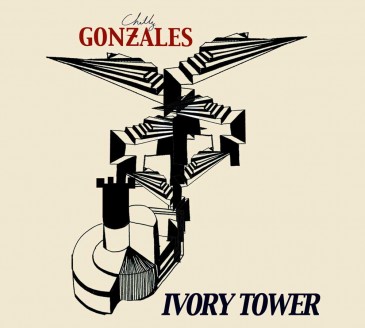 You know someone is ambitious when he breaks a Guinness World Record for Longest Solo Concert. And Chilly Gonzales is that record smashing, multi-talented rapper and pianist. He is the super producer behind Feist's Grammy-winning album The Reminder, and recently he finished writing a feature length film also called Ivory Tower, starring his musician friends Tiga, Peaches and of course, Gonzo himself. Focusing back on his own music, this Boys Noize produced album is the one where he moves away from his solo, jazzed up piano past and enters electro territory.
As a result of this migration, the songs are funky and groovy, and as driven as the man behind the songs. The piano prominent in his past albums still has a central role, acting as the backbone on which synths and beats dance around. It's not hard to digest the album, but it passes through a tad too easily as it doesn't give you any eye-opening punches.
The album is mostly instrumental, but he does showcase his vocals. Perhaps being a Canadian residing in Paris influenced the nonsensical metaphors in "I Am Europe," in which he says, "I am a shrugging moustache / Wearing a Speedo tuxedo." However, he doesn't use the rapid, machine gun rapping style; he takes his time, much like beat poetry, and uses his words economically only when he has something to say, like the slow-boiling anger aimed at his enemies on "The Grudge."
The epiphany, or the point where the album stops grooving and simply breathes, would be the end track, "Final Fantasy." The plucked strumming and piano ornamentations sound like time ticking away as it builds to a thoughtful closing—resonant and mature.
It may not be a mainstream success, but Gonzales knows it. Rapping on a non-album version of "Never Stop," he declares: "I don't make hits / I take risks / and make flops like floppy disks." The man is a risk taker, and that's something worth listening to.