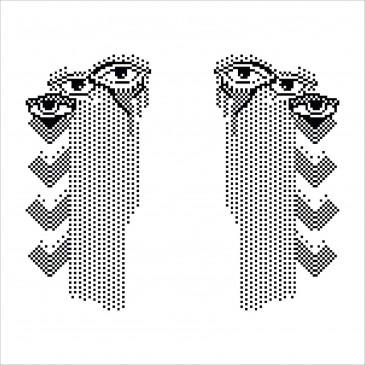 October 2009 brought Beast Rest Forth Mouth by Brooklyn's Bear in Heaven, and this fall brings a re-release of that album, packaged with a disc of remixes. Beast Rest Forth Mouth: Remixed puts the album into the studios of a diverse team of musicians, including the Field and Justin Broadrick (a.k.a. Jesu).
The original album was a layered piece of psychedelic pop, full of synthesiser arpeggios and floating melodies driven by insistent, interlocked rhythms. Dense, melancholy, outlandish soundscapes change key and direction at a moment's notice. You can hear strains of < >Can in the repetitive synth lines, anchoring drums, and the way the band works together as a mechanical unit. But the album is far from a Krautrock throwback with modern synth tones—this is forward-looking experimental pop—and it captures a kind of sci-fi desolation feel that is not without hope.
As for the remix album—drastically different as it may be—it manages to re-invent without clobbering the original tracks. Even BRAHMS' techno-house rendition of "Fake Out" uses the source material in an interesting way. The Field's version of "Ultimate Satisfaction" captures the haziness of the original, while stripping the tune down to one chord and implanting a booming kick drum. He augments the tension while taking away the close, crowded vibe. A few other tracks implement the same basic four-on-the-floor rhythm, like the High Places remix of "Drug a Wheel," the grinding plod of which is transformed into a cool, grooving, spacious experience with a throbbing kick and reverbed congos.
My favourite remixes however, would be Twin Shadows' remake of "Lovesick Teenagers" and Studio's redo of "You Do You." Both take the melodies of the originals and change the feel completely, cutting out the beautiful clutter of meandering synths and setting what's left against sharp, funky rhythms that are minimal in comparison.
Since BRFM was such a maximal album, each remixer had the luxury of sifting through its multitudinous layers to find the perfect "raw" material. When you hear the original ideas in the new setting, it's like hearing the same song for the first time, but by a different band. It's a great listen that takes you all over the map, as well as exposing you to ten artists you may not have before known.