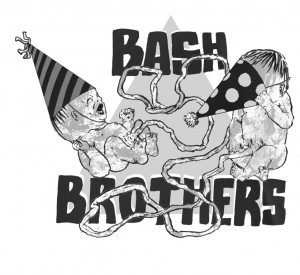 A simple urgent bassline and a riotous drum beat start at the same time as these words:
"When I was born I had a party hat on / I had a party hat on when I came out of my mom."
This is how Bash Brothers' "hit" song "Party Hat" goes. It's a song about babies partying in a maternity ward. It's a narrative set to punk about a baby that was so good at partying (in the keg stands and loud music sense of the word) that by merely being born, she kicked off an amazing party. It's a gem, both because of the brilliant simplicity of its aggressive punk rock nature and because of its sheer ridiculousness.
The song was written by Kristjanne Vosper and is a good example of the simple but brilliant songwriting that the duo churns out. Her band mate Lindsay Coulton recalled the song's creation as something that almost was not a song for Bash Brothers. When the song was originally written Vosper "shopped it to her other band and they were like, 'that song is stupid' … I was so glad that they thought that song was stupid because we got it."
Bash Brothers are a punk duo who are are mostly from Nanaimo, B.C. although they've also been based out of Vancouver and Ladysmith throughout their time together. They've had a rather long meandering existence.
"It's almost nine or ten years now," recalled Coulton on the phone from Nanaimo.
"Party Hat," like most of their songs, started as a joke.
"Usually we're just sitting around talking and then one of us will say, 'You know what would be really funny?'" Vosper said over the phone from Prince Rupert, where she is currently working counting dead fish for the government. The two of them were kind enough to line up a couple phone conversations for interviews, which had a certain deficit that Vosper pointed out.
"You don't get any of our—," she paused while searching for the word.
"Banter?" I asked.
"—friendship," Vosper finished.
Which brings up a very good point. This duo has a tight, long-lasting friendship. They have been friends since they met in grade 9 and started practicing in Coulton's mom's basement. "Lindsay's kind of amazing because she always laughs," said Vosper.
"We're just kinda blessed with the kind of friendship we have, and we pick up without skipping a beat," said Coulton.
Bash Brothers was formed out of a number of desires, but one that Vosper expressed was to go where other bands weren't quite willing to go.
"You go see a band and you feel the riff in your heart, but it's not quite enough," she said. "It's not bombastic enough or ridiculous enough."
With Bash Brothers you don't feel like they're holding back. Their music is hard riot grrrl punk, but ridiculous to the extreme. They sing about how awesome it is to see Andrew W.K. (an influence that is impossible to ignore), how one of their aunts gave them smelly soap, and they've got a new favourite about a trash-eating bear.
They are mostly a live band who has toured much of the B.C. Lower Mainland and Alberta, playing at last summer's Sled Island. They are devoted to putting on a show that both entertains and challenges what people expect them to be.
"Kristjanne would wear this hilarious sexy basketball outfit with booty shorts and I would wear like, an Indian chief costume," Coulton said, recalling one of their early shows. "Sometimes we would wear sundresses and then pour blood all over ourselves … to make it harder or grittier."
Although they are still dedicated to performing, they have toned it down a smidgeon, but still tend to do something of the costumed variety during performances.
"I feel very strongly about face paint," said Vosper about their current trends in performance dress up. At Sled Island this involved eye black and a mishmash of football garb.
Very aware of how a two-girl duo can be pigeonholed, Coulton said they make a conscious effort to not just be a couple of "cute girls."
The band has a number of recordings under their belt and plan to release more in the future. A 7" was released on Nanaimo's frvdty rcrds (pronounced frividity records) and then re-released by NoiseAgonyMayhem as their 2009 Tour EP.
"He actually made that record for us free of charge," Vosper said of NoiseAgonyMayhem's David Read. When he heard that they were leaving on tour without any merch, he insisted on pressing them some copies of their 7".
"[A friend said] we have horseshoes up our asses, but don't say that," said Vosper, worried about the crudeness of the statement. "You can say that if you want. I don't care. Well, I do care, but I said it. So, you can say it. I wouldn't want you to lie to the readers of Discorder."
Though they record their music, Bash Brothers think of themselves primarily as a live band.
"It's not the kind of music that you put in your stereo and do your homework to," said Coulton. "It's better live."
They are planning a tour through Vancouver to Alberta and then back, so try to check them out when they come through in late October or early November for a good dose of hard, ridiculous music.
To check out their music and upcoming shows visit www.myspace.com/bashbashbash.