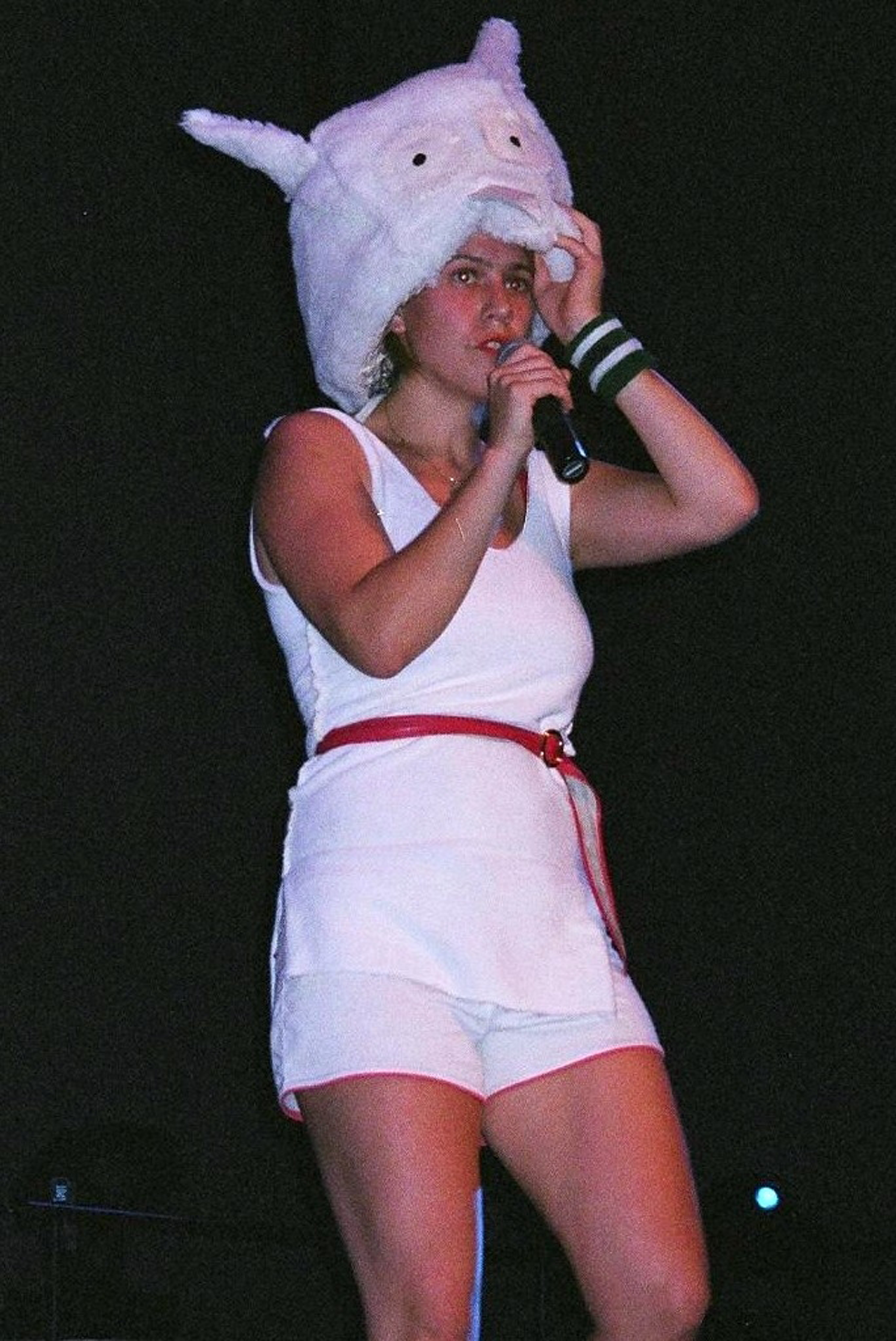 My only complaint about the massive music and arts festival that is Seattle's annual Bumbershoot (now in its 35th year!) is that it's impossible to see and do it all. Everything else is PERFECT!
Friday I was lucky to catch Anna Oxygen joined by two jumpsuited dancers. All sounds were supplied by her laptop, keytar and beautiful voice. Cuteness was supplied by her owl head (for new song nervousness) and the colourful screen stories behind her. Smoosh came after and were brilliant for 11 and 13-year-old girls. The slurred sugar-pop vocals of the elder Smoosh, Asya, became a bit much halfway through, though maybe it was actually the little kids climbing on me to see, or the 14-year-olds continuously yelling for "Rad".
Saturday I experienced Carolyn Mark for the first time. She was instantly loveable, explaining that she was "already tarnished" as she had stained her dress the night before. Writer Daniel Handler explained that alter-ego Lemony Snicket "could not make it because of an unfortunate accident," the monologue that followed was definitive of the dark, self-deprecating Series of Unfortunate Events Snicket is famous for. He shared moral lessons including 1) never raise your hand (or you risk your armpit to the mercy of crocodile-like creatures like the one that attacked Snicket) and 2) if you see Count Olaf, scream and run away (one of the most important lessons in Western Literature). The twelfth book of his series comes out October 18th. Later that night, for some reason, instead of catching Minus the Bear, Digable Planets and a Seattle benefit featuring a Death Cab appearance (covering "Hungry Like a Wolf"), we caught some films in a collection called "The Best Sex Ever". I loved The Big Empty, as well as Lady Like, which featured a bowl of alphabet soup that spelled its own words and prophecies.
Sunday began with Math & Physics Club. The band's melodies were quite Smiths-ish and I was charmed by the band's grace and sweetness (and violin). I checked out some rock'n'roll history with cute chuckler Bo Diddley afterwards. However, sitting down and hearing ten minute bluesy jam songs put my rocking head to sleep. I was stoked to experience The Locust's latest album Safety Second, Body Last live, though curiously enough, their noise brutality was still too much for some who quickly left, frightened, with hands over their ears! Juana Molina looked crabby and anxious but it turned out her keyboard didn't download her sounds properly. Rather than delay her performance furthe,r and despite looking like she was having the worst night ever, she sang some songs with her guitar only. When a new keyboard arrived, she shrieked with delight and continued to sing gorgeously in her Argentinian accent with keyboard-noodling sounds in the background.
Monday seemed to to be everyone's favourite. I started with the growly-bluesy-rawk of Post-Stardom Depression. My friend said singer Jeff's voice was especially rough that day. Aren't holiday Mondays glorious? Next I caught the end of The Decemberists. I was captured by their last song, "The Mariner's Revenge Song", when the crowd was instructed to scream like we were being swallowed by a whale. I don't think many people actually appreciate the art of screaming. I sat on the grass, alone, with teeth chattering, for two hours in anticipation of Okkervil River and it was well worth it. I was mighty impressed that they played all of my favourite songs of the weeks before: "Kansas City", "Song of Our So-Called Friend", "Lady Liberty", "Westfall" and "The Latest Toughs". I am counting down the days until October 27 when I (and hopefully you) will see them at The Media Club. I then stuck around for Tegan and Sara. They covered "Dancing in the Dark" and I was sad when they finished, as I didn't hear my favourite "Time Running". But then they came back and played it. Good old mind bullets. Afterwards, I rushed out to catch the end of Michael Franti & Spearhead and it was a wonderful pick-me-up party time. Perhaps it was a little cheesy during "Everyone Deserves Music" but it was happy and fun and perfect for the family music festival. I caught the very end of The Stooges' set. And I'm okay with that. Iggy's low pants left little to the imagination, but I was impressed with how much energy and presence he had, even after all these years. And apparently I missed 50-200 (depends on the degree of exaggeration efforts of those who told me) people on stage with the band at the beginning of the set, much to security's dismay of course. I saw them play "I Wanna Be Your Dog" so I'm okay.
It was hard to leave Monday night but I don't think I really could've handled more than four days, as much as I love shows and art and comedy and Seattle. Still, I can't help but be excited and wonder who will be at next year's festival!