Caitlin Ffrench is a lot of things: teacher, seamstress, forager, weaver, sculptor, painter, witch, designer, chemist, dyer and knitter (I think I got it all). Her art is her story and through her work, we get to see a little more of her with every release.  
Caitlin shuffles her hand-made water colours around her Vancouver studio, situated between a dog boarding kennel and band studio space. We have found one of the quieter moments to talk, despite the faint barking in the background."It's brutal."
"Autumn is chaos time," says Caitlin — she's either "in the wild everyday harvesting dyes" she will use for the entire year, making paints, "applying for grants," or trying to figure out her next trip to Iceland — the land that "haunts" her.
That 'haunt' is real and reflected in her work. Caitlin's most recent project, her sixth book HIRAETH, is a collection of knitting patterns shot in some of her favourite places — Iceland, Vancouver and the coast of Oregon. However, it is the meaning behind the title that carries her art, body and spirit. "Hiraeth is an intense longing for place or home, one that you might never be able to return to, or never existed," she explains. That feeling brought Caitlin to "vast, empty and brutal" Iceland three times, and it's that feeling that has brought this final book closer to the dark, beautiful aesthetic she strives for. Hiraeth has allowed Caitlin her to fully explore her art.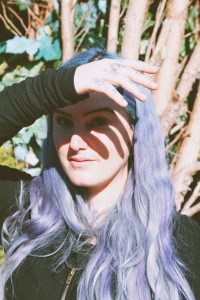 Caitlin's connection to the land is foundational to her work and much of it is inspired from her upbringing on a farm. However she hasn't always been this appreciative of the serene. "As a kid growing up on a farm, I thought I was going to live in the city forever, but now I'm realizing it's slowly killing me."
The fruit orchard is where her dad grew the food and her mother and grandmother made clothes. She admits she "used to think it was dorky," but it's this perspective that she taps into to create the work. Caitlin's understanding is how something is made is equally or more important than what she makes. "Everything being made by hand just really makes sense to me. Buying and consuming things that aren't ethically made doesn't make sense."
As Caitlin refills her coffee, she begins to tell me about the concept that, along with Hiraeth, drives her work: "clothing scarcity." It's an idea she works into her entire practice and teachings. Caitlin explains that as a people, we need to familiarize ourselves with these ideals, the same way we understand food scarcity. "We think about blueberries in the winter, but no one thinks about the cotton t-shirt, the water and the people who make it… it takes 3,000 litres of water to produce a cotton t-shirt, but only eight litres for a linen shirt."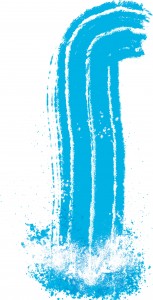 Caitlin's perspective and self-awareness is what shapes her art, and it's that which allows her to bring her whole self into her pieces. "The art is more genuine, it's more real and I'm doing the work, it is the truest."
For Caitlin, it's simply not enough to look at pollution, water usage or artificial dyes — we, as a collection of people, need to take a more holistic view of our world and change our values."We are polluting places we will never see… I get the happiness when you get something new, but do you need that happiness at the expense of another human?" It's being more intentional in understanding the processes we are a part of from beginning to end, which is why she changed her method of painting years ago.
"I stopped using acrylics. Painting with plastic didn't make sense to me… sitting in a studio, buying tubes of paint and just painting doesn't feel like that's where the world makes sense for me."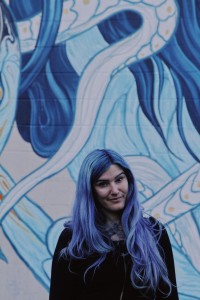 There is a physicality to her art. Everything that it takes to create her colours — the hours, the sweat and the alchemy, coupled with the bruises and "falling into ditches." It's what makes her art uniquely hers. "Painting comes a little harder because there is an added level of specialness."
Caitlin enjoys and appreciates being a part of this special history and community, and feels sharing the knowledge that she has built over her nearly two-decade career is not only important, but essential. "I look at myself like a strange island, because I'm adopted and I will never have children… The knowledge that I know, when I die it'll be gone." This propels her to travel around Canada and abroad, both to learn and to teach these arts, which are passed on how they are practiced — hand to hand. "Always have the willingness to be humbled, to listen to other folks and to always learn more."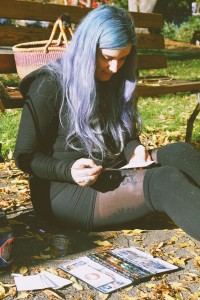 To view Caitlin's work, find out about upcoming workshops and learn more, visit caitlinffrench.com