For a band with ten members, Gamelan Bike Bike's rehearsal space is positively cosy. Set at the edge of Kitsilano Beach overlooking a picturesque view of English Bay, the three-room fieldhouse is just wide enough to fit the band's collection of handmade instruments, which are primarily made of repurposed bike parts amassed from bike shops across the city. When I arrive in the evening to interview Robyn Jacob and George Rahi — the band's unofficial leaders — the rest of the group are milling about, packing up gongs and drinking tea. There's a casual rapport between them, almost like that of a theatre troupe or sports team. "It's like a family," Jacob says. "We all know each other pretty well at this point."
I immediately gravitate towards the gamelan instruments, which are composed of colourful poles pulled from used bike frames. The idea to make instruments from bike parts came from an art project Jacob and Rahi began in 2012. "George and myself had started scheming about building public sound installations for parks and we were experimenting with materials," Jacob recalls. "I remember one day George had picked up this bike frame that he'd cut up and he said, 'listen to this, it sounds great.'" From there, the duo started to collect pieces of frames from local bike stores in the city, discovering that certain bikes sounded better than others. "We did start getting a little bit picky once we figured out that bikes from the '60s and '70s were just heavier. They were clunkier bikes, but they sound better because the metals that were used were high tensile strength steel," Rahi says. "They sound like small bells." From that sound, Gamelan Bike Bike was born.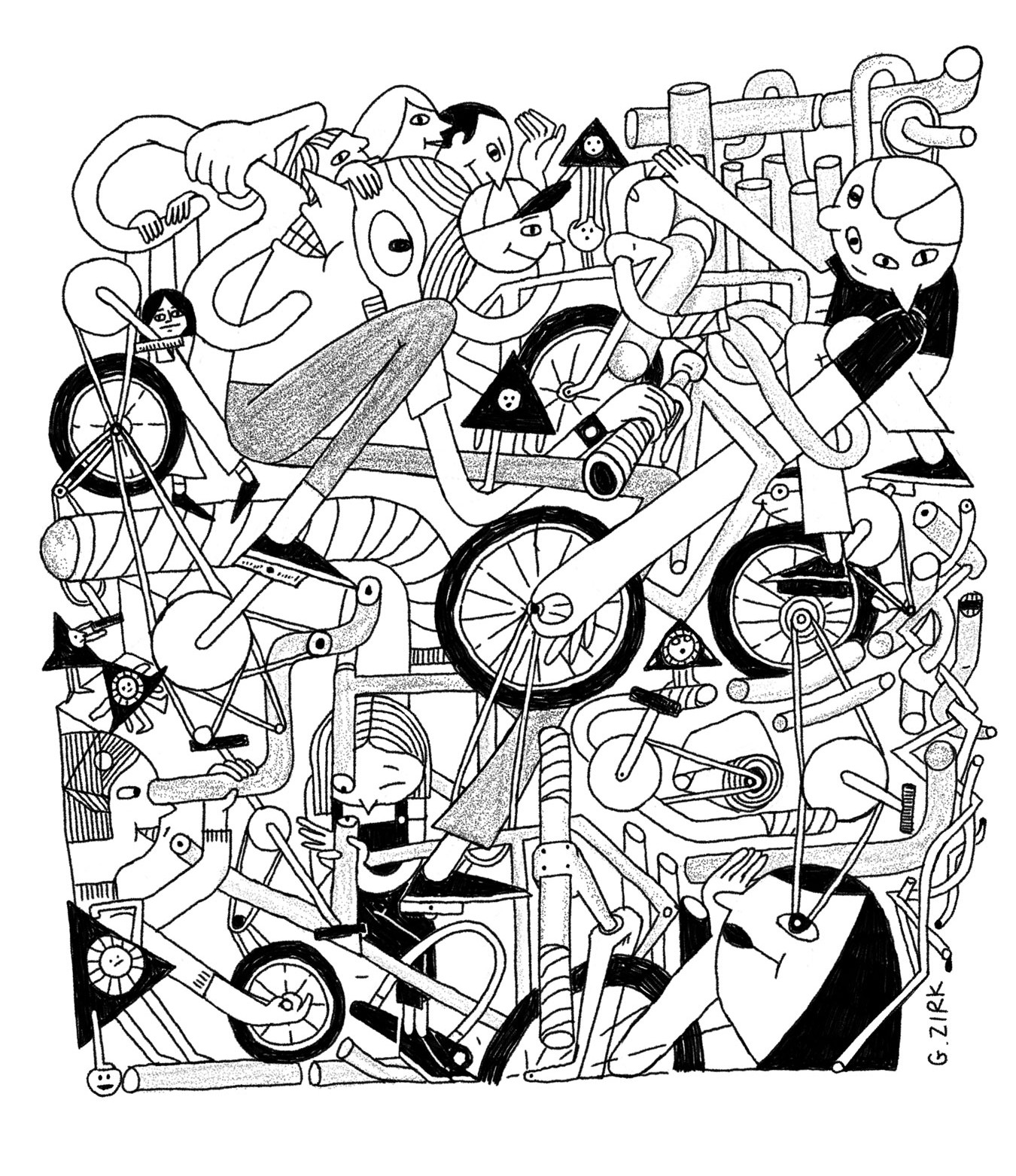 The group is comprised of former members of an even larger troupe with ties to the University of British Columbia, where Jacob originally developed an interest in gamelan through a music elective. A 2013 trip to Indonesia helped to inform the style of music the band plays today. "We definitely learned a lot there that we didn't know," Jacob says. "Where the music sits in relation to the social and physical, and what its purpose is in the communities — which is something that, not having grown up in Bali, we were sort of learning the music in an abstracted way. We were learning the music outside its ritual and spiritual concepts." Rahi notes that the band still struggles to find its place between contemporary and traditional styles, playing authentic Balinese gamelan with a unique twist.
Gamelan originates from the archipelago of Indonesia, where it has played a key cultural role for centuries. The most exported styles of gamelan are from Java and Bali. While it's impossible to distill the rich history of the form into two different traditions, Jacob notes that Gamelan Bike Bike's Balinese sound tends to be "more active and big and bombastic" than the Javanese style, which tends to be more meditative. It's easy to see this in the band's live performances, which crackle with jittery energy and inventiveness. For a group of ten members, the band is perfectly in sync, never missing a beat. All of this comes from weekly rehearsals, the difficulty of which Jacob admits has led to a change in membership over the past few years — only 60 percent of the band's original members remain.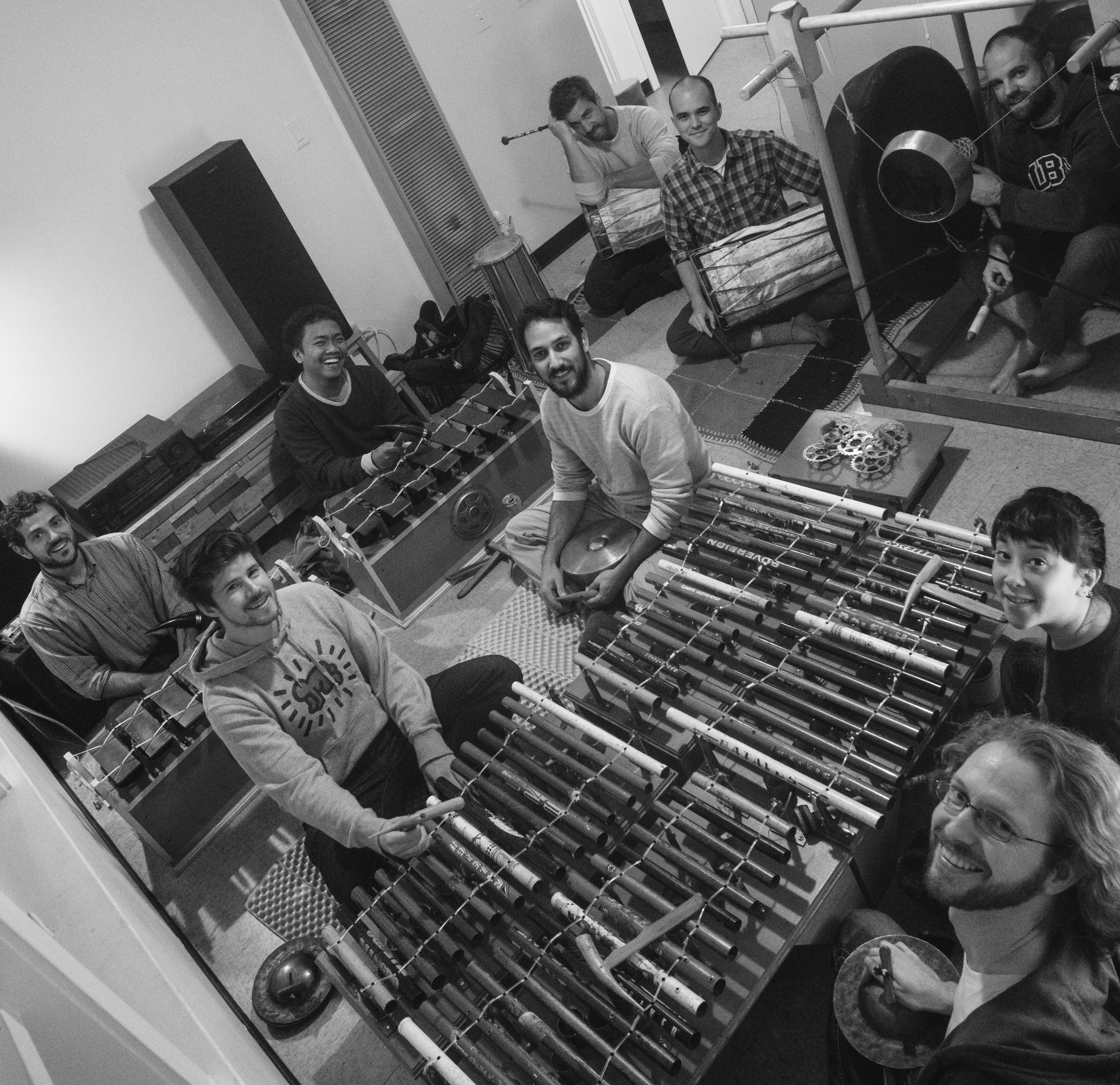 But thanks to those who have stuck around, Gamelan Bike Bike has gradually built an impressive repertoire of original music, most of which remains unwritten in honour of gamelan's oral tradition. All of the band's music can be found on their debut album Hi-Ten, which releases November 11 on the Indonesian label, Insitu Recordings. For member Shawn Sekiya, this back catalogue has been the result of many arduous hours of practice, and trial and error. "It's taken us three or four years to be usually fairly competent at that roughly half an hour of music," he says. It's emblematic of the music's complexity that Gamelan Bike Bike has only managed to master about a concert's worth of material — and even then, most members would admit there's room for improvement. "Most of what we spend time on is about executing the music really well," Jacob says. "Everyone has to be very integrated with each other."
The band is best known for its performances in artists spaces and the outdoors, and they express little interest in playing commercial venues. "The instruments like being outside, I think," Jacob says. "They sound nice outside, and the music is traditionally played outside, or in open areas." For Rahi, the band's public performances give them "the opportunity to interact with different people who wouldn't normally buy a ticket to a music show like this, and see it and hear it." They're not planning any tours in support of the album, but Jacob says that the band will likely play more shows once the weather improves next year.
In the meantime, they're hoping to write new music and take advantage of their time with guest teacher, I Putu Gede Sukaryana, who will be mentoring the band for the next eight months. As Gamelan Bike Bike continues to grow, they're focused on self-improvement, noting that they have a lot of work to do to live up to the example set by the masters of gamelan in Indonesia and across the world. "The most consistently difficult thing is to actually engage musically with so many other people at the same time," says Sekiya. "I think when gamelan is executed really well, it's because people are very present and attentive. I think we still struggle to maintain that."
"All music has some amount of listening to other players, but it's really almost all about that in gamelan," says Rahi. "The parts themselves aren't that hard, but it's just about how you fit in with everything else. It's a really intense listening experience."
X
Gamelan Bike Bike is hosting an album release party on November 11 at 240 Northern Street. The musicians on this album are Robyn Jacob, George Rahi, Shawn Sekiya, Kris Victory, Trish Klein, Martin Fietkiewicz, Justin Devries, Wendy Chen, Tony Kastelic, Pietro Sammarco, James Whale and Jack Adams. To find out more about the group, search them on social media and visit publiksecrets.com.