I spent a good amount of time this summer with Twin River's sophomore LP Passing Shade and couldn't wait to get out the door to see them in the flesh. Arriving at the China Cloud more than a little early with the intent to sit back and let the anticipation build, I watched everyone slowly filter in while a Stone Roses album played over the speakers. As I reclined on the faded couches, the small candlelit room was buzzing.
First up were Calgary four-piece Fever Feel who electrified the room with groovy throwback psych-rock. Their set proved a perfect complement to the vintage vibe of the China Cloud with its worn rugs and softly glowing lamps. Heady effects flowed forth from Logan Gabert's guitar while keyboardist Thomas Platt provided mellow organ tones on a classic Korg. Their dynamic set defied expectations set by their 2014 EP, which has a much more modern aesthetic. Here, they flowed seamlessly from blissed-out guitar jam "Lose Your Mind" to a slinky R&B number that had people dancing up at the front. Their classic sound may not have been anything I hadn't heard before, but the set was tight and more than a few attendees made certain to confirm the band name after the show.
In between sets I grabbed a beer and wandered up to the front to have a look at Twin River guitarist Andy Bishop's impressive pedal board. As I stared at the mesmerizing lights blinking on the pedals, the house lights dimmed and Twin River took the stage in near darkness. Opening with the brooding "Hesperus," shimmering guitars and crashing cymbals slowly washed over the crowd drifting towards the stage.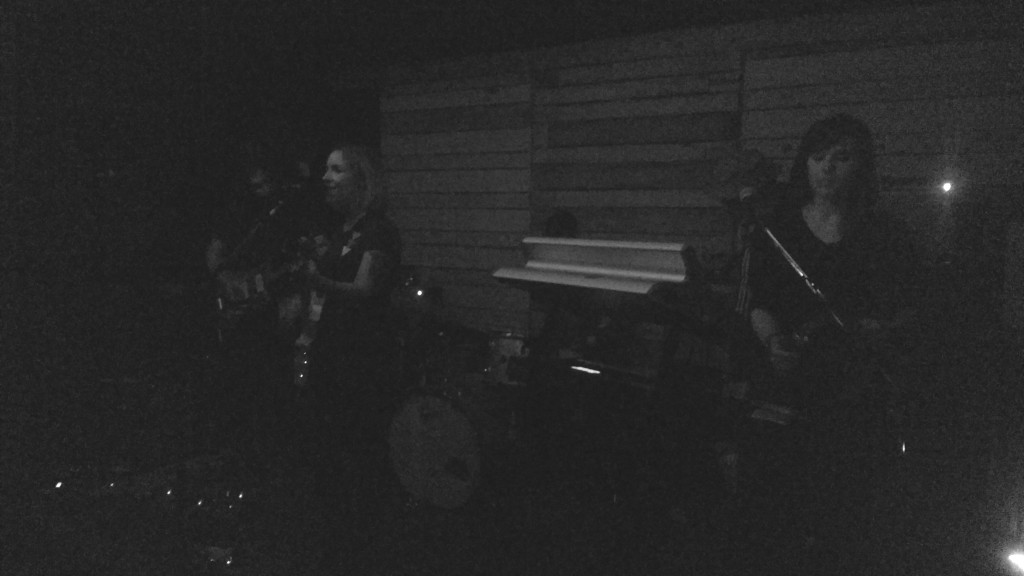 At first the relaxed atmosphere of the China Cloud seemed at odds with the band's soaring sound and high energy, and the crowd's reaction seemed to lag behind. However, that wasn't to last long. The band really hit their stride when Bishop took his lead vocal on the blistering "Anything Good." From there, they settled into a tight groove and thrilled with a mix of tracks from their two LPs. The up-tempo cuts were highlights, especially the extended outro to the crunchy garage rock of "Baby," which featured Bishop putting his pedal board to good use with waves glistening reverb and delay.
Singer Courtney Ewan's vocals were bright and clear and her charisma on stage was infectious. Towards the end of the night she recounted her recent chance to chat with Mick Fleetwood before he performed at the Hard Rock Casino. The take home message for her was clear: that it's a blessing to be able to play and perform music. I certainly felt blessed be able to step off the streets of Chinatown and into the welcoming China Cloud, where the atmosphere was friendly, the mix was perfect, and the bands were in top form.