We live in a city where a sustained lack of stable space for underground culture has become as much a defining feature of the scene as it is something of a dark inside joke. In this context, the festivals and events curated by the New Forms Media Society have been remarkable in their ability to transform an ever-growing list of locations into vehicles for audiovisual experience.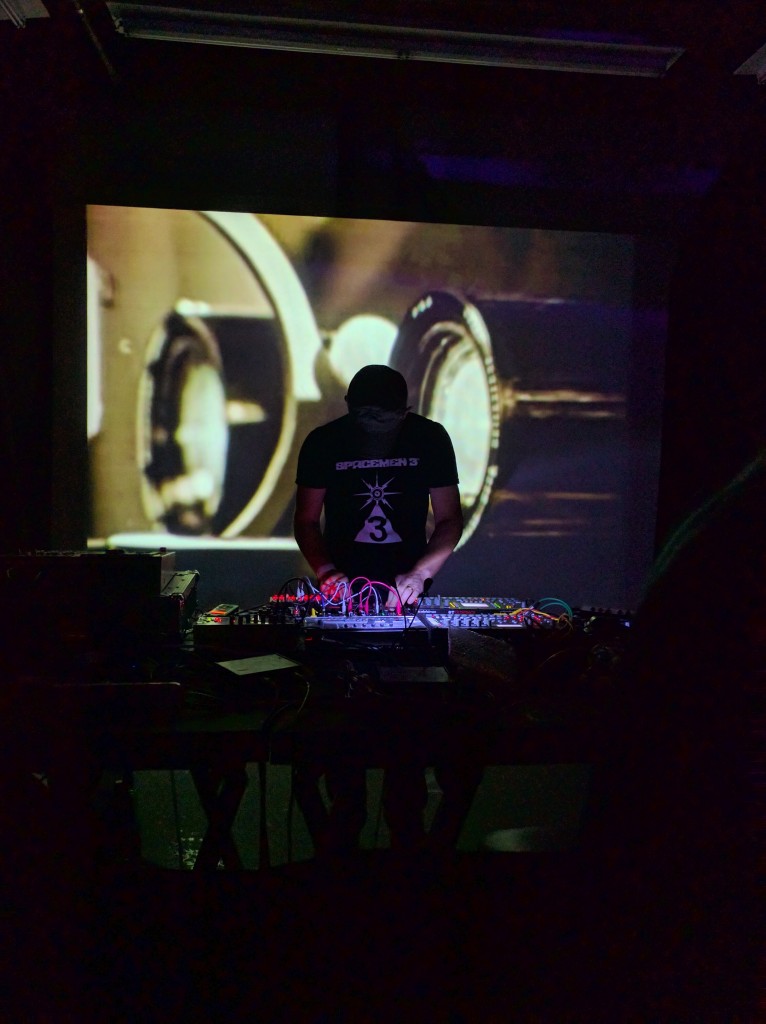 With dancefloors, lounges and installations spread across 560 Seymour's eponymous Club 560, this year's New Forms Festival linked otherwise disparate spaces — including The Home Theatre Department of the now defunct A&B Sound — to accommodate a diverse range of programming. And in a time dominated by a bizarro-world media frenzy, the beloved festival's much-anticipated return also proved, if nothing else, the effectiveness of dancefloor bliss as an antidote to those creeping bad vibes.
Friday, Oct 7
Having passed through the red-blue tiled halls of 560's main entrance, early festival goers were free to explore the fluorescent funhouse set up in the building's labyrinthine innards. Remodelled by a selection of local artists, the clubby inner sanctum housed three separate stages (hanging ferns included), at least as many bars, a couch lounge, and two swingsets suspended inside a kaleidoscopic box of warping wall-to-wall projections.
In the main room, Khotin kicked off the night with a fittingly calm and atmospheric set. Understated synth loops evoked a warm Balearic picture, peppered with odd fragments of Slavic spoken word and disembodied elements of his recorded material.
Meanwhile, two floors up in the resurrected Satellite Gallery, globetrotter and irregular Vancouver resident Rosen initiated the experimental side of Friday's programming. Seated in a corner of the room, her performance played with the limits of comfortable sound, while taking a step aside from the spotlight to feature complementing visuals by Eden Veaudry. In tune with Rosen's shape shifting sound, a comparable tension between the familiar and the indiscernible was mirrored in Veaudry's digital alterations.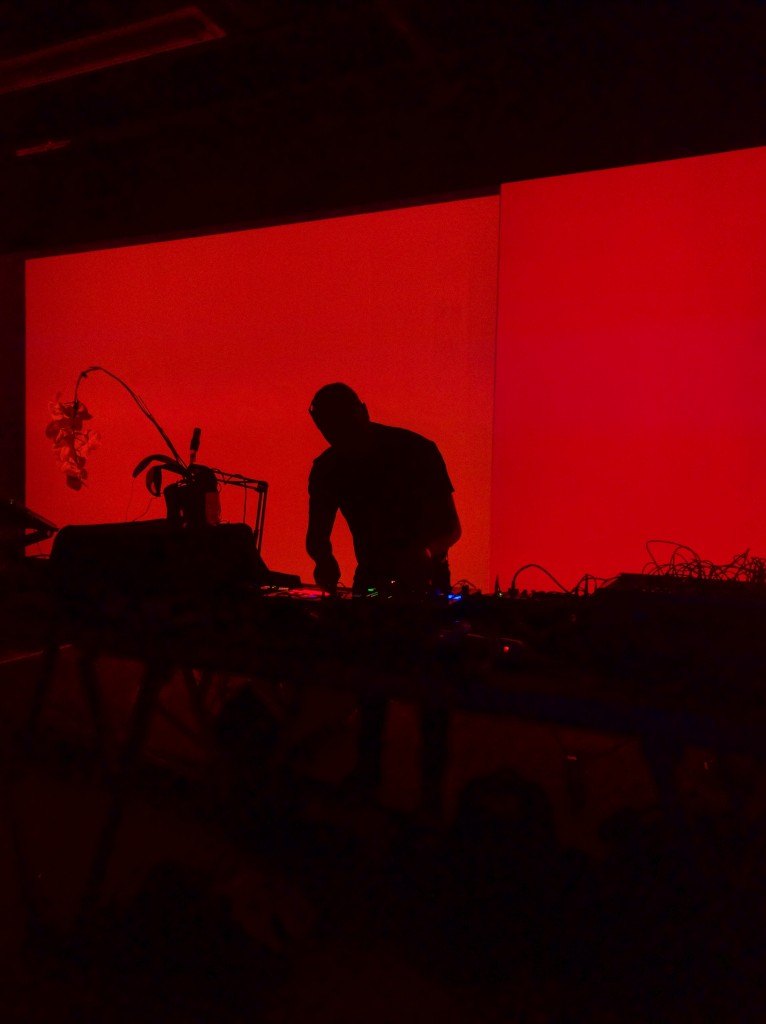 Later on, Lee Bannon started his eclectic DJ set with Seal's anthemic "Kiss From A Rose," before diving into a complex mesh of sounds and deconstructed references that simultaneously indulged his inner troll.
The Home Theatre Department, located in a nook between the primary spaces, was left in charge of a team of two reliable DJ's for each night. On Friday, D. Tiffany of Sweetpup Studios teamed up with fellow beatsmith and renowned disc jockey Hashman Deejay, while Pacific Rhythm head honcho DJ D.DEE was joined by Victoria-based Koosh on Saturday.
Back in the main room, minimalviolence primed the crowd for the incoming night gym workout with characteristically potent drum patterns and squelchy basslines. Following a laborious gear switch, Downtown Solutions (previously Friendly Chemist) brought out a hybrid set of instruments including a CDJ, modular synthesizers, and a human-sized studio rack — a comfortable level of equipment, complemented by a live percussionist. The interaction between them bathed the dancefloor with a hypnotic, dubbed-out construct of cavernous kick drums, sparse loops, and delay-laden congas.
Two bonafide, oldschool heavyweights closed the opening night. For many, these were the weekend's most anticipated sets, boldly booked back to back. Convextion, a highly-acclaimed yet low-profile producer hailing from Dallas, has been releasing his own brand of Detroit-influenced techno since the mid '90s. Following Downtown Solutions' practically free-form jam, the straightforward set was a rousing, if sometimes formulaic, deliverance into the late night realm, brimming with chunky bass synths reminiscent of his electro-oriented alias, E.R.P..
Also active for the better part of two decades, Robert Hood, an absolute legend in his own right, put the pedal to the metal, with enough stamina to easily outlast the scheduled closing time. Releasing an infectious onslaught of melodic, brutal, and somehow totally accessible minimal techno that echoed his own seminal productions as Floorplan, Hood's set was a masterclass in the craft, and a real treat for Vancouver's healthy technohead community.
Saturday, Oct 8
Overnight, the festival rearranged some of its spaces to pair with a different vibe. Satellite Gallery's immersive projection array relocated to the main stage downstairs, providing accelerated visuals for high-octane sets by Swisha, Deft, and Untold. Selection highlights include a carioca funk interlude featuring a track, infamous in Brazil, by the questionably named MC Bin Laden, and a totally unexpected throwback in the form of a footwork remix of Panjabi MC's classic "Mundian To Bach Ke."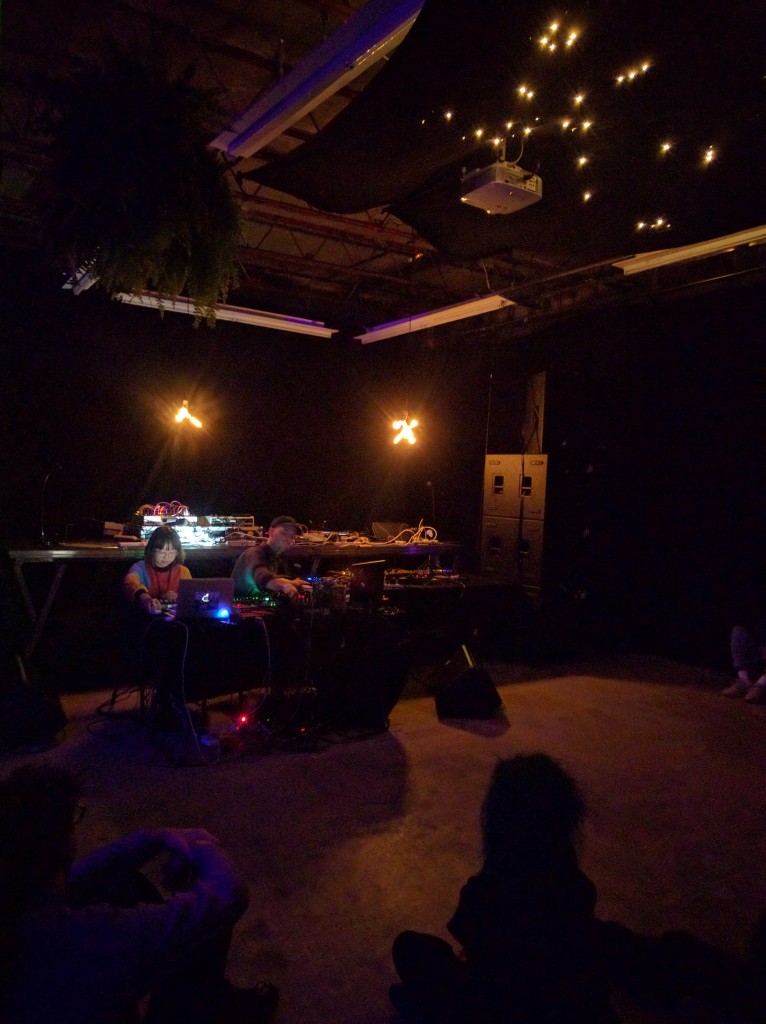 Unfortunately, visa issues got in the way of what would have been the first North American performance for Menchess and their localized minimal take on South African house music.
Meanwhile the gallery space took a more contemplative and introspective turn, starting with You're Me. Guided by Yu Su and Scott Gailey, calmly seated by their laptops and gear, the room filled with a relaxed and meandering presence of animated bass swells, setting everyone at ease, especially those that chose to take a front row seat on the concrete floor.
The mood flowed seamlessly into Ian Wyatt's set under his Slow Riffs name, which he's used for most of his ambient Mood Hut releases. The local artist continued at a leisurely gait, drawing from pacific-sounding field recordings and infusing them with his own delicately treated samples. The overall effect induced a collective meditation, marred only by intrusive rumblings from the bass-heavy action taking place downstairs.
Possibly the most gripping set of the night came from Pye Corner Audio, a UK based artist who recently released a full length on on Vancouver's More Than Human label. Satellite Gallery's final, and deeply danceable act performed in front of a curated reel of nostalgic found footage. Just as effectively as in Pye Corner's appearances on Adam Curtis' ultra-current documentary Hypernormalisation, the slowly unfolding soundscapes produced a synergetic effect along with the film, leaving the audience with a sensation of being allowed in on occult knowledge. Fuelled by intermittent mechanic grooves, the self-described Head Technician of Pye Corner pulsated cycles of tension and release, taking his time to deliver a sonic narrative that implicitly touched on timelessly deep questions of the human condition… at least for some.  
New Forms' return to a festival format was a welcome flash of energy for those in Vancouver who value electronic music and arts. The artists invited to play reflect diverse, inclusive, and sometimes challenging curatorial decisions, confirming the New Forms Media Society's commitment to making decisions first and foremost on the basis of sound and music.