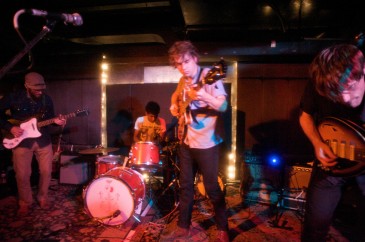 You couldn't ask for a more autumn-appropriate lineup. A light October rain drizzling continuously, the Media Club beckoned all eager wanderers inside. Burnt-orange paper lanterns lined the ceiling, guests cozying up sardine-tight as Simon & Garfunkel's "Bleecker Street" ran through the speakers. "Fog's rolling in off the East River bank," the duo sighed, a timely reminder of summer's end.
Hallow Moon took the stage soon after. The Vancouver-based four-piece echoed psychedelic '70s bands of yore, from their long, trancelike instrumentals to equally long hair. Many songs laid high, whistling guitar solos over husky vocals. They were a good band to warm up to, and even closed their set with a gastronomical warning. "Free hot dogs are always a bad idea," their lead guitarist said ominously. No one disputed this.

Night Beats set up next, and soon sent the venue's temperature skyrocketing. Crashing in with a killer drum/slide guitar solo, the Seattle trio's energy never ceased. Their influences seemed vast and varied: a little San Francisco noise punk, some King Khan & BBQ Show-esque blues. Drummer James Traeger began pounding the floor tom with a tambourine at one point, while Lee Blackwell and Tarek Wegner swapped bass and guitar duties once or twice. By the end of their set, people were definitely sweating.
Woods' long-awaited set started around midnight, beginning with lead singer-guitarist Jeremy Earl's unassuming, "Hello." They launched into "Sun and Shade," treating the audience to a glimpse of tree-lined beaches somewhere on a sunnier coast. Bassist Kevin Morby took on some harmonica duties, giving a folksy feel to their first couple of songs. Soon, though, Earl traded his acoustic for electric, and a frantic jam session following "Find Them Empty" began. When playing, Earl looked a tad like a marionette, with seized muscles and jerky movements, as though possessed by his guitar. It's always intriguing to witness a musician become utterly consumed by his or her instrument. His fellow guitarist played some interesting sounds as well, using a 12-string for unique, wavering accompaniments.
Their set flew by, too quickly for most. A quick nod between the bandmates determined they were game for an encore, and Earl's acoustic returned once more for the enchanting, slightly melancholic "Rain On." What could be more fitting?