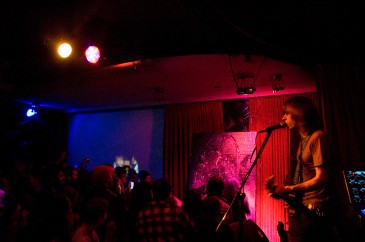 Even though the over-hyped and somewhat warmed-over hipster heroine Grimes was needling away across town to a sold out Commodore mob, Faust still managed to draw a bustling crowd of the curious and the converted. In fact, it's been awhile since I've seen such a wide cross-section of fans crammed contentedly in one place. There were old school Faust fans in tye-dyed shirts, mammoth grins splitting their fine-lined faces, smiling, youngish scenesters, and giddy baby-faced tadpoles (probably sent by Thom Yorke, a famous fan always dropping their name). But regardless the reasons, the with-it Waldorf was braced and bumping.
Local experimental auteurs Von Bingen not only christened the event fittingly, they also Svengalied the evening, making and shaping what would be an unforgettable night. Second came Seattle's Midday Veil embarking on an energetic set, their first in Vancouver. A showy sextet reared on psychedelia, New Age artistry, jazz-infused jockeying and multi-media zigzags, their bop fusion tickled a bit too much. At best, they echoed Jefferson Airplane, a band I've always had ambivalence towards. At worse? Well, they had a bongo player who was a dead ringer for Howard Moon, the fictional jazz freak from the Mighty Boosh. It's my own fault, but I chuckled about it the whole time.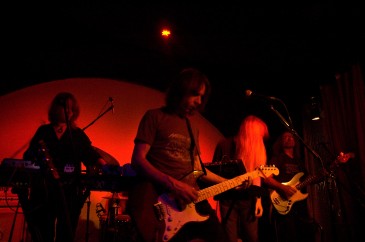 Later, after attending my split-sides, the red curtain draping the stage raised to reveal Faust, brandishing their instruments like weapons. There they were, experimental Krautrock pioneers, making music and knocking off noises that snapped synapses with their energetic eruptions; at times so intense, like all things were up for grabs. Backed by the bizarro rhythm section of original Faust founders Werner "Zappi" Diermaier (on drums, cement mixer and angle grinder) and Jean-Hervé Péron (on bass, chainsaw and vocals) that left no space unfilled in it's unstopping propulsion, including the sometimes startling silences.
There were instances, as in the self-referential 1973 classic "Krautrock", where auditory space was expanded and dilated as the German five-piece stood, sonically poised between perfection and flight. I may never get to see Neu! or Can, but these avant-garde artists are embrocation enough.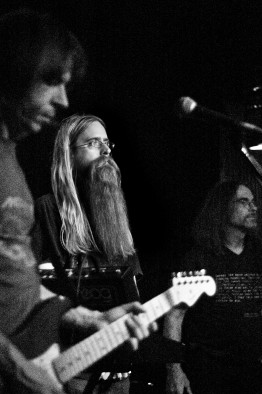 Midst the striking "Mamie is Blue," as noises tumbled downward from lightning-flecked storm clouds and burning sparks quite literally threatened the audience, Faust reigned at the opposing poles of certainty and mystery. Like characters in a dream whose desires and actions go unexplained, they elevated the shared experience to stratospheric summits and unheard-of heights.
Rapt, my ears ringing and my mind blown to ribbons after "It's a Rainy Day (Sunshine Girl)," I teetered with feelings of deficit but also with the promise of fulfilment. Is that not what keeps love alive? It's certainly what keeps Faust, now in its 41st year, alive. Or so I thought, crawling home after an exquisite evening in a red-hot blast-furnace of intense artistic proving grounds.