Thirteen years after the Great CiTR Porn Incident, Discorder tries to find out what really happened on that wild and crazy night in the summer of 1999.
___________________________
"Don't worry. We've changed the couches."
No matter who I heard tell the story of the Great CiTR Porn Incident of '99, they always closed with that line. It was a dubious reassurance about the hygiene of the furniture in Radio Hell, CiTR's lounge, where I had always been told the incident took place.
And I had heard many people tell it. Shortly after it happened in June 1999, landing on the front page of UBC's student paper, the Ubyssey, in August 1999, the incident began to take on mythic status within CiTR folklore.
Like any myth, there are many variations on a theme: live sex, broadcast on the air! Some say a host had been involved, others say there was an orgy in the lounge. Daliah Merzaban, reporting for the Ubyssey, gives us the only official account of what took place. "Dead Air" was a late night show co-hosted by Barb, Sarah, and Katie, who also made up the band Full Sketch. They began their June 12, 1999, episode with promises that they would be broadcasting live sex. At 3:30 a.m. they did just that, the act reportedly being videotaped as well, for "documentary purposes," as one of the hosts put it.

Although there were no complaints from listeners, AMS Security complained to station staff that a number of unauthorized people had entered the studio. That led to an investigation, which resulted in the cancellation of the show and the indefinite suspension of the three hosts. As there were no official complaints, the logger tape of the broadcast was destroyed after the mandatory 30-day period (a condition of CiTR's FM license), and a shredded videotape, reportedly the only extant copy of the events of that night, was given to station staff.
The videotaping had not been merely archival. It was meant to be a part of a film. In an era when even Hulk Hogan has a sex tape and the Internet makes porn videos readily accessible, it can be easy to forget how sensationalistic this was 13 years ago. Filmed porn was mostly seen on VHS tape and the means of film production were not so easy to come by as they are now. This production took a concerted effort.
This may not come as a surprise, but getting people to discuss their secret porn past can be tricky. No one I spoke to wanted to be on the record, if they got back to me at all. The director, an aspiring would-be maven who went by the pseudonym Dusty Chinook, is — by all reports and a casual perusal of his Facebook page — a happily married TV editor living in eastern Canada. He did not reply to multiple interview requests.
The hosts have gone on to success as an artist, journalist, and lead singer in a moody new wave band, respectively. Even those who listened to the broadcast or have seen the tape didn't really want their name involved. In an age before Twitter and Facebook began indexing the minutiae of youthful indiscretion, those who were involved are able to keep their hi-jinx under wraps.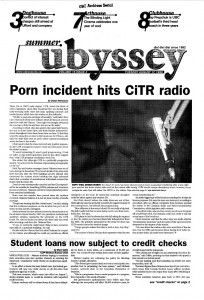 So what do we know?
Well, for one, the shoot didn't take place in the lounge, so no need to have ever worried about those couches. One CiTR old-timer tells me that photos taken during the shoot place it in the old record library, now Studio A, a.k.a. the on-air studio. The source told me that he had seen the photos when they were used to illustrate an erotic story about a San Francisco DJ and his neurotic girlfriend. He was sure that he had seen it on About.com or Ask.com, an improbable place and one that neither he nor I were able to find again.
There's also the matter of the destroyed master tape.
I've heard of secret screenings of the tape that took place in the years after the shoot. I was given a lead on a former CiTR member, a reclusive artist known for an interest in linguistics, that some say may have a copy. He never replied to my Facebook messages.
Those who have seen it say that it is pretty unsexy. The male co-star is rumored to have done ecstasy before his moment in the spotlight and was unable to perform his role. Some say a cameraman gallantly stepped up to ensure the show went on. The female co-star wore a blonde wig with bangs, looking the very picture of late '90s chic.
And I've heard that the videotape wasn't the only record of the events of that night: CiTR's station security camera also caught the action and was used as evidence when the hosts tried to pass off the stunt as having faked. As far as anyone knows, those tapes were recorded over.
While I wasn't a part of CiTR back then, I was a listener of the station and an active reader of Discorder, and I certainly heard about the Great CiTR Porn Incident. At the time, the station was preparing for a referendum asking students for more funding, and there's nothing like the words "porn scandal" to throw administrators into fits of consternation.
Now, with that and subsequent referendums successful, I think most people at the station look back on what happened with amusement. While I certainly wouldn't say the events of that night inspired me to get involved in the station, it did instill in my mind a notion that CiTR was a wild and unpredictable place; a place for misfits and weirdos; a place where anything could happen, even those things that really probably shouldn't happen. Even at 3:30 a.m. in the morning.