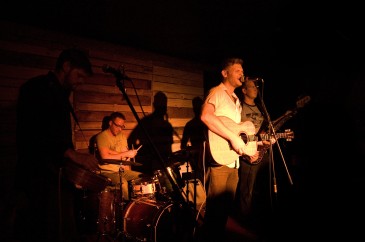 China Cloud is a pretty neat place. A secretive, no-signage entrance leads up to a pad sort of like your spinster Aunt's basement – with that low ceiling (despite it being on the second floor), veiled lighting, tacky bar, and squashed-in couches. Plus a can of beer for four bucks is (sadly) fairly decent in this town.
Such was the setting for a toasty Friday night in celebration of Corbin Murdoch & the Nautical Miles' digital EP release entitled A Mix of Sun and Clouds. Eden Fine Day, that babe from Vancougar, got the ramble purring through a perfectly adorable and ever honest solo-set – though I use the term lightly: when a girl is eight months pregnant, it's more like a duet. Fine Day's unborn child probably has more street cred than you do. Fine Day reached powerful pitches through forgivable false starts, and entertained with relatable banter about a depressing childhood. It was funnier than that sounds.

Clustered like marshmallows on a sweet potato pie and commencing the set with an eye-roll worthy summer-camp style cheer, clearly beloved Wintermitts crammed on stage. The six-pack, including frontwoman Lise Monique, marched through a multi-instrumental set, with bandmates swapping seats, smiling through stories about the Spaghetti Factory, and delving through a veritable tickle-trunk of various instruments. Commencing with "Sharks" and keeping up the tempo, Wintermitts had the glockenspiel sparkling and the trombone bellowing through a syrupy sweet set which had the house up on their feet, and tables, and each other.
The lack of inspired lyrics, the gimmicky yodels and over-the-top yelps and harmonies were perhaps undetectable to fans through all the sunny sunshine rays Wintermitts beamed. And if the bilingual joy-ride didn't have everyone's teeth aching with bliss, they handed out cupcakes, too. And apologized for only bringing forty-eight.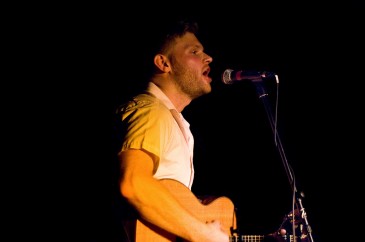 It may have seemed like a difficult task to follow a band of could-be children's TV programming hosts (except I hear PJ Fresh Phil is actually cool), but Corbin Murdoch & the Nautical Miles headlined the evening with remarkably skilled musicianship and imagery-rich lyrics crafted thoughtfully together in a true-to-country form. Opening with "Black Bear," the China Cloud took on a different ambiance as Murdoch spun yarns of musty cabins and rambling rivers. It wasn't all subdued, however, as the four-piece churned out ballads to usher shuffles, stomps, and skips about the dance floor. Especially sharp and stylistic drumming kept up the pace, and the surprisingly versatile (maybe magical?) lap steel added interesting texture and interest to flesh out Murdoch's hearty and competent vocals.
It was an impressive little launch for the digital EP. A few smatterings of tasteful harmonies, and the kind of satisfying instrumental subtleties that can only be employed by pros studded the established folk-roots sound, leaving everyone ready to retire their dancing shoes by the evening's end. No cupcake bribery required.