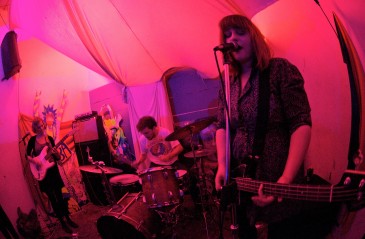 The promise of live music was enough for many to trade eerie autumnal warmth for the grungy intimacy of Zoo Zhop. As a first-timer to the record store/music venue, I could see how one could feel alienated as a stranger stumbling upon an acquainted circle of music lovers. But there was something primal-relativistic transpiring in the three trios who played that made it hard to feel separate from the audience's bristling lattice. Save for some minor technical squabbles, it was a fine night.
Openers Diane were a treat. Without their admission, they played with precision that could've belied a debut live performance. As first performances portend, Diane was unanimated. But given studious intensity and laconic no-wave vocals, perhaps it was style. Intimidating bass at the forefront guided songs with a percussive tunnel of riffs, complemented by frenzied drums and guitar melodies. Their foreboding garage rock worked well within the confines of Zoo Zhop.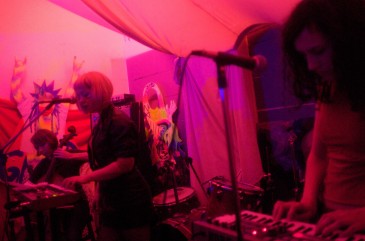 After a long wait, Nikki Never's electronic project, Terror Bird, was up, which offered two synths and, anachronistically, a cello. Whatever incredulous auspices this produced, the war paint-decorated Never sung new wave eulogies that shattered any crowd apathy. Barring an unfortunately low volume from the cello, the hearty drum loops and snappy synths got people moving. Live, Never's powerful, sombre voice can't be understated, and it lent heart to the post-punk melodies. Despite the possible camp of a biker's cap that Never erected halfway through, the band's music was nothing short of affective.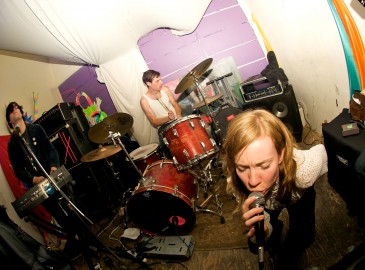 The crowd's enthusiasm peaked when Channels 3×4 took the stage, writhing with kineticism excited by singer Sarah Cordingley's bodily ebb and flow between the stage and crowd. With the acerbity of true punks, they played to aggressive synth hooks on repetitive overload, slogan-esque screams rising to a fever pitch. Their no-wave aggression plays with the irony of an inane television program set to auto-critical self-destruct. It was a deliriously infectious performance.
After Diane's tight debut and an emotive set from Terror Bird, Channels 3×4's musical tirade against the recursive vapidity of popular culture was an elemental finish fit for music lovers willing to be packed like sardines. Of the myriad Dionysian ventures available on a Friday night downtown, I'm glad to know that if I chose to get crammed in and tossed around it was for love of music.