I've been trying to grow kale seeds for the better part of two months. They've been about four inches for about three weeks now. Nestled in a tin can filled with dodgy dirt I scooped from under my house, they perch inside my kitchen windowsill, getting  a small dose of indirect sunlight. Their little curling leaves stretch towards the glass. Had I thought that my love and attention would make up for their lack of sun and space? Maybe. Did it work? Apparently not. Perhaps I would have had more luck with a support circle like the Companion Planting Club. A gardening group of unlikely origins, they promote accessibility and inclusion in sharing of knowledge. I recently had the pleasure of chatting to some members through —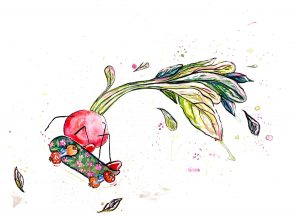 ironic, given our organic subject — the over-familiar zoom grid. 
Phoebe: I suppose the first question I have is, how did Companion Planting Club start up?
NORMA: Well, everything started during the lockdown. We all had one thing in common — we are all skateboarders. We're part of the skateboard community. During the pandemic, we weren't hanging out anymore, and some of us were gardening. For me, this was my first year [gardening], and I just had no clue what I was doing. So I reached out to Sam. Then I reached out to Judy, and we ended up with this Instagram group doing seed exchanges, or just asking questions like, oh, you know, where should I plant this type of seed? Or where do you get your soil from? That kind of thing.
SAM: The whole experience has been so rewarding! We are bonding over gardening rather than skateboarding. I think it has been really inspiring. It's another way for us to collaborate and learn from each other. 
JUDY: I mean, skateboarding's a pretty individual art, if you will, and gardening can be the same thing. A lot of us do these things because we get some sort of joy out of creating for ourselves — but there's a bridge that links everybody together with those commonalities. It doesn't matter how good of a skater you are, right, it doesn't matter how good of a gardener you are.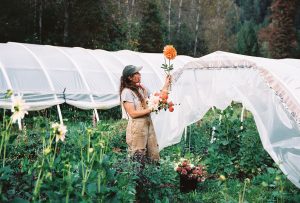 P: What kind of similarities do you feel there are between gardening and skating?
NORMA: I think I can see every skateboarder like a plant — you progress at different speeds. It's the same when you skateboard. I feel like you need to practice every day and like, you know, give it some love, or get support. If a plant is failing sometimes you need your friend to help you. You put in a stick to help the plant grow straight. [It's the] same for skateboarding. Sometimes you need to learn how to drop in, and you're not able to do it on your own. So you're like, can you hold my hand so I can try these tricks? Also, skateboarding is so creative. There's not just one way of skateboarding. Everyone has their own style, their own tricks, their own preferences. And like, some people might be doing gnarly, crazy stuff, but we all share the same joy. I think for gardening it is the same. Like, I might just be growing the easy things, but I get the same joy every time I see something bloom, something flower. It's the same joy that we get when we land the trick, you know? 
KALEA: Both scenes are pretty DIY, like even just, if we were to talk about creating a skate space or designing a garden — there's so many similarities there. You have so much creative freedom in using the environment to just have fun. 
NORMA: But now we're at a point where we're like, okay, well, how can we share this joy with our skateboarding community, because I think everyone should know how to grow food. It's something that everyone should have access to. 
P: What do you consider the Companion Planting Club's main goal to be?
JUDY: I think [CPC] bridges and connects communities. You know, I garden with my 85-year-old neighbour — clearly my 85-year-old neighbour is not skateboarding. She doesn't even understand it. 
KALEA: You never know, she might pick it up!
P: I have an older neighbour, I don't know how old he is, but I see him everyday, roller skating down the street. I just have such mad respect. So you never know.
JUDY: It's true. Never underestimate. But you know, I don't think gardening has any borders or limits — any person with flesh and a heartbeat can do this. 
One of Companion Planting Club's core values is to be accessible. Both gardening and skateboarding are more than just activities — they equip those who engage with tools like perseverance, consistency, patience, and determination. With a whirl of uncertainty and stress clouding our minds, gardening can be a grounding breath of stability. As health and safety adjustments involve a heavily digitized lifestyle for many, taking a quiet moment to water your plants and notice little garden critters can provide mental relief. CPC aims to bring this peace and appreciation to more people.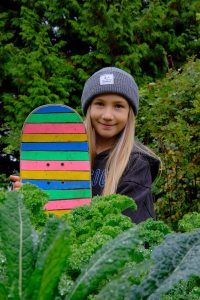 JUDY: I also think that gardening is met with some anxiety, especially with being in the city — Sam really blew my mind, she's done a great job with using what the city offers. Because I live in a house, I have accessibility — but she lives in an apartment that doesn't even have a balcony. So, she took a roundabout and transformed it into this incredible space. People riding their bikes down 10th, they're like, what? It stops people, it's really inspiring. It's a very clear example of showing urbanite people that gardening can actually happen. Right? Like it's usable space. 
SAM: Starting skateboarding or starting a garden can be really overwhelming. You might not know where to start, and having access to a community that understands and supports that can go a really, really long way. We've seen this happen in skateboarding, and now we can see the possibilities in gardening as well. We're representing a new age of gardeners, in a way.
P: I love the way you put that — new age of gardeners. Also, I really know what you mean with feeling kind of intimidated until you know people. I had a roommate over the summer who threw himself into gardening. I'd never had a close friend who just did that before. He had all these crazy ideas about it. I'm only trying my own planting experiments now because of him. So I appreciate the way you put it — how simply talking about it encourages people, and stops it from being such a scary, big thing. That's really cool.
SAM: It's really motivating to grow within this group.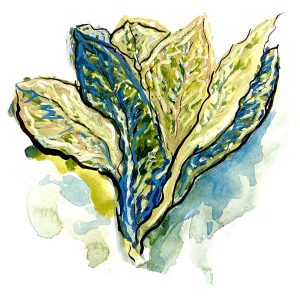 JUDY: I'm a mom of three kids, you know, and I have a teenager who is 15, so it's really cool to feel included. And Kalea is like, could be my daughter, which is awesome! 
NORMA: I wanted to mention one of our members — Michelle from Antisocial Skateboard Shop, because she's one of my biggest inspirations. Like, she literally brought soil to my house, brought me my first seeds for growing flowers. Michelle does a lot for skateboarding, and now she's doing a lot for gardening too. She has a farm in Squamish and we all go and buy flowers and food from her every Thursday. 
JUDY: My nine year old daughter calls her auntie Michelle — and sometimes I'm like, isn't she everybody's auntie?
P: If you could give a sentence of advice to people who want to start skating, or start gardening, but for some reason haven't, what would you say?
SAM: It's never too late. It's never too late! I started skateboarding after I turned 31. 
NORMA: Yeah. I started at 31 too. Once you start, you're like, Whoa, I wish I started earlier!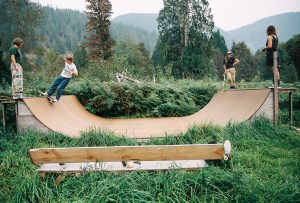 Looking ahead, CPC plans to launch beginner planting packs, with different versions adapted to accommodate growers' space and sunlight availability. I ask if the frosty weather will disrupt them, but am reassured that though the cold might slow growth, winter is time for important processes like building up soil and mulching down dry leaves. Apparently even throwing lentils into your soil stew can add richness! Preparing beds for bulbs sets up lovely tulips and daffodils ready for spring. On top of this, winter gives CPC more time to focus on organizing and applying for grants. They are on the hunt for supporters, both for funding, and for a spot to develop their own community garden with an integrated skate component. If you'd like to connect, you can find them through @companionplantingclub or at www.companionplantingclub.com