"I was thinking about the color red. Red as race, red as history, red as pain, red as blood, red as protection," explains Cheyenne Rain LeGrande, an interdisciplinary Nehiyaw Isko artist from Bigstone Cree Nation, about her upcoming installation at the Emily Carr University of Art + Design Grad Show. Over the past several months, LeGrande has been working on this project, entitled Nehiyaw Isko ᑭᒥᐊᐧᐣ, that combines the many disciplines she works within — video, sound, performance and sculpture.
Nehiyaw Isko ᑭᒥᐊᐧᐣ is primarily a performance piece, in which LeGrande covers her body in red paint. As LeGrande explains, "I rub my body all over the walls of the institution, and aggressively try to scrub the red off," with a sheer white sheet of fabric, while LeGrande's mother, Connie LeGrande, sings. "Kinanâskomitin to Nimama, it has been a true honour to perform with her." While there is an inherent violence in the imagery being conjured, LeGrande's intent isn't to simply spotlight colonial violence that has been and continues to be inflicted upon Indigenous women. Instead, LeGrande takes a much more active role, reclaiming her agency and "addressing [her] own Indigenous body within these institutional spaces… I was literally rubbing my redness all over the wall."
Negotiating how to produce evocative and intensely personal art within an institution like ECUAD has long been at the forefront of LeGrande's work. And while she has been working through these issues of fully expressing herself and her identity through her art for years now, Nehiyaw Isko ᑭᒥᐊᐧᐣ is about as concise an artistic statement as LeGrande could make. "I think rubbing up against the institutions is really easy when you're literally doing that," says LeGrande. "Pushing up against it, using my body as a paint brush and rubbing my redness all over the walls."
Even while rubbing up against these institutional spaces, LeGrande isn't entirely critical of ECUAD. "Honestly, that I'm able to express all this in an institution is really cool," says LeGrande, "maybe we are getting somewhere." In addition to the freedom and resources to express her own artistic vision, LeGrande has also found at school a collection of like-minded artists. "Through Emily Carr, I was able to create a community of friends who are there for each other and understand the importance of art-making." Notably, LeGrande recently performed an iteration of her Nehiyaw Isko ᑭᒥᐊᐧᐣ performance at Ground Floor Art Centre, an accessible artist-run centre recently founded by three ECUAD alumni that focuses on providing an accessible space for emerging artists in Vancouver to exhibit their work and connect with one another.
But Emily Carr isn't the only place LeGrande has found a supportive artistic community. She is currently an artist in residence at the Skwàchays Lodge, Canada's first Indigenous arts hotel. Along with 24 other Indigenous artists, LeGrande has been living at the Skwàchays Lodge for the past six months. "It's more of a living residency. Basically, it allows you to be able to afford being a practicing artist in the city," something LeGrande says she's planning on doing for the near future. "I'm so thankful and honoured to be able to live and work on the territories of the Musqueam, Squamish and Tsleil-Waututh nations."
Even now, LeGrande has explored the processes of art-making outside of the urban context. While the initial iteration of her Nehiyaw Isko ᑭᒥᐊᐧᐣ performance happened at ECUAD, she repeated the work on three other occasions — once in the ocean along the Seawall in Vancouver, and twice in her hometown of Wabasca, Alberta last winter. "It's so beautiful and peaceful there," she says. "It's one of my goals to do art there and bring art to the community, because it's not really alive there right now."
Of the two Wabasca iterations, one took place on the edge of a frozen lake, "in the snow, in my bare feet for five minutes… I basically froze my feet," shares LeGrande. "I never experienced that before — it was really intense;" the other within a ring of fire, built by her uncle. While the central framework remained the same for each iteration, rubbing the redness off her body while she moved to the sound of her mother singing, LeGrande says that her experiences and the outcomes of all four performances were vastly different. "My mother and I are reacting to each environment in the moment. Whatever happens, happens," says LeGrande. "It's a very intuitive performance."
For the final presentation of Nehiyaw Isko ᑭᒥᐊᐧᐣ, LeGrande will be combining all four iterations of the performance in an immersive installation. Each of the videos will be projected onto the sheer sheet of fabric she used in the performances 
hanging just in front of the four walls of a room. Along with the sounds of each iteration, LeGrande will do a final iteration within the completed installation, moving between the sheets and the walls, bringing the performance back to ECUAD, full circle. "For me, this performance has been a cleanse. Expressing this thing inside of me and releasing it, letting it go."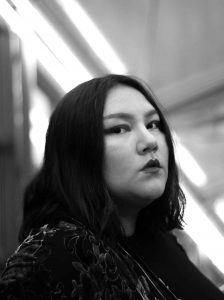 LeGrande's next performance will be at Emily Carr University in room D1390 at 6 PM on May 3rd.