I meet T'uy'tanat Cease Wyss and Anne Riley, collaborators on the public artwork A Constellation of Remediation, at the cobb oven installation day of Cease's Garden project at 221A Semi-Public Site, which is the culmination of Wyss's one year fellowship with 221A. It's fitting.
The space is filled with at least 30 folks preparing to throw down, stomping clay, adding hay, building an oven facilitated by the mud girls, putting in the garden beds. It's also fitting that Riley joins us after her Beading and Reading gathering at Massy Books for a closed event for 2SQ folx as part of the Together/Apart Queer Identities symposium that was happening through grunt gallery, co-curated by Whess Harman, Kali Spitzer.
Also fitting: constellations in our conversations, in the design of the plant beds, in the folks working and chatting around the garden, between introducing me to friends, the use of straw waddles as a base for the beds. Of their shared project, through which Wyss and Riley will plant Indigenous Remediation Gardens throughout the city decolonizing the dirt back to soil: "I'm so excited about what Anne and I are doing. We get to grow mushrooms, and spread mulch and throw seed bombs – that's our public art, remediating things. And the top notch part of it? The heart and soul of this project? We are creating a tool kit for Indigenous youth to teach themselves ethnobotany."
Folks keep arriving, many of them checking in with Cease, who recently broke her foot and has to sit, which is difficult. Anne shares more about their project—commissioned by the City of Vancouver for their Artist Initiated Projects program in 2017. "Ceremony is centered in this work. The application process was really important, because as part of our application we had three letters from three matriarchs [from the xʷməθkwəy̓əm (Musqueam), Skwxwú7mesh (Squamish), and Səl̓ílwətaʔ/Selilwitulh (Tsleil-Waututh) Nations] that Cease knew and invited to be a part of the project to aid in the development of the work and healing of the land, which is a part of the deep practice of Cease's durational work-relationship … this being her [Skwxwu7mesh] territory… and their letters, I got so emotional reading them because — they believed in the work and to me they read like love letters to the earth. And I think that's the importance, you make work that people can believe in, and they want to be apart of, which goes against this very colonial notion of it just being about you, which is the way we're taught to make art. The work is so much bigger than you/us. This project is a process based work and we knew back in 2017 when the project was commissioned that it was going to be a long wait and conversation with landowners to get access to land to plant the Indigenous Remediation Gardens. We also knew we may never get access to any sites. Right now, we are close to the possibility of planting soon and for us the process of getting all the initial no's and waiting and more waiting speaks to a colonial time and consciousness we are facing in this project. The matriarchs love letters to the earth are the examples of the decolonial clocks that are guiding our time and direction"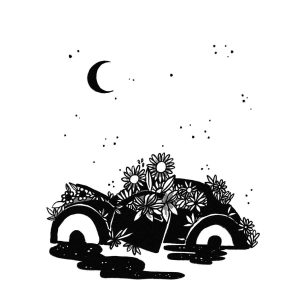 For Anne, both Cease's project and their collaborations are based in "a pedagogy of love, a love ethic, so when I speak about my practice, and what I've seen in Cease's work, it has values and responsibilities. And the ethic lives through what a practice is, how you start it, why you do what you do."
A few days later, Cease reflects, "that's one of the things I really align with Anne about is we often talk about love, the many forms of love, our family, our friendships, our lovers, our feelings, we get into the core, we do the work on knowing each other. It's not just doing a collaboration. [And] the work of the garden… it really is my happiest place, it reminds me to look to the future, how it's going to grow. Doing gardens, I found that that's what deeply rooted my daughter and I, and the more that I did work with my mother, the more I realized the real story [of our family] was growing food."
Of Cease, Anne says, "she really is someone who works from her happiness, and that's the core of this artwork, too."
"With Anne, we would walk on the land, and I would ask Anne to ask herself questions about relating to the land and water… And that's where the ideas for our projects come from, from sitting with a specific part of the land and asking questions… [Anne] walks the walk, she does the work."
"I first met Cease five years ago through a mentorship grant through the BC Arts Council. I approached it as the decolonial MFA I wanted, but didn't exist. I wanted to mentor with queer women of colour since it's so rare within educational institutions to have the opportunity and space to learn from other queer/2SQ women. Laiwan one of the main mentors for this grant — a poet and visual artist — introduced Cease and I and then Cease became my second mentor for the grant, and  often for our time together during the grant we would just walk in the forest — sometimes it's all you need to do, because it's another way of being together and learning and the forest is Cease's classroom. And the things that we do in cultivating relationship are really important to what kind of relationship we want to make."
Anne continues, "and at the core of the work is how we're healing each other, because that ripples out into everything else."
Days later, at Cease's place, after her tough postoperative day that also included good visits from community, with Cease's healing foot raised up, Anne looks back at our previous conversation: "when you're investing in your pleasure/healing toward liberation, people become curious about what it is that you are doing, which is so different when we're taught so much in capitalism that our relationships are about product, about performing that, and about how we don't actually know our own pleasures. And so, I think with Cease, that's the really radical work of hers. Yes, these things were being built [in the garden], she got to see them built, and for her I think it was also that moment where what she's witnessing, it's all of these relationships built over time and being built in the present."
"It's true," Cease whispers.
A few days before, Anne, who is Cree and Dene from Fort Nelson First Nation spoke about being a woman whose Indigenous and a visitor here on Cease's territory: "As a Indigenous visitor and artist here I need to not perpetuate colonial ways of making and taking/up space, I need to hold up the women of this territory and their work, to honor their work of caring for this land and to collaborate with them in their dreams of liberation and healing"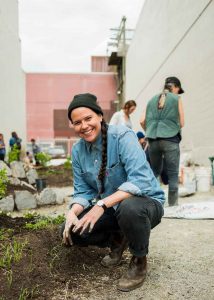 Our conversation overlaps with a conversation between Cease and two Indigenous youth participants of Cease's 221A garden project being installed. Valeen, who recently wheeled up a baby in a stroller, a baby she caught at birth, and Jazz, who is wheeling rocks up to a bed and buttressing it with them, are both poets. They explain how Jazz, who will tattoo Cease in the next couple of days, gave them both hand poke tattoos in the design of the garden and Cease got a Wapato leaf on her arm. Valeen looks around at one crew of folks working, turns back to us and points to her tattoo, "this is being built over there right now." She moves her finger, "and this is being built right now by Jazz, this spiral — and you all are sitting right here. This garden," she waves her hand over the full piece, "it's growing right in front of us."
And growing, clearly, from relationships, "Meeting Cease in the garden, and all that tenderness, and," she turns, "you were so open, and so giving, so inviting."
This finding and building of community, like a collaborative garden is, Cease had described as, "a whole body effort. Sometimes people's fears just get in the way of realizing projects. Collaborations aren't easy. If you nurture one another, if you watch out for one another, you do build that trust. It's needed especially in a large scale project with legal components, and cultural components, environmental components… and of course looking to the future, grounded and empowered by the teachings in each of our cultures."
Anne riffs, "Rather than beginning with yourself, we begin relationship by thinking about what the other person needs, and finding ways to meet that in ways that haven't been met before."
Cease adds: "When Anne approached me two years ago about the city project, I said, sure, let's try it, I'll do it with you. Because I trust you … when we're working, we have a task list, and it seems stressful until we sit together, and we always make sure we eat something together, and we eat and talk, and we popcorn between our personal life stuff — because we're nurturing our friendship always — and talking about the project. And it all weaves in and out in a healthy way… and then we realize we've done our list… but it is really about trust, and it is really about nurturing the times we are together. It's not just about the work, it's taking care of our spirit, our soul."