"YouTube commenters [ …] I don't know anyone that does that." I'm sitting across from Jo Passed's Joseph (Jo) Hirabayashi, and our conversation has swerved sharply from the art of songwriting and pastiche in modern music to the absurdity of the online comments on his music videos. "Oh it's great," he says with a laugh.
Jo is a veteran of Vancouver's music scene, with past projects including SSRIs, Sprïng and recording credits on numerous local albums. His current project is Jo Passed, with a lineup featuring guitarist Bella Bébé, drummer Mac Lawrie, and bassist Megan-Magdalena Bourne. After a single and two EPs, Jo Passed has captured the attention of Seattle's venerable Sub Pop Records to release their debut LP, Their Prime. In Canada, the record will be released through Toronto's Royal Mountain Records.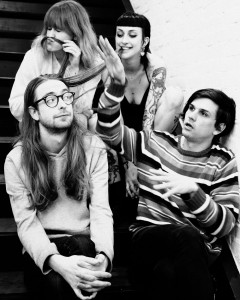 As we carry on talking about technology, commercialism, and what it means to play noisy guitar rock — "dumb adolescent guitar stuff" he quips — in the age of synthesizers, the story of the Sub Pop signing comes up.
"I met someone from Sub Pop at a show, and then pretty early on in the process of the record I was sending, just, rough mixes 'cause they said, 'we'd love to hear it as it's being recorded.'" I ask him if it was intimidating to send songs off to a label, and without hesitation he replies, "totally."
It's no secret that the creative integrity of the artist is at stake in the shadow of commercial success, but it turns out there was even less feedback than Jo thought there would be. "I was prepared for some things to happen, like maybe we should change the track order or cut this song, and that didn't really happen." My impression of the role of a major record label from our discussion is that they open doors — for promotion, distribution and connections — but you still need to walk through on your own, good record in hand.
If anything, the pressure turned into a boon for the creative process by providing a finish line. The importance of structure proved a recurring theme in our discussion, and seems central to Jo Passed's success. "Make your own deadlines […] That's the trick really — structuring yourself when you're recording DIY," he says, joking that that's his only piece of advice for people. So what does structure look like? "Don't go down the hole of just cycling through a browser of all these different sounds on your synth thing, and then there goes the three hours you had to work on your tune."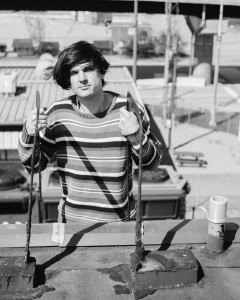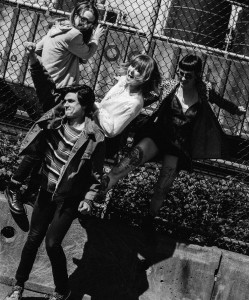 Their Prime is emphatically a rock record, filled with crunching guitar riffs, blaring feedback and crashing cymbals all carefully placed in spacious mixes. The details — layered guitars on "MDM," a nifty time signature change on "Glass" — speak to a skillset that makes Jo Passed a cut above typical garage rock. They're bold sounds bashed out by a hand capable of great delicacy. For comparison, just listen to the gorgeously slow "No, Joy (I'm Not Real, Girl)" from 2016's Out EP. Spending time with these tracks, you can hear nods to Jo's recording influences like Deerhoof, Steve Albini, David Fridmann and Alicia Bognanno of Bully.
The record evolved from a discontinuous recording process, which was an exercise in DIY, a style of recording Jo loves. Recorded with a patchwork of personnel, equipment and spaces both at home and at KW Studios, Jo relates just how complicated it is to finish an album. "I've lived in studio rooms for like eight years or something, building my room into this intense laboratory with foam on the wall and guitar hooks and monitors and gear, thinking that somehow that would inspire creativity."
Instead he's sought to separate spaces, reverting his home setup to a simple two-channel audio interface, and saving the studio gear and space for the loud and live components. Reflecting on the outcome, Jo says the record sounds disjointed, but sees it as a profound truth rather than a detriment — life in Vancouver is the same way.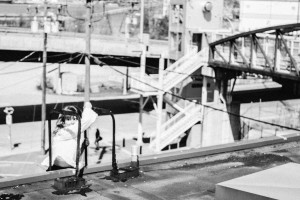 The content of Their Prime was very much informed by Vancouver: place, space and identity as major themes. The lyrics and videos for singles "MDM," "Glass" and "Millennial Trash Blues" reveal the Jo Passed worldview — it's sardonic, postmodern, but not post-hope. It balances a frustration at the current state of the world with a pensive appreciation for the good things in life. The songs feel like great exhales of built-up tension.
One of those good things is playing music in the local community, which Jo is very involved in, working at venues, hosting recording workshops and serving as soundperson at gigs. When the opportunity came up to have their record release show at Red Gate's final weekend in May, there was no way they'd have missed it.
In a 2010 interview with The Georgia Straight Jo mentioned a curse that seemed to follow him. I ask him about its current status and he brightens up, "Oh man, I thought about that actually, recently. It must have lifted with the Sub Pop and Royal Mountain signings," he laughs. "Either it was the curse or my idiotic youth and I've learned from my mistakes… maybe. We'll see."
X
Their Prime will be available May 25 through Sub Pop and Royal Mountain Records. A record release show with supporting acts Little Sprout and DUMB will take place at Red Gate Arts Society at 855 East Hastings Street the same day. Follow Jo Passed on social media for upcoming tour dates and visit jopassed.bandcamp.com for previous releases.