They have no website and no social media presence. Yet, eagle-eyed Discorder readers may have been sharp to spot one of their posters. These, alongside performer names and playful retro-futurist graphics, sport the venue's name and calling card: Deep Blue.
I am greeted at the space by Jean and Robin, two of the co-directors, who lead me through an entrance stocked with, among other things, a vending machine dispensing Nap and You're Me cassette tapes, earplugs and plastic art-trinkets; into a cavern-like performance room where two fishless aquariums — no doubt lit up for dreamy atmospherics during parties — sit among scattered amps and bass-traps. But the real riches lie hidden: as we pass, the pair nudge open studio doors, revealing sprawls of hardware synthesizers bristling with knobs and cables, and records spilling over surfaces. We sit down to discuss the space and its role in Vancouver's pulsating underground electronic music scene.
Deep Blue is known to the public mostly as a venue, hosting parties and music events. However, its quotidian function is as a non-profit, D.I.Y. organization. They are entirely self-funded, involved in neither federal nor provincial government grant systems. Two years ago, the building's lease was taken over from New Forms Festival co-founder Malcolm Levy, and that genealogical connection persists in the organization's support and cultivation of space for artists working in electronic music, sound art and other auditory practices. Today, Deep Blue has 11 studio spaces shared by more than 28 artists. This type of close-quarters creative space, explains Robin, means that collaboration and cross-pollination is inevitable, with many artists working with similar equipment, and discussions constant.
Many of the artists in the space use analog equipment — hardware rather than software — to produce their sounds. Asked about the appeal, Jean explains, "Musicians generally have an affinity to physical materials, be it tape or records or synthesizers. For a long period of time, analog equipment was more accessible than digital hardware — that may have changed since. But new equipment being put out today tends to be influenced by old equipment, creating a renewed demand for vintage electronics. Within the space, there's a real interest in machine-human interactions."
Dance music, in fact, is not the sole focus of many at work in the studios. Some artists, Jean included, have musical practices which incorporate challenging experimentations with sound, ranging from digital signal processing and manipulation to physical modeling.
Jean explains this as "a form of synthesis where you digitally simulate the materials of an instrument before you model the sound. So, for example, in modeling a guitar, you could decide whether it was made of wood or glass, and then you could choose the material that excites it, be it a hand, plastic pick, or whatever. This is a form of synthesis becoming more available and accessible, and it's coming through as a new way to design sound, or as a new toy in the musician's box."
As Robin states, "generally speaking, everyone here is interested in articulating an idea through sound. There are tools and techniques, but there's also the conceptual frameworks in which these different practices and modes of expression find common ground. The tools are thus, more or less, a means for working within a commonality and exchange of ideas that flow between disciplinary boundaries."
Of course, crowd-digestible dance and electronic music is central to the scene, for which Deep Blue serves as a gathering place. Asked about what the distinction between the experience of a D.I.Y. party such as the ones they host, and a more typical club concert, Jean answers "I would say community. That's the glue that holds these spaces together."
Robin continues, "The type of music performed here is culturally located in a history that extends beyond Vancouver. Deep Blue did not generate the community, but contributes to it by being a place it can move through. The people who come here are friends, and they contribute thematically or idea-wise. We're a house where not only music, but political and artistic discourse can take shape. New ideas are constantly forming in the scene, and we try to be as inviting to the discussion as possible."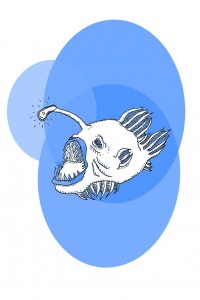 Deep Blue has little regard for hosting parties as business ventures where profit margins can be maxed and the venue packed. Rather, their programming reflects an emphasis on crystallizing the creative mandate of the space for public enjoyment. Showcasing conceptual innovation is foregrounded in booking talent, both emerging and established, locals and guests. DJ fare is interspersed with live hardware sets.
Accessibility, of course, is a continuous concern. "Unfortunately, because this is a D.I.Y. space, there are some limitations as to the tools and resources we can provide that aid in making the space accessible to those with mobility limitations, for instance," states Jean. "In terms of creating a safe space and an open environment — we come to bridges and cross them. But as a general principle, we want to be completely accessible in terms of people's comfort." An atmosphere of chilled out self-regulation is cultivated in order to maintain the positive energy. "A lot of people take a personal interest in the space. There are some things no one wants to see, whether that be misogyny or oppression," explains Jean.
When further asked about the question of accessibility, Robin goes on to explain that "the D.I.Y. ethos is fundamentally about a drive to provide access to something that was previously absent within dominant culture. So even if we're not able to provide everything to everyone, we hope that this tradition of self initiative, which Deep Blue is just one iteration, will carry through and others will carve out their own space within the terrain we skipped over. If Deep Blue's contribution is anything, it's in demonstrating that an alternative may be tangible and within reach."
As of the present, Deep Blue's parties and the releases of its associated labels are the main channels by which the work fermenting in the studios gets to the public. However, the directors have as an ongoing project in collaboration with 221A — the creation of a digital archive, which would house sonic and visual artefacts to represent and commemorate the space.
In a city like Vancouver, so many rich creative communities are constantly faced with the precarity of locations to work and convene. With the awareness that vital independent spaces like Deep Blue tend to have mayfly-short lives, it becomes a matter of survival to recognize the work, values and energy that go into shaping the vibe.
X
There's a website, but it's under construction.