Until I walked into the Rickshaw, I had forgotten this music used to be my whole life. Crusty scum-punk-core. I walked in, looked around and thought to myself 'Who are all these aging rockers?' Oh right, I am them — they are me. My sober eyes recognize the dedicated punk rockers from my wasted years, and as I remember the ultra-violence of those days, almost imperceptibly, the Rickshaw fills.
The opener was Childsplay: Jaden Faber on guitar and lead vocals, Takumi Shimokawa on guitar and backing vocals, Skyler Kummen on bass and backing vocal, and Dane Becker on drums and backing vocals. They have four people listed on their page but I saw five members up there — sorry mystery member.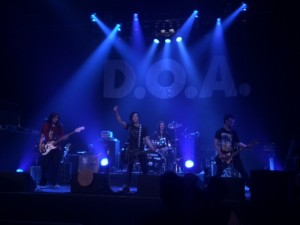 The next generation has got it together. Childsplay were super tight, and delivered a killer set. The band played beyond their ages with a clear and dedicated purpose: to deliver skate-worthy thrash punk rock feels. Childsplay was my favorite band of the night, and if you are new to the punk scene, or an old timer like myself, I suggest you go right now and check them out.
Wett Stilettos were up next. They don't have an identity you can put your finger on: crusty punk meets rocker with sweet basslines all stirred together in a vodka collins that is just vodka no collins. Online, the Wett Stilettos are RC Guns, Wrangler Pinto, and Zig Zigler. The drums, on this occasion, were executed perfectly by Christina 'Boom Boom' McBeatz from the Muff Dusters — she might have known the songs better than the rest of the band. RC was lackluster and even sat down at the end of the set. I found myself rooting for her— you got this, you uncompromising rocker queen! I heard later that she went onstage despite a concussion, now that's punk rock. Zigler and Pinto couldn't hear each other because their sound was terrible. When a bassist and a guitarist can't hear each other… well, you know how that goes.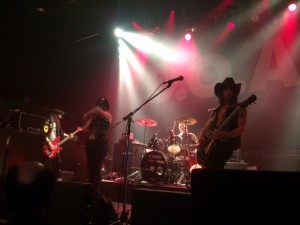 Because it was a "Rock The Vote" for Joey Keithley, not of only D.O.A. fame but also Green Party Representative, there was a short shout out to the upcoming election. I hate actual politics in my punk rock. Punk rock is inherently political but it can be steeped in a hyper masculine, sexist, intolerant violence — just because you are punk doesn't mean you live by alruistic values. But, if anyone I knew from the punk rock scene was going to seek justice as an MLA, it is Joey, the consummate business punk rocker. His speech was brief. "Fight Corruption! No Pipelines! Accountability you muther mothers!"
Then came Vancouver's own Roots Roundup. In no particular order we have: Greg Hathaway, David Hathaway, Barry Taylor, Keith Rose, Dym E Tree, Mark Campbell, Ford Pier, and David Macanulty. Hella yes! This band is ska-punk-funk-folk, a Vancouver ol' school band, only a six-piece for the event. Seriously, this band is the equivalent of a 600 year old Sitka in the Vancouver music scene, towering over us little trees, schooling the rest of us how to feel free, jump and dance.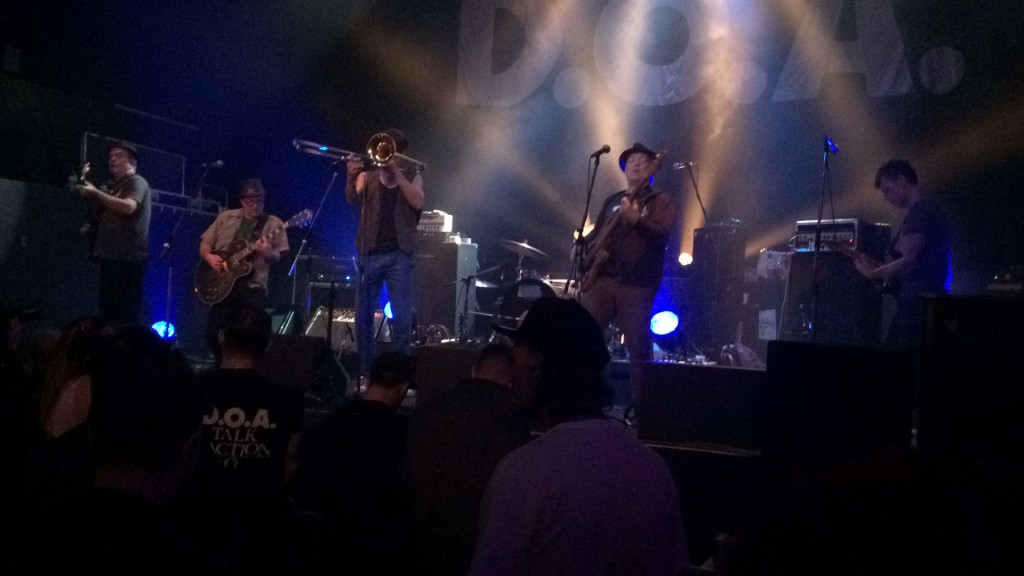 Then there was D.O.A. — there has always been D.O.A. After 35 years of playing and moshing in Vancouver, they have had many incarnations via the round robin of players, but on this occasion it was Joey "Shithead" Keithley on guitar, Paddy Duddy on drums, and Mike Hodsall on bass. Everything that needs to be said about D.O.A. has already been written, so I'll focus on the crowd. Gang vocals spilled into the Rickshaw by way of a sing-along everybody singing the lyrics and skanking in the centre of the floor. I watched enviously, nursing my broken collar bone and non-alcoholic beer from the chairs as people smiled from ear to ear and slapped each other on the back. This is old punk, this is classic punk. Amazed that a three piece band could fill the space left by Roots Roundup, I changed my mind. Maybe Shithead would make a great leader — he mobilized these punkers.