When you think of craft beer, you might think of bearded men in flannel shirts rambling on about hops. But one group of women at a New Westminster brewery are working to change that narrative.
This winter, the female employees at the Steel & Oak brewery came together to create a charity brew to support WAVAW. And they say this is only the beginning.
Steel & Oak's Heather Prost – who also works at WAVAW — says a beer-based project to support sexual violence services was inspired by the dangers women in licensed spaces often have to face.
"We're coming into spaces with alcohol and we drink and we're sometimes blamed for the things that happen to us if we are under the influence," Prost says. "So to be able to brew a beer where partial proceeds are being donated to a rape crisis centre is so huge and it gets the conversation started."
Prost says the idea came about after she attended a woman-focused beer festival last spring. She along with another female coworker brewed a beer for the festival called the Argonaut, named after Maggie Nelson's memoir The Argonauts, which was her favourite book at the time.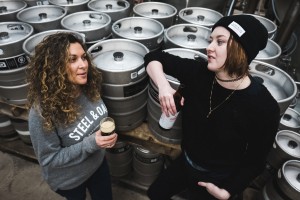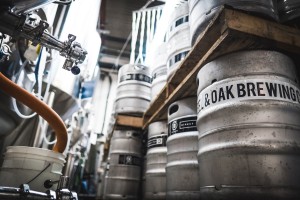 "There were so many really good comments about that beer and the festival in general, and I went to [Steel & Oak owner] Jorden Foss and said, 'We really need to do something more,'" she says. "And he was very interested in that."
From there, it was just a matter of sorting out details. Prost says femme-identified staff at Steel & Oak worked out every aspect of the beer collectively and brewed it together with the assistance of head brewer, Eric Moutal.
"And we landed on Zusammen, which is a cardamom fig stout," she said. "Zusammen means 'togetherness' in German. We are a German-inspired brewery so we wanted to pick a word that was German and embodied what we wanted to get across."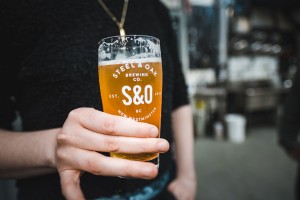 The brewery hosted a charity event in December 2017 and will donate its proceeds along with partial proceeds of all of the bottle sales to WAVAW. Prost says the project has already raised $3,000 to support services including one-on-one counselling, group therapy, the 24-hour crisis line, Indigenous community outreach to survivors of sexualized violence.
Kat Davidson, who also helped with the Zusammen brew as part of the Steel & Oak women, says that projects like this are ultimately about opening up dialogue around difficult topics.
"We know, especially as women or femme-identified people that violence against us that is gender-based — that is, sexual — crosses all boundaries and goes into all communities," she says. "And it's easy to know that when you're living it. I think it's difficult to see that sometimes when you don't experience it or you only stay within one community."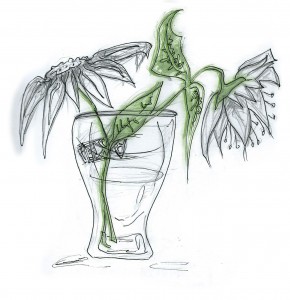 Davidson says projects like Zusammen are a step towards challenging patriarchal structures.
"When we create events and we create spaces where everybody's able to come together, I think we start a process of undoing and we start to challenge structures," Davidson said. "You see a lot of collaboration beers, but what you don't see sometimes is how people come together and help each other out. It shows us that you can be successful and you can do things well, but you can do it from a place where you're collaborating and coming together."
Prost agrees that collaboration is key, and says that's why the Steel & Oak women are already discussing the next charity brew project.
"The event was so wildly successful, we will be doing it again. All of the women were very excited by it," she said. "We will be doing another charity brew. I would love to do something around Pride."
Ultimately though, Prost acknowledges that the beer world won't change overnight.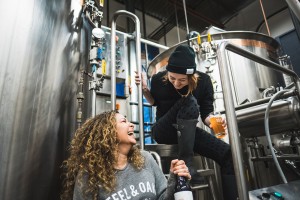 "I think the beer world is still very white and it's still very male. And there are lots of women and femme-identified folks that do work in the beer industry, but we're largely in the service positions. So moving forward, I would love to see more diverse hiring practices, more non-male people encouraged to go to [brewing] school," Prost says.
Prosts hopes more activist beer projects like Zusammen will pop up around the Vancouver beer community.
"I'm hoping that Zusammen is one of many events that the women at Steel & Oak can throw and hopefully more breweries will do similar initiatives and continue to give back to their communities," she says. "Queers and Beers is a really cool fun event and I think more things like that need to happen."
According to Prost, there are already a few "cool beer-related things" happening around International Women's Day this month.
Big Rock Urban will host a fundraiser for WAVAW on March 7, the day before International Women's Day, and Steel & Oak will brew a special cask of a new beer for the International Women's Day Dinner at R&B Brewing on March 8.
x
For more information on the Steel & Oak Women, go to steelandoak.ca.