"MRG that filthy SJW, pro choice and pro ho / And fuck your feelings if you lack in basic decency / I really don't give a fuck about an asshole who believes that he / Deserves the right to choose what other people get to say or be."
I am a shade too incredulous watching Diana Hellson AKA Mamarudegyal take the stage during CiTR's Shindig 34 Finale in February. I feel like if there's a Vancouver MC that can rap this well and perform this confidently, I should have already known about them.
Though Hellson doesn't label herself as a self-promoter, when I interview her, the sentences spill out unedited as if she is the most self-assured person around. She's articulate and funny, and the kind of person whose candor is clearly motivated by prioritizing truth and openness. So, we cover a lot of ground in one conversation: How dope it is to have orgasms, how we feel about mental health memes, how impossible it is to do it all.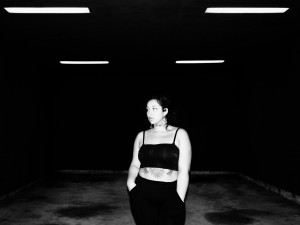 Hellson's appetite to "do it all" seems insatiable. She has been involved in theatre, animation, graffiti and was a part of the Empirical Freedom krump dance troupe in Calgary, where she grew up. In part this desire to try out so many different art forms comes from her pride in her mixed heritage. For her being mixed is a cause for celebration, though it has also come with the drawbacks of not fitting in perfectly: "People were either black or white or brown, not all of them like me. For me, race is always the first thing they ask me: 'Who are you? What are you?'" she continues, "I'm native and black and proud of it."
In addition to being mixed race, being a female performer has come with another set of obstacles: "When I was growing up, it was very male dominated, the most highly-celebrated hip hop dancers were men, and girls who were often limited to slutty hip hop routines."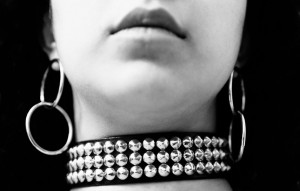 When speaking of the difficulties of being a woman in hip hop, Hellson manages to walk the fine line of being honest about what her anxieties are without dissing other women's choices. "That's one of the things about being a female performer and artist, that stresses me out so much. I'll watch the new Tommy Genesis video and start freaking out that like, 'I gotta get in a bathtub, I gotta get naked and get in a bathtub in my next music video!'" This isn't shade on her part — "I love you girl," she says of Tommy — but an acknowledgement that it's difficult to be a woman in hip hop and be seen as a complex person. "I'm absolutely pro ho. I used to do cam work, I enjoyed it, it was fun. When it comes to being on stage though, I'm not comfortable with my body in a way that makes me feel like I can be overtly sexual. That's why it panics me so much sometimes is when I think that that's the answer to getting my career elevated like that," she explains.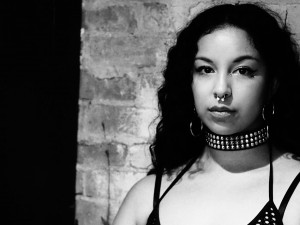 In MRG's video for her song "Freedom," a more laid back song recalling '90s neo soul, she strips herself of make-up and sings in her sweats, looking straight into the camera. The video was shot in forty-five minutes, but was difficult for Hellson to make, "I wanted to push myself. I was so nervous about filming it like that with my shorts on and putting it out there," she continues, "It was about lifting off the restrictions and lifting off the beauty standards, finding the comfort in being fair with myself. But I felt like it was important to make that statement. I've got a little sister — Tanisha — she's a grown up now, but I'm 26 and I'm still struggling with that kind of thing." (MRG also has an older sister, who Discorder readers know as Mourning Coup.)
Hellson's boyfriend, an MC by the name of HOPE, joined her on stage at the Shindig finale, and has supported her through her work. She describes him forcing her to watch videos of her own performances as, "confronting me with myself. Because I think I've been avoiding looking in the mirror even for years and I don't think that's what I wanna be anymore. I don't wanna live in my self loathing anymore."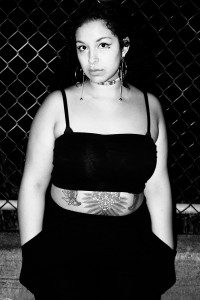 Like the other local MCs, Hellson name checks as friends and inspirations during our talk (JB The First Lady, Kimmortal), she is holding herself to the task of being both a performer and an activist. The lyrics quoted at the top of this article are from a Smoked Out Cypher at LED Nightclub, where she finishes off the set by tearing a hole into sexual abusers. About the verse, she says, "I wrote that right after the Harvey Weinstein thing and I kind of come in like 'this is your day of reckoning,' like if I had the chance to bring it down on your head I absolutely would." She states that making music like this is a direct challenge to people who refuse to "challenge and assess" themselves, saying, "That's why I try to make really confronting music. I come off stage a lot of the time and I have guy friends who say, 'That was so dope! Made me feel really bad about myself though' and I'm like, 'Yeah good, it worked then!'"  
With all the critical issues she confronts with her music, I want to hear more from MRG in 2018. But Hellson will be taking her time on utilizing the recording space she won through Shindig, making sure she has the right beats. On competing, she admits, "I signed up for [Shindig] thinking it was a music festival, found out it was battle of the bands, and thought 'I do hip–hop, so I guess I'm out,' and then a few weeks later I hear, 'see you next Tuesday!'" and she won the whole thing, turning a mistake into a happy accident.  
[SOC – Native Pride Cypher – MRG starts at 4:55]
X
Learn more about Mamarudegyal at rudegang.wixsite.com/mamaempress.