It has been a cold minute since Kellarissa graced the cover of our April 2011 issue with the release of Moon of Neptune. And while Larissa Loyva, AKA Kellarissa, has been busy in the industry since then, the release of Ocean Electro on Mint Records this month will be her first solo album in seven years.
It is everything we had hoped for, and we're done holding our breath.
*
The press release for Ocean Electro claims that this album seeks "to propose a new genre which entangles femme psych electronica with driving synth pop." This statement was written by Sydney Vermont (visual artist, Hello Blue Roses): did she come up with this concept?
Well, there's a fish place or something in Hastings Sunrise, north of Commercial Drive, that's called Ocean Electro. I used to live near there, so I used to walk past it. A lot of my songs were about the ocean, I love the sea and going to the beach. Over time, 'Ocean Electro' just kind of stuck as an album title, and I wanted to write a song [named] that, but it ended up being "Ocean Electric," which made more sense. [Ocean Electro] encompasses the sound of the record, but it is also like a sound that I just made up. I suggested something along those lines to Sydney.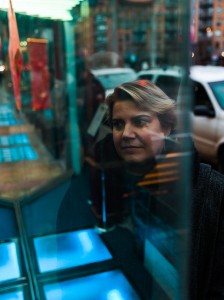 It seems that most of your albums have themes around expanses and abysses. Moon of Neptune (2011) was spacey, Fake Tears' Nightshifting was all about nighttime and darkness, and now Ocean Electro references deep water. Do you write songs with an idea of your future album's theme?
I think it emerges over time. Some of the songs [on Ocean Electro] are 5+ years old, because my last album came out seven years ago, so I had written songs since but hadn't gotten around to recording any of them. Over time, I noticed a lot of these songs are about the ocean.
I like to have an encompassing theme and would like to explore that further in the future. [I would like to be] in a position to be like, 'I'm going to write a record and this is what it's going to be about,' but I've never really had time to approach [writing] in that way.
That seems to be common in artistic communities, that we're so busy working that we don't ending up giving our own work as much time as we want.
Honestly, I wish I had taken more time with [Ocean Electro], but now it's done and out in the world. It has sort of cleared my slate. I was touring with the band, How To Dress Well for almost three years until 2015 or so, and that took up a lot of my time. And then my last [solo] record came out while I was touring with Destroyer. I have always been hustling for someone else. Now Fake Tears is on a bit of a hiatus. We've got a show coming up, but we're not actively writing stuff. It feels good to put all that aside and say, 'Okay, my turn.'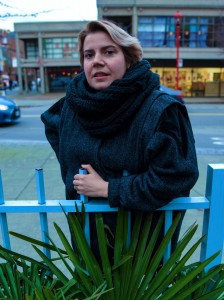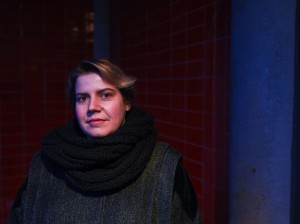 Ocean Electro appears to have some political themes, and I would like to ask you specifically about the song, "Black Sea" — what's it about?
It's about barren landscapes and polluted seas. It's sort of a protest song — no pipelines, oil spills are bad. I also jokingly referred to it on Facebook the other day as a song about not wanting to have kids, and that is a pretty conscious decision on my part, too — I don't want to introduce kids to this fucked up world. […] I feel like we're a bit doomed. It's a bit bleak.
In your 2011 interview with Discorder, you mentioned that some of the songs from Moon of Neptune couldn't be performed live. With pop music there is always a tension between the studio recording and the live performance. Over the last seven years, have you picked up any tricks?
Well, touring with How To Dress Well made me realize that it's okay to have backing tracks. […] I used to do everything from scratch with loops, and I have since acquired a different loop pedal that allows me to record longer tracks that I can sort of play along with. So it sounds fuller, but it is still just me. I feel like because [Kellarissa] is a solo thing, I don't want to deal with having a band. I know how much effort it takes on the part of other musicians to drop what they're doing to help create my vision, and I don't really want to ask other people to do that. Especially if I can't pay them. Because, you know, something that I have also learned is that it's really nice to be a paid musician if I'm playing in other peoples' bands.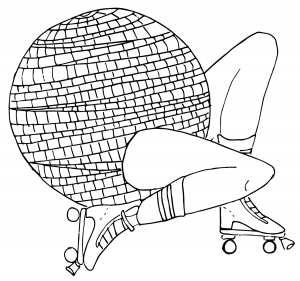 You were quite optimistic about Vancouver in 2011. Are you still in love with the city?
Yes. Every time I came home after visiting all sorts of exotic places, I was always happy to return. […] People like me need to stick around to continue to make this a nice place to live.
x
Kellarissa's LP release show with Devours and Hello Blue Roses is March 22 at Red Gate Revue. Kellarissa will also be performing at the Copper Owl in Victoria on March 23, and The Vault Café in Nanaimo on March 24, supported by Devours and Hush Pup. There will be East Coast Canada tour dates in May, and possibly even a European tour in April (fingers crossed). Pre-order Ocean Electro at kellarissa.bandcamp.com.