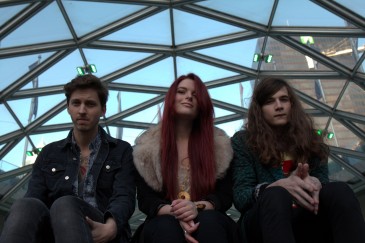 It's a cold yet clear evening in Vancouver as I make my way to Caffé Cittadella, eager to meet the team behind the freshly released After Midnight EP.
Everyone is running late, so I seize the opportunity to order myself a coffee. After placing my order, I spot Nathan Shaw, bass and synth player for the acclaimed Canadian band Said the Whale and one of my interviewees this evening. We take a seat in the corner of the café to enjoy our coffees and begin our discussion with just the two of us.
Prior to joining Said the Whale in 2011, Shaw had been taking a break from music. The opportunity to join their lineup arose simply by chance: "I was at a house party in Vancouver and there were some people jamming, so I picked up a bass guitar and joined in. The drummer happened to be Spencer [Schoening] from Said the Whale and we had really good chemistry. He asked me to audition and… we've been touring ever since."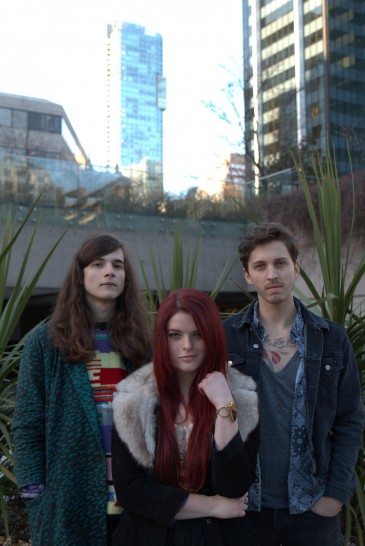 For Shaw, joining Said the Whale and touring full-time was a dream come true — an exciting and equally exhausting dream. Time is plentiful when you're driving around North America four times a year in a small van, which actually enabled Shaw to start dabbling in electronic production. "I've been touring six or seven months of the year since 2011. All of the time I spent on the road led me to start making music with Ableton Live."
After experimenting with beats, Shaw became more familiar with the program and began releasing music under the alias Ekali. "It feels more free a lot of the time," Shaw replies, when I ask him what the main differences are between composing music on a computer and making music with an instrument as part of a band. "I have to shift into my own headspace and be in my own world, which is nice. Sonically, it was difficult for me to comprehend electronic sounds. When I'm programming drums I'm trying to make them sound humanized and imperfect, which I find challenging."

At that moment, we're joined by the other two interviewees: Jacob Sexsmith, a sample-heavy producer, drummer by the name of the Oneiroscopist, and co-founder of the Mountainous Collective; and Shawn Bourks, an active member of the Vancouver music scene. In addition to singing under the name VZNS, Bourks is also a DJ, producer, and local musician blogger.
With the group now assembled, we take a quick walk back to Bourks' apartment to continue the interview. After settling in, I inquire as to how the trio met. "I met Nathan a while back at a friend's house," explains Bourks. "It was right before I was going to see a Flying Lotus concert. We started talking about Flylo, Teebs, and Lapalux and found out we like a lot of the same music."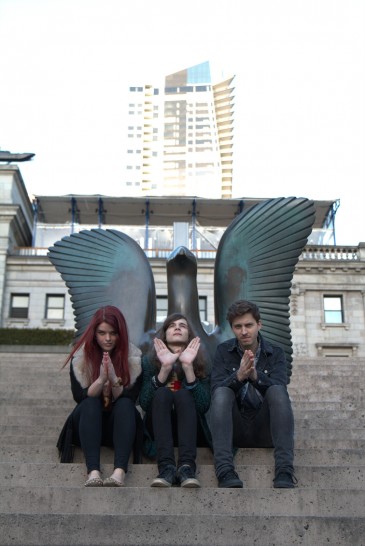 One day, Shaw went over to Bourks' house and showed her a track he'd been working on. Sexsmith came over shortly after and presented both of them with a beat comprised only of drums that, through serendipitous circumstances, happened to be at exactly the same BPM as Shaw's. Because the tracks matched tempo, Shaw was able to combine the two in order to create the beat that would be used for the group's first release, "After Midnight."
"It was pretty magical how it worked. After a bit of editing (and some alcohol), the beat was done." Once Bourks added vocals to the track, "After Midnight" became a mellow and soulful R&B tune in the framework of forward-thinking, experimental electronic music. The collaboration was quickly picked up by the music blog futureclassics.ca to be part of their first compilation album.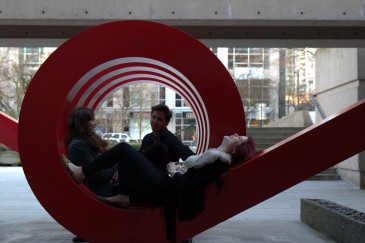 Following the success of "After Midnight," the three musicians, who came together purely by chance, decided to form a group and release an "After Midnight" remix EP. Two members of the Chapel Sound community, °lhasa and GRLFRNDS, had a great appreciation for the track and decided to make remixes that were eventually featured on the release — with up-and-coming Austrian producer Salute as the third remix artist. Each deviation of the track highlights distinct elements of the original while offering unique additional layers.
While "After Midnight" was the result of three musicians coming together and discovering common musical bonds, the remix EP represents community of an even higher level.
Facilitated by an open and inclusive environment meant to enable local musicians, Chapel Sound helps artists to hone their craft and meet like-minded people. It's this type of collaboration that serves as a perfect example of the budding electronic music scene in the city of Vancouver.
______________________

You can listen to the After Midnight EP on Bandcamp and keep a lookout for an EP of original material from these three in the early spring.