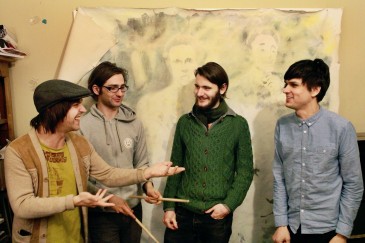 Sprïng find themselves coming out of the psyche-closet on their new album Celebrations (March 4). An afterbirth of Vancouver's post-hardcore group the SSRIs, the band is comprised of Jo Hirabayashi (guitar/vocals), Elliot Langford (guitar), Ridley Bishop (bass), and Kevin Romain (drums).
Celebrations deliberately mends heavy riffs with softer melodies to develop a dynamic sound that is familiar yet strangely experimental at the same time. The album is uniquely both self-recorded and produced in their home studio and is riddled with artful psyche-pop songs, where upon every listen you'll discover different noises lurking amongst the soundscape.
Celebrations is the culmination of limitless hours spent in the studio by four friends wanting to get real experimental after they had found the perfect ratio of bong tokes to beers. Their songs effortlessly shift from blissful piano and guitar lines to climatic doomy solos with eardrum-shattering cymbals, all to bring you back again, tranquilly left in a peaceful stasis. I was hyped to meet Sprïng in their shared home to chat about their upcoming album and how they ultimately arrived at their new refined sound.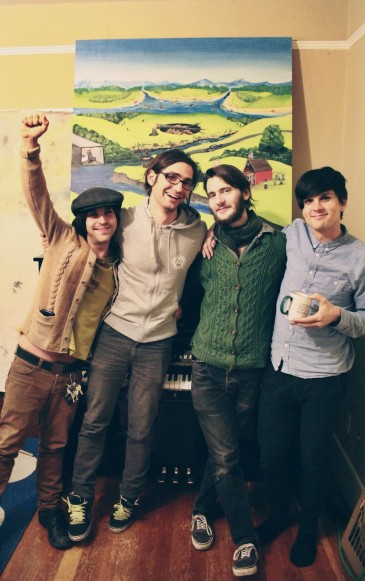 Entering the band's mustard-yellow kitchen, the band greets me as they're shooting the shit and doing their own things. Bishop is fiddling around with some guitar riff as Hirabayashi starts to boil some tea; Langford is slurping some soup, and Romain passes me a beer and tells me to take a seat. We begin talking about what led to the ultimate evolution of the band and how they shifted from the music of the SSRIs into Sprïng.
"Basically I was just tired of screaming at people all the time," jokes Hirabayashi, "but I am slowly building up the urge to do it again."
"Well, we initially tried to make another SSRIs album, but that never happened. We were all interested in writing newer stuff and exploring different sounds, so it just made sense to start fresh," Langford adds.

Celebrations provides a sophisticated range of sounds drawing from many different genres including psych, folk, pop, hardcore, and jazz. There's a ton of differing content on the album, but it never seems scattered or incongruous. All of the ranges and transitions are seamless. Sprïng find a way to blend explosively guitar-heavy tracks with soothing pop ditties containing piano, saxophone, ukulele, 12-string guitar, and bowed instruments. The band's ability to compose an album with such a diverse array of musical contrasts was definitely assisted by their immediate access to their home recording studio.
"The songs were almost all written by mashing together different parts that we had jammed out. We never really tried to simply add stuff onto any particular jam, but worked with the recordings instead," says Langford.
This technique of developing songs from a collage of random riffs and melodies is quite evident on Celebrations, where there is almost no evidence of a standard verse-chorus song structure. Instead, Sprïng will stock a song full, with six or seven parts of complex acoustic guitar lines, heavy blast beats, stoner-metal breakdowns, and some ripping solos.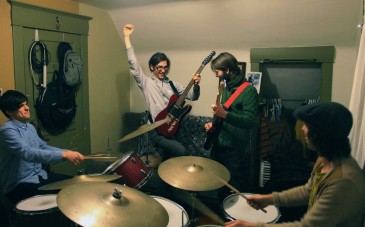 "The songs take on a completely different structure because we were just figuring them out as we went along," says Romain. "Some pretty weird stuff can happen when you're searching for the sketchiest sounds possible. I once played a bow on an oscillating fan and it sounded cool, so we put it on the album."
Sprïng used the recording process as a way to compose their songs in a way that the majority of up-and-coming bands cannot. With their own studio, they could spend countless hours fooling around without having to worry about the costly bill at the end of a recording session.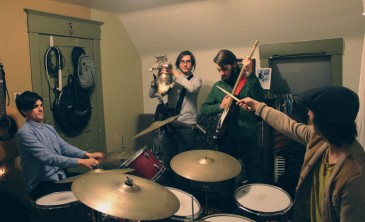 "It would have been cool to have just prepared a ton of songs and taken them to Steve Albini" laughs Hirabayashi. "But even then, there is no way the album would have turned out the way it did. I look at having our own space as an investment for future albums to come."
"There were times when we would just be insanely messed up, all hanging out and then we would see what could come out of it. We had this unsung rule that no matter what, the first suggestion would be what goes in. It didn't matter how ridiculous it was, that's just how it went," says Bishop.
"Without the studio, none of the random subtleties would have been thrown in. I hope everyone can catch something different each time they listen to the album, whether it be just someone coughing or the few lyrical bars of 'The Sweater Song' in the background of one track," remarks Hirabayashi.
"What?" Langford interjects, "I had no idea that was in there."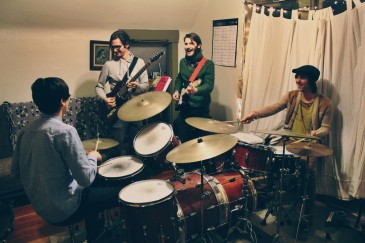 Celebrations pushes the boundaries of studio experimentation and draws on a myriad of antecedent influences. The insane psychedelic songs build upon the familiar to inevitably stick in your head for weeks.
When asking how they would label their sound, the band laughs and starts speaking over each other trying to come up with the most absurd description. With answers ranging from "trippy songs with trippy stories" to "casual sex and riffs," Sprïng eventually settles on calling themselves a "trans-idiomatic-post-concept-post-anti-solo rock band." Revealing how even though they might have made an austere and dark album, they are far from taking themselves too seriously.
____________________

If you're interested in seeing some eclectic musicians play melodic doomy jams, then check out the Celebrations album release show at the Rickshaw Theatre on March 7.