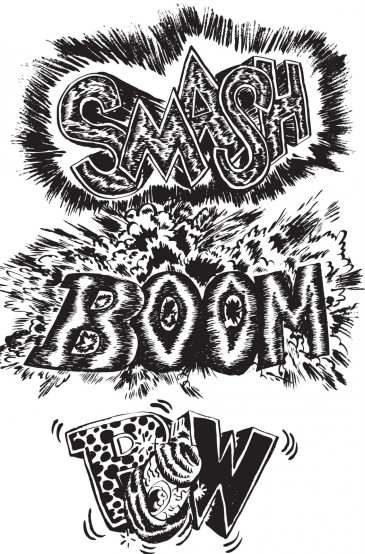 They say honesty is the best policy, a policy since adopted by rock and rollers Smash Boom Pow as their mission statement. With this phrase serving as their unofficial motto, the band's sincerity is what largely sets them apart from others. With a lineup of guitar, drums, and bass, the trio are bringing originality back in the most obvious way — by playing music they themselves enjoy.
On this cold February morning, Discorder caught up with Smash Boom Pow on the questionably scented couch of their off-white jam room and discussed the band's evolution and their upcoming album.



Smash Boom Pow found its beginning in Victoria as a duo formed by brothers Zane and Ulysses Coppard. Last year, with help from their producer Tobias Schuch, the boys made the move to Vancouver to open up new opportunities for the project. "I was moving from Victoria to Vancouver and the day before I left I asked Ulysses if he wanted to move with me. The next day he packed a bag and we were here."
Ulysses continues: "We were able to cut our teeth playing every week for a year. We couldn't have done that in Victoria. Here we had a fresh new audience every time, which was really important."
"It was a necessary stepping stone, the first of a lot of steps that needed to happen," Zane concludes.
Since the relocation, Smash Boom Pow have integrated Schuch as a full-time bassist, a change the Coppards embrace fully: "Musically, it feels great! Before we were filling up a lot of empty space, which was actually really fun. But now that we have the bass it's a heavier groove, there's a lot more thickness to the sound; we sound like a proper band now. I never would have said this before, but when it was just Zane and I, it was almost more of a novelty," Ulysses explains.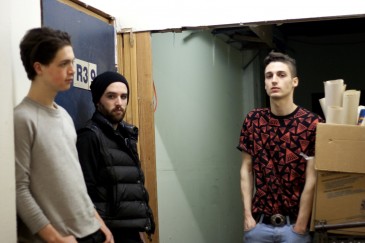 The change in their sound is prominent. Adding Schuch's depth-summoning bass has cemented a signature sound combining nostalgia for the punk/rock vibes of yore with fresh hip-hop percussion and lyrically moody R&B vocals. These three diverse styles somehow fit, seamlessly tied together by a dirty distortion filter.
In an attempt to reintroduce themselves as the bigger, better band they've become, Smash Boom Pow removed all of their old material from the Internet. "That music doesn't really represent where we are as a band anymore. I think, up until this point, it's been a transitional period," says Schuch.
"Now that we have the experience, we're able to make the sound we want," remarks Ulysses. "It's better all around and that's how we want to represent ourselves."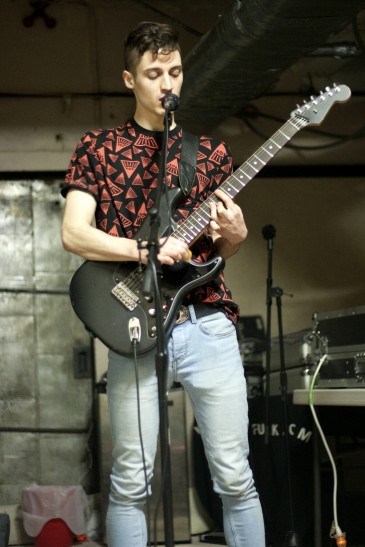 The production behind their regenerative album was conducted in a rather unorthodox way, or as Zane eloquently describes it, as "a big pain in the fucking ass." The drums were recorded in the basement studio of the Coppards' parents' home, guitars in a makeshift soundproof box in Schuch's apartment, and the rest is set to be completed in their recently acquired jamspace.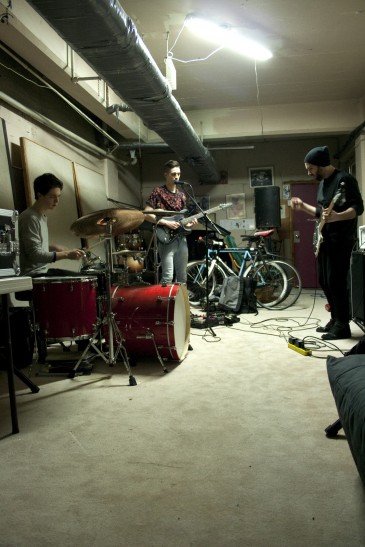 "It's very DIY. But so many engineers focus on just getting a nice sound, they lose the style or character behind a lot of recordings," says Zane.
"When they only have a week in the studio, a lot of start-up bands don't have time to dive into performance and groove," adds Schuch. "You're just trying to get all your shit recorded."
The boys are doing their best to put a positive spin on the frustrating process, as the lengthiness and lack of consistency in recording has given them time to further develop their sound and grow as a band. "We could've saved up some cash, gone into a studio, and done it really fast. But doing it ourselves, we've had a lot of control stylistically — that's what it's all about," says Ulysses.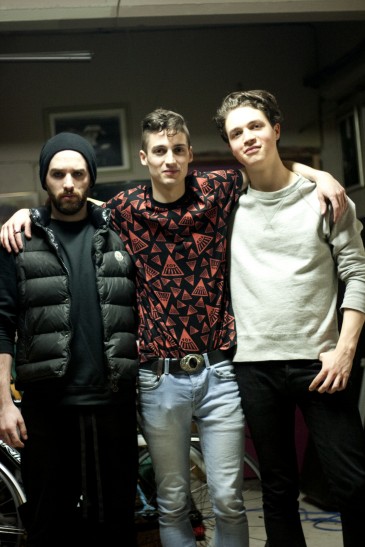 The breadth of time they've had to spend on recording has opportuned longer and more frequent hours of playing, which has contributed distinguishably to their strength as a band.
"The goal for a lot of musicians is to be as authentic to the message as possible. That's incredibly difficult while still struggling with the technical aspect," says Ulysses. "Now that we're good enough at playing, we don't worry about our fingers landing on the wrong frets. We can focus on what the songs mean and that leaves it open to pour emotion into. Now we can do the songs justice."
The true grit behind what Smash Boom Pow is doing outshines any spiced-up adjective-heavy description or snazzy font over a moody band picture. This trio of eccentric music aficionados are creating catchy anthems about the highs and lows of finding their place in the world, and refreshingly, their musical actions are speaking louder than hype.
____________________

Smash Boom Pow's new album will be released later this spring. If you want to be in the know on all things related to the band, bookmark smashboompowband.com.