Perhaps the best cure for an alarmingly cold February evening in Vancouver is a solid dose of wave-soaked guitar licks melded with doo-wop harmonies followed by hazy, sun-kissed dream pop. This was a remedy tried and true when two Pacific Northwest bands graced the stage of the Electric Owl on February 5.
It is fortunate that the night's opening band, La Luz, made it to Vancouver as they endured a miraculously nonfatal collision with a semi-truck whilst touring last November. Although instruments and sound equipment were destroyed, no serious injuries were sustained.
The band resumed touring once the non-metaphoric sensation of getting hit by a truck dissipated and made it to their first ever Canadian gig with no interference from destructive motor vehicles.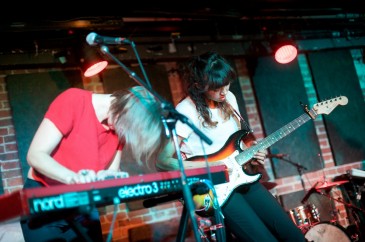 Upon taking the stage the all-girl four-piece encountered a few technical complications, which left drummer Marian Li Pino temporarily void of a functioning monitor. Soldiering on, La Luz churned out a dozen of their supremely satisfying, reverb-drenched songs.
Despite the late Jimi Hendrix's infamous claim that without Dick Dale the world would "never hear surf music again," La Luz produces music of a similar calibre to predecessors of the genre. It's no surprise that the band cites the Ventures and Link Wray as influences, as they stay truer to surf roots than many of their fellow genre revivalists.
The title track of their 2012 release, Damp Face is particularly demonstrative of their proficiency. The instrumental guitar-heavy surf anthem stood out among their set for its wildly catchy riff, which could have rivalled "Miserlou" back in the day. Such upbeat numbers were interspersed nicely with heavier tracks featuring eerie electric organ solos and tantalizing vocal harmonies.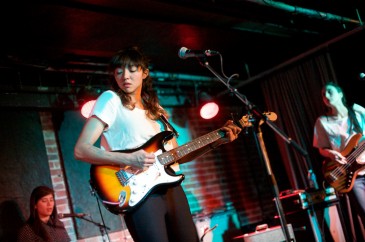 The band's stage presence was refreshingly unobtrusive, simultaneously allowing their energy to be delivered by their music alone, and upping their cool-factor tenfold.
The band's charming chemistry and cohesion was accentuated by their semi-synchronized choreography, which was restricted to some sly footwork and comically exaggerated bows, providing ironically dramatic song conclusions.
Their less sunny take on classic surf music is likely the result of grey Seattle skies where white California sands should be. La Luz has expertly honed a darker, mysterious sound, flawlessly embellished with touches of doo-wop, garage rock, and jangle pop to create an equally exquisite style of their own.
Portland's Pure Bathing Culture were next to the stage, delivering an entirely different style of West Coast-inspired music. In addition to their latest record, Moon Tides, the duo was featured on Foxygen's highly-praised 2012 LP (vocalist Sarah Versprille performs the enchanting vocal echoes on "San Francisco.")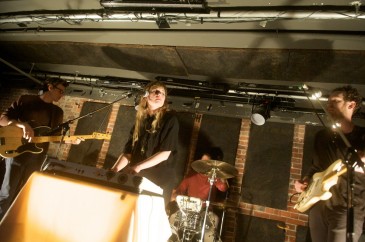 As a dream pop duo, being compared to Beach House in an inevitable fate. PBC's drum beat patterns bare marked similarities to those heard on Beach House's Teen Dream and Versprille's vocal register is reminiscent of Victoria Legrand's.
The musical/romantic partnership that is Pure Bathing Culture along with their touring bassist and drummer delivered a slightly sleepy performance, enhanced by the labours of a fog machine.
Nevertheless, the short and sweet set livened up for the catchier standouts "Ivory Coast" and "Dream the Dare." Despite not concluding with their cover of Fleetwood Mac's beloved "Dreams," a down-tempo rendition which an audience member vocally requested, Pure Bathing Culture provided a pleasant and, at times, hypnotic détente to the night's end.