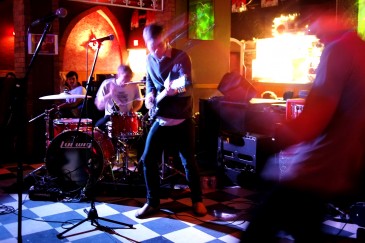 It's been too damn long since this writer was at a hardcore show. It's easy to forget in a city over-brimming with sub-genres, but messy, high-gain guitar and ludicrous-speed kick drumming still have a home in venues just as messy as the Astoria.
Losses opened with half-finished songs, spastic trio breakdowns, and a distinct new-car smell. Songs that borrowed heavily from the legacy of mathcore bands like Drive Like Jehu came wrapped in an angry-youth package: alternated screaming, flailing, shouting, and some seriously impressive riffage. Even though the dumb stage banter sounded like the band trying to cover their lack of confidence, Losses played a ridiculously tight set for being so fresh-faced.

War Baby have improved immensely since I saw them last, at the Princeton Pub two years ago, or maybe I was just more prepared for their heavy volume this time around. Grunge-meets-noise-rock—à la A Place To Bury Strangers, but without all the artistic flourishes—War Baby pummelled through a lead-handed series of doomy jams led by guitarist Jon Redditt. Even though Redditt did his best Cobain impression throughout their stage time, focusing on Kirby Fisher's absolutely phenomenal drumming wasn't a bad way to spend a half hour.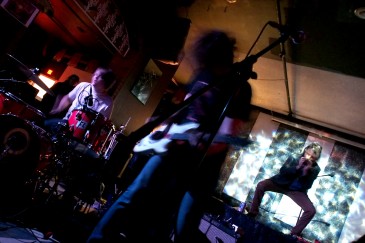 About Needs: we get it, you like Les Savy Fav. Seeing singer Sean Orr dive around, spit confetti, and hump bandmates would have been a lot more fun if it didn't reek with ironic self-mocking. The brilliant thing about [Les Savy Fav frontman] Tim Harrington is that his stage presence is genuine and heartfelt, if bizarre. Luckily, the rest of Needs more than makes up for an antsy frontman with impressive talent and psychedelic hardcore breaks. While one could argue that without Al Boyle (You Say Party, the sadly defunct Hard Feelings) on guitar anymore, the band's golden age has passed, but they still have more than enough kineticism and twice as much playfulness than in their shows of the past.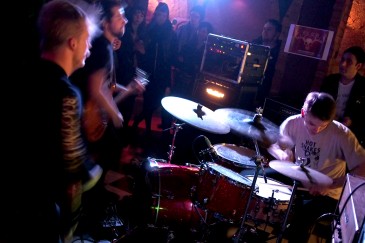 It's perfectly reasonable, given the band's history, to like the idea, but not the execution, behind GSTS. Moronic, inside-joke-ridden insults thrown from the band members to the audience like roses, sloppy-drunk songs played twelve times faster than the musicians can handle—these are things we've come to expect and, oddly, enjoy whenever GSTS play a bill. Numerous lineup changes over the past year don't subtract from the fact that this group of barely-legals know how to get everyone in a venue moving. Songs share the breakneck pace of openers Losses (to be expected, considering the bands share a drummer), but come across as more primal, eschewing the post-hardcore and emo slant of Drive Like Jehu for the harder punk-driven tone found in bands like [DLH frontman] Rick Froberg's Hot Snakes. Yes, drummer Tyler Corbett was wearing a Hot Snakes T-shirt. GSTS aren't exactly a band of subtlety.