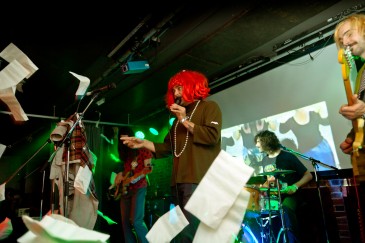 Chains of Love frontwoman Nathalia Pizzaro had, at that very moment, christened the evening with her unmistakable sultry caw upon our entry into the tangled web of bleach blondes, black toques, and greased-back ponies that clustered in the Electric Owl on February 13.
Donned in black and delivering their treasure trove of goth-spiked-garage meets lustrously gritty doo-wop, the five-piece pleased, despite a pesky migrating kickdrum. Promising new material peppered a setlist full of by-now local classics, including mega-fave "He's Leaving (With Me)." Pizzaro's dark mane blazing, studio-perfect pitches, and relentless tambourine rattling may have been the on-stage energy-peak of the night.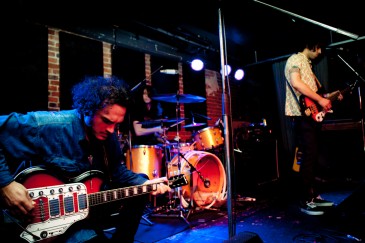 Following the lump of solid local gold, Night Beats had the stage preheated for them. The trio from Seattle had accrued some thick buzz after opening for Ty Segall in December, and surpassed expectations. Big time. Their seriously snug garage-surf rode the swelling psychedelic wave, which — thanks to the likes of recent touring pals the Black Angels — is in full renaissance. Night Beats battered through an unforgettable set while the sluggishly moshing crowd picked up some of the radiating momentum.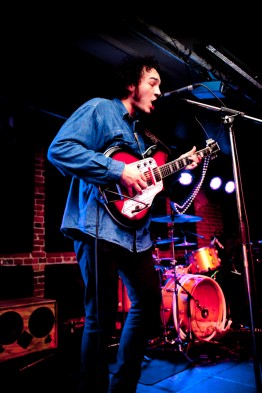 A blisteringly loud kickdrum and drowned-out vocals attested to the Electric Owl's not-quite-right sound-mixing, but failed to effect the three dudes dolling out soul-influenced surfer scuzz riffs and catchy-as-hell melodies. Tarek Wegner (bass/vocals) careened around stage, while in his matching bolo-tie, Danny Lee Blackwell (lead vocals/guitar) had his vintage Airline adorned with beads by Growlers frontman Brooks Nielsen. Somewhere in the back James Traeger (drums) toppled his floor tom and smashed a cymbal to the floor.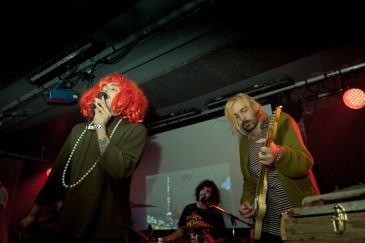 It is rare and magical when a wicked band with an undetectable ego is so in their element, comfortable, and solid that there is nary an on-stage fuck to be given. Huge red glossy wig on Nielsen: sure. Shots of whiskey: of course. No apologies for the technical problems with the projections, just a simple, "We missed the soundcheck because the border really likes us," probably has something to do with the awesome and superbly tacky pro-pot Growlers merch.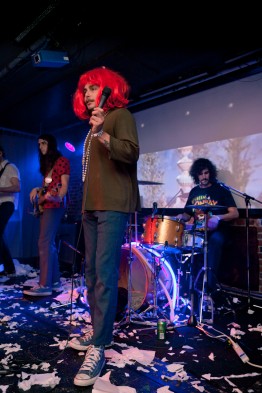 Once again, the continually touring five-piece proved they have their shit mastered. '60s-influenced "Beach Goth" seething with surf and psychedelia, trademarked by an ever-laid back Nielsen's gravelly croons and yips. The tangled crowd jostled and danced happily, if not hypnotically, to "Graveyard's Full," "Something Someone Jr," and "Wet Dreams." Nielsen's take-it-or-leave-it swagger and inviting antics made the stage feel like a highschool sleepover with an excellent soundtrack.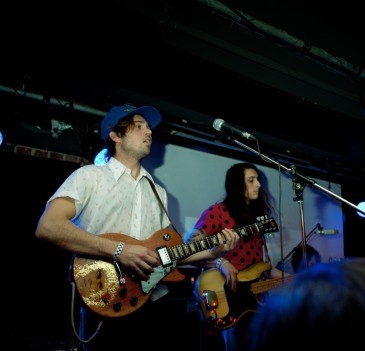 Completing the night culturally, art by Bud Snow, a.k.a. local artist Julia Davis, adorned the brick walls. An impressive collection of dark and whimsical simple line drawings alongside large scale bright graphic paintings left the impression of an artist to follow.
It was a solid night at Electric Owl, and the dizzy crowd left in a heavy plume of nostalgia for a moment only just passed.