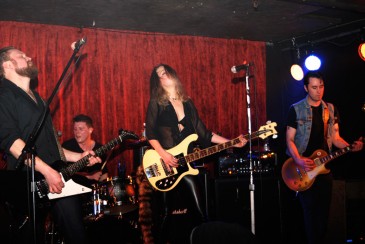 The four Vancouverites that make up Dead Voices put on a wild show last Friday night at the Cobalt in a successful effort to promote their latest EP Nightvisions and new music video for "Fix Me Up."
Fellow Vancouver band the React opened the evening with a cleaner rock 'n' roll approach which was quite fitting; just as the clean rock 'n' roll of the '60s left room for dirtier wilder bluesy '70s sounds. The React are currently promoting three new songs on their self-titled seven-inch vinyl.

The new Dead Voices music video that followed the opening band was a nice example of the professional side of the band; it's a high contrast aesthetic that sees the band as the main act providing a soundtrack to a love story gone wrong amongst people in the audience. While the video differs greatly from their previous video for "Burning Up," a garage-rock, blues-influenced tribute to badassery, "Fix Me Up" gives off a contrasting pure rock vibe that does good, demonstrating Dead Voices presence in the Vancouver music scene. As the video played out, the distorted guitars from the stage took over and the live show kicked off.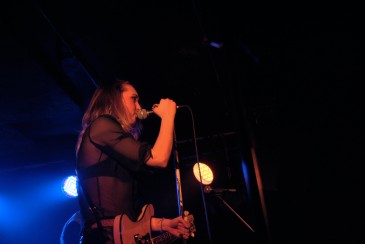 Despite initial dodgy sound through the speakers, Dead Voices put on the kind of quality show they are becoming well-known for in Vancouver. Allie Sheldan (bass, singer) lead the band of boys — Kurtis Sheldan (lead guitar), Dan Stenning (drummer), and Dan Garrison (rhythm guitar) — into eight songs of madness, opening their set with "Bad Action," an aggressive, gritty song with confident vocals, as the music video came to an end. Particular highlights of rawness and intensity came through in "New Zero," which took a decidedly more punk-rock path and profiled a muffled vocal sound similar to the Distillers' vocalist Brody Dalle. The band closed with the video release single, "Fix Me Up," a rough love song reminiscent of Courtney Love's howls that utilizes the pop music formula for a catchy chorus in a way that would make Kurt Cobain proud.
2013 will see Dead Voices going into their fourth year together, but their rock'n'roll ways are timeless, blending youth and sex appeal with powerful, husky vocals and hard riffs. Sheldan doesn't just come alive onstage; she's always on. It's her everyday routine and it's mad rock 'n' roll. She's a watched woman and she knows it, carrying herself as the poster girl for the current Vancouver music scene. In the words of Keith Richards, "to play the blues was like [their] jailbreak."