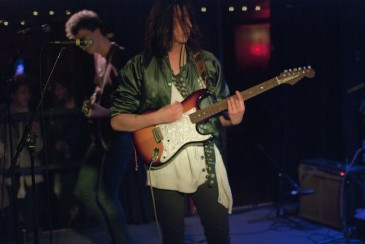 After Unknown Mortal Orchestra delivered a set of unconvincing psychedelic rock, the only thing I felt was disappointment in the fact that I missed openers Sun Wizard. The last time I saw the Vancouver quartet, last winter at the China Cloud Theatre opening, Sun Wizard harnessed some seriously solid slices of rock 'n' roll.
Two things are synonymous with the Smith Westerns: the ridiculously infectious jangle of glam rock and the fact that these cats are fresh out of high school.
It goes without saying that the crowd shared a soft spot for these Chicago-based fellas, and who wouldn't? Their 2009 self-titled debut churned out forward-looking throwbacks focused on teenage heartache and frailties. It's this unabashed innocence, ranging from endearing and happy to downright danceable, that makes up the Smith Westerns aesthetic.
Frontman Cullen Omori's hair-flipping and self-effacing banter highlighted the group's alacritous charm. His brother, bassist Cameron Omori, embedded each phrase of music into a pulsating membrane of glam and glitter, weaving the sound with effortless grace and poise. But, to be honest, despite the sweet clamour of sound, the show lacked the enticing rabble the band characteristically produces. Maybe it was how all the songs eventually sounded the same, or how focusing on their new album Dye it Blonde spread a sense of unfamiliarity across the crowd. They left out a couple touchstone tracks from their first album ("Girl in Love" and "Boys are Fine"), which would have made the show less forgettable.
That being said, the show was not without its share of sweet and goofy moments. Tracks like "Be My Girl," "Tonight" and "Imagine, Pt. 3" created an ecstatic jangle of hooks, slides and croons. Seriously, it's hard to say anything negative about these guys. Aside from their lacklustre live show, there's still something about the Smith Westerns' music that has a lasting quality, making them hard not to love.