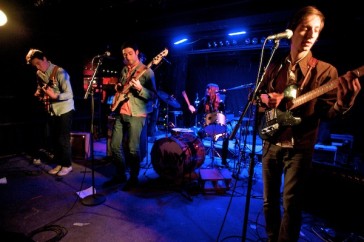 Interestingly, a relatively tame crowd showed up to the Biltmore on February 23rd for the raucously-billed Rock 'n' Roll Pizza Party. Sipping a dark beer, I sat in my booth, waiting for openers the High Drops to start playing. Actually, the pizza came first. It was thin and delicious. Dallas Pizza provided the grub and it was excellent. I felt like I'd been transported to a New York pizzeria.
The High Drops took the stage in an unassuming manner, but quickly drew the crowd in with their fuzzy beach rock. Their unified groovin' matched the tone of their sound; I felt like I needed suntan lotion. The vocals were reminiscent of Black Rebel Motorcycle Club circa Howl. Honestly, sitting there soaking it all in, all I could think was, "Goddamn, this is good." Lazy guitar riffs, girls shakin' their asses and my heart was breaking. By the time their set ended I had already entered them onto my list of records to check out in the future. According to their website, they are currently at work on an EP. Let's hope it's released soon.
Bummer High was next to take the stage. Never shy on energy, they tore through a set big on scratched-out vocals and tape deck-hiss-style feedback. The guitar work entered ballad-territory a few times, but still retained the group's punk flavour. It was difficult at times to make out the vocals but their instruments sounded great. Lots of double-bass drumming was thrown in for good measure. Strumming fast and singing loud, Bummer High sounded like they were cutting their first record at an L.A. studio, high on crack.
Between each band, DJ's Tyler Fedchuk and Kyle Scully played loud, aggressive tracks that kept the vibe alive. A standout choice of theirs was "When You Find Out" by The Nerves. It felt like an Ice Cream Social playlist with more grit.
Indian Wars took the stage last with a sound that echoed Bummer High, but which featured better vocals. Indian Wars singer/guitarist Frase With sauntered out shirtless, sporting face and body paint. The band rocked surf guitar lines that, while tight, lacked a certain originality exhibited by the earlier bands. That being said, Indian Wars certainly have the surf sound down. The guitars were happy, with most of their songs causing people to throw their arms into the air and dance. The hollow, sparse vocals complimented the dreamy guitar and fast drum beats. All in all, strong performances were exhibited by all three acts. The pizza was good, but the High Drops were the best thing of the night.