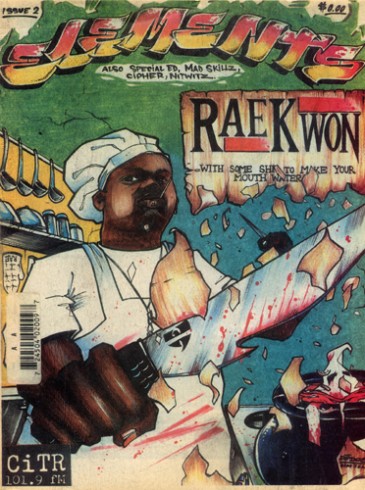 DJs Jay Swing and Flipout are serious about their hip-hop. Talking to Discorder over sushi one afternoon, Jay tells me about driving down Robson street back in '95, listening to a promotional copy of Mobb Deep's The Infamous album.
"We thought we were pretty fucking cool 'cause nobody else had it; it didn't come out for another two months," he recalls. "It's like a distinct memory in my mind. We were listening to it really loud and we probably looked like nerds."
"I remember it exactly, it was between Howe and Granville," Flipout adds. For these self-proclaimed hip-hop nerds, advance copies of albums might have been one of the only perks that came along with the late nights and long hours spent at CiTR working on Elements, a mid-90s magazine dedicated to hip-hop culture, published by the Student Radio Society of UBC along with Discorder.
While they're best known as DJs and radio personalities, for a brief time, Jay and Flip used their arsenal of hip-hop expertise both on and off the airwaves, not only as Elements' editors, but also as its primary contributors. They did everything from layout to distribution. Named for the four "elements" of hip-hop (MCing, DJing, B-boying and graffiti), the magazine made its debut in May of 1995 and was published bi-monthly until ending with its August 1996 issue. Eight issues were published, altogether.
Each issue featured a hand-illustrated, graffiti-styled cover by members of Vancouver's AA Crew, namely Virus and Dedos, not to mention an impressive lineup of interviewees. Raekwon, RZA, Method Man, Busta Rhymes, OutKast and Pharcyde were just a few of the iconic artists interviewed in the mere year-and-a-half that Elements was around. "In a way we kind of knew it," Flipout says, noting that he and Jay knew these artists would soon be revered as some of hip-hop's finest.
The mag was unconventional in nearly every way, right down to transcribing every last stutter recorded during the interviews. "On one hand we wanted it to be really official and taken seriously," Flipout explains, "on the other hand, we wanted to keep it as authentic as possible. We didn't care if it wasn't the norm."
If you've ever held a copy, you'd know it was as personal as magazines get, from the hand-illustrated cover to their extremely candid editor's notes. Furthermore, the publication only interviewed artists they revered and who they felt deserved recognition. Jay sought out an interview with Jurassic 5 after getting his hands on an early 12-inch, of which only 500 copies were made. Later he learned that he was one of, if not the first person ever to interview them.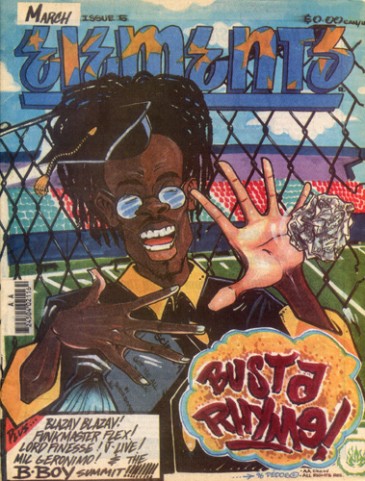 Getting interviews and advertisers wasn't hard. The hard part was figuring out how to make the magazine profitable. "We couldn't figure out how to get enough money for glossy covers," Flipout laughs. "That keeps haunting me… like, we really wanted to make it official. It was like, okay next issue." Unfortunately, before Elements could afford to press its first glossy cover, the magazine folded. There's a ninth issue on a hard drive out there somewhere that never made it to print.
When I asked what happened, Jay replied, "life happened." It wasn't any one thing, but rather a culmination of challenges that stood in the magazine's way. "The challenges were getting it out on time, making money doing it," Jay emphasizes, before adding with a laugh,"and glossy covers,"
Jokes aside, it became progressively more difficult for Elements to depend on the charity of its contributors. "What it would've taken to make it make money made it not fun anymore," Flip recalls. Namely, it meant having to break from the non-profit regulations of the Student Radio Society (CiTR), which meant breaking from Linda Scholten, who was the magazine's publisher and primary advocate at the time. Not to mention, it meant finding all of their own resources. Being in their early 20s and at the beginning of their careers, it simply wasn't financially feasible. At the end of the day, they loved DJing and being on the radio more than making a magazine.
And they still love what they do. As the talent buyer for the Donnelly Group, Jay offers crowd pleasing versatility, but still revels in bringing familiar names like Rakim and Black Moon to Vancouver. When he's not working or DJing shows, he's at home being a proud husband and father of two lucky little girls. Flipout, meanwhile, is still blessing the airwaves on The Beat 94.5's 5 O'Clock Traffic Jam, and DJing shows. He's still trying his hand at writing, though, and is also making his foray onto the acting scene.
The marvel that was Elements may be no more, but its pioneers can still be found online at nationofmillions.ca, a blog reserved for rap treats. And just like Elements was, it's a place for things you won't find anywhere else. Although they've evolved professionally, the pair have remained proudly among the "top nerds" in the Vancouver hip-hop scene, and they're still cool as shit, if yaknowwhati'msayin'.