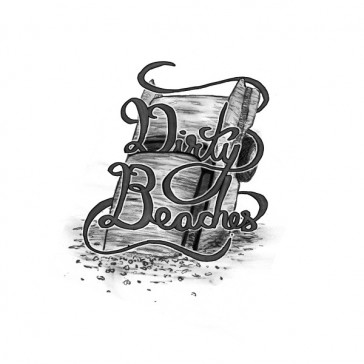 Lord Knows Best
Having just played a raucous show in Beijing, and getting ready for another in Shanghai, one-man show Alex Zhang Hungtai, A.K.A. Dirty Beaches, was busy stirring up the soundscape of Asia when he got a hold of me over e-mail. Being bilingual with Mandarin as his first language, the Vancouver-based musician has a unique advantage in being able to relate to the music scenes on both sides of the Pacific. Most specifically with the growing scene in Beijing, which is currently following in the footsteps of New York's golden punk era, with influences including the Velvet Underground, Sonic Youth and Television. In the online interview, Hungtai explained that playing shows in China is essentially the same as elsewhere, but there are a few significant differences.
"The post show reception [in Beijing] was vastly different in comparison," he wrote. "Kids came up to me and were incredibly friendly and were very hospitable and just pleasant in general. The crowds never get too rowdy, you eat [a hundred] times better in Asia, and I always gain [five to ten pounds] on my visits due to overeating. None of that gas station shit that we eat on tour in North America."
Despite its inferior selection of food, North America was where Dirty Beaches cut his teeth. Following pit stops in Hawaii, San Francisco and Toronto—not to mention an abandoned real estate career in Shanghai—Hungtai started the solo project after moving out to Montreal in 2005. He eventually made his way over to East Vancouver in the fall of 2009. Over the past six years he's released over a dozen 7-inches, EPs and tapes through various independent labels, developing his sound through his constant experimentation. The result: grainy, nostalgic loops that provide the backdrop for Hungtai's crooning baritone, which conjures up a ghostly, burned-out Elvis as much as it does the low, soulful moans of Suicide's Alan Vega. "Lord Knows Best," a haunting ballad from his upcoming album, Badlands, features tastefully gritty, lo-fi production values as a slinking, doo wop piano loop crackles in the background.
I asked Hungtai to explain how he developed his strikingly analog sound. Though Dirty Beaches began recording material onto his computer, he soon found that modern technology didn't offer him the sound he strove for.
"I recorded my first two releases for [Montreal imprint] Fixture Records on GarageBand," he explains of his early, digitized recording sessions. "It was really painful and really hard for me to use as it felt counter intuitive for someone from the pager generation."
His initial attempts at playing live shows using an iPod, and later, a tape recorder, as a backing track also proved to be unsatisfying. Soon after investing in some unconventional equipment, Hungtai began redefining his sound.
"I threw all that out of the window and picked up a shoebox tape recorder for $20 at a Jewish camera store on Parc Ave. in Montreal close to where I lived and started recording more experimental works that were based on live takes," the musician writes, re-telling the history of the project's unique development.
"From there I became obsessed with live recordings, as it helped me capture what was missing from the multi-track sessions. I was looking for a certain grit and immediacy that told [of] the recording artists' environment, yet [something] powerful and soulful like some of those old recordings I've admired for so long (Sun Records Studio, Studio One in Jamaica, etc.)." An admirer of the trademark sound of the studios that brought us Johnny Cash, B.B. King, Howlin' Wolf and countless others, Hungtai confesses, "I think of my recordings as a budget imitation of those studios."
Along with echoes of classic recordings, Dirty Beaches' sound bears an omnipresent cinematic aspect. His tense atmospheres sound as though they could give life to Film Noir. Badlands cut "Speedway King," for instance, plays as if it could score scenes featuring a mysterious character wandering cities in their dead hours, or racing a motorcycle through an endless stream of glowing lights. Hungtai reveals that this isn't a coincidence.
"I think of my music like film," he explains. "The sound is your leading man, as it becomes the look and spirit of the picture. However, surface aesthetics can only take you so far. The characters must be fleshed out and the concept of the project cannot over rely on aesthetics alone as it will become stale, boring and unrelatable for the artist very quickly."
Hungtai cites Wong Kar-wai as his main cinematic influence. The brilliantly manic Hong Kong director is known for his stylistic films which focus on displaced and exiled characters. As a trans-Pacific nomad, Dirty Beaches finds this extremely relatable. "If I could score any of his films it would be a dream come true," he fantasizes.
Fittingly, on top of Hungtai's Dirty Beaches work, he's scored three independent productions and is currently trying to land a permanent job composing film scores in Vancouver. "If I could land that as my day job, that would be the best dream day job," he gushes.
Film endeavours aside, between his current tour dates with fellow lo-fi popsters the Dum Dum Girls, a showcase later this month at Austin, TX's South by Southwest festival and the release of the Badlands LP on March 29, the road ahead for Dirty Beaches promises to be plenty exciting.