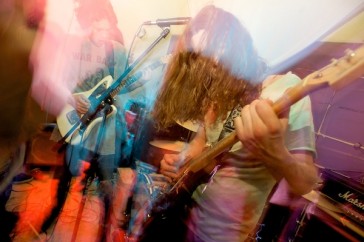 There's no better way to spend a Friday night than being packed in a room with your closest friends, cheap pale ales and some burgeoning local talent. This night was no exception, as I was in the back of a record store and stuck in the middle of a mosh-pit at the CD release party for New Westminster's psychedelic metal champions Black Wizard.
Getting the show off to an enjoyable, sweaty start was Seattle trio Wildildlife. Sounding like a heavier Animal Collective, Andy Crane, Matthew Rogers and Willy Nilz filled the small venue with lengthy passages of atmospheric sounds and 4:20 friendly boogie metal. The best part about up-and-coming acts is that they are generally friendly to their fans, and Wildildlife was no exception. After an energetic performance, the audience and the venue were thanked and Wildildlife stuck around for the rest of the festivities.
With the night half over, and my shirt already fully soaked from sweat, local boys Black Wizard pushed through the crowd and took to the stage. I have honestly never heard kids in their twenties tear it up like this in a long time. Black Wizard's awareness of each other makes their music sound tight and fluid, even in times of heavy thrashing. Vocalist Adam Grant's voice has such an impressive range. He's capable of grinding his vocal chords during choruses, but he also has an impressive falsetto when needed. Not everyone can sing metal well, but after listening to Grant's expertly controlled vibrato on "Waves," it was obvious that he sure as hell can.
The rest of the band are just as talented. Kyle Fee's bass lines kept up with the full-throttled guitars, while drummer Eugene Parkomenko slammed his kit as if it were his last chance to ever do so. Guitarist Johnny De Courcy's stunning lead work on "Drugs" proved that quality metal is not an oxymoron, and that it is still very alive and well in Vancouver.