Joe Buffalo is a pro skateboarder and actor from Maskwacis, Alberta (Samson Cree Nation). As a direct descendant to Pitikwahanapiwiyin (Poundmaker) his first pro model out with Colonialism Skateboards pays homage to the great leader, and their shared dedication to social justice.
Hi Joe, thank you for talking to me. I just saw you're launching a new project called Nations on social media. How did it come about?
Kristian Baseraba, a rad teacher, had started a program called "Exploring Colonialism, Creativity and Reconciliation through Skateboards" at Salisbury Composite High School. He asked me to speak to the kids and tell them about growing up in Alberta. They loved it and more schools approached me. But when I came back to Vancouver, I couldn't even open a newspaper without losing my cool. I was breaking off chunks of my energy, and taking in that of other troubled youth. So my friends Rose Archie — the backbone of the group — Adam George, Dustin and Tristan Henry and I founded Nations. It's a non-profit based out of Vancouver, and I'm truly stoked to be a part of a necessary movement like this.
What is your approach?
To teach native youth the fundamentals of skateboarding. Growing up on the reserve and being a residential school survivor, skateboarding was a vital tool to have. 
What about skateboarding had this power?
It taught me life skills and how to tolerate pain, it also kept me sane and out of trouble. The reward of trying a trick a thousand times all summer and finally nailing it. But being in the prairies and kind of isolated, I know how it feels to not have anybody to run to when you've accomplished something awesome. To be able to push that vibe onto the kids, and to show them that if you keep at it, the payoff is huge. Having that power feels pretty wicked! 
How was growing up in Maskwacis, Alberta?
It was really rough growing up on the reserve, the land under it was the richest in oil in Canada, so the government paid us off to extract our resources. It created all kinds of greed and violence. It's still a really strong, rich and powerful reserve. My people pre-contact never had a monetary system, so to be given large sums of money kinda messed [us] up, made for a rough environment. I'm still proud to be from there regardless of how bad the media makes it out to be. Also because I am fair — I'm not dark, I'm not white — I got it from my own people, calling me "dirty white boy" and all this. I had this sense of not knowing where I belonged. Back then, everyone who skateboarded was a total outcast and I was like, "Perfect, this is who I belong with, the guys who are getting made fun of and get bottles thrown at from moving cars. Yeah, I wanna roll with those guys."
What is the difference to other sports for you?
I started skateboarding because there were no coaches, no teammates and no rules. It's individualistic. Every skater has a whole different approach. I grew up playing competitive sports. I went to residential school because my whole family had gone there. I also went there because the hockey was the best and I was good at it. That's where the scouts would go I was told. I wanted to go to the NHL. So I had that drive and determination, but at the same time I didn't want the label of being a jock. I was a good hockey player, but then the skaters were like, "Ah you don't wanna be one of those guys." But that's me! I'm one of those guys! I didn't want to be labelled, but really, I was right in there. 
So you often find yourself in the middle?
Yeah, like mediating, which is okay, I don't mind it. It just sucks at the beginning, that's all.
Skateboarding seems to be the red line in your life. Sounds like a lot of the good came from it.
Obviously getting sponsored right away and traveling opened my eyes to a lot to what's going on with the skate world because we never had that out on the reserve. All this "Hey, I like your skateboarding, here's some free stuff." What? There's got to be a catch. But there was none, and it led to having even more support. I was skeptical because of the whole "team" feel but it turned out to be filled with so much love that I was proud to be a part of it! Big part of what I never had in hockey. I didn't think there was such a thing. Having sponsors felt like a dream for a kid fresh off the rez!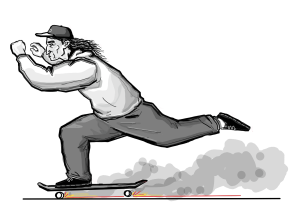 So you didn't get that kind of support from hockey?
I haven't played hockey to this day, because my dad blew it for me. Everytime it comes up he says, "I should've let you have fun, my son"! It didn't teach me anything. And just, the whole organized sports thing, having teammates and my dad coming down on me 'cause he was vicariously living through me. How good I was at it got outweighed by the seriousness. The ugly side of hockey. That was when I was of age to pull myself out of residential school. 
How old were you?
I was turning 15. Everybody was getting ready to go back to school, and I'm skating off to the side 'cause I knew that I had pulled myself out. My dad didn't know yet. "Joe's not registered? What?" — yeah, I got into shit. I probably got smacked, but it broke the cycle. Had I not taken the necessary steps to healing, I probably would have just self-terminated like they wanted me to. 'Cause that is what those schools were put in place for. Just another genocide, like smallpox, tuberculosis and wiping out the buffalo. I was taught to not trust anybody, and always have my guard up. Those schools were just designed to fucking make us fail, to kill the Indian. There's about a handful of people that came out of these schools and succeeded, and it's only because they took the steps to heal themselves. It took me a long time and I still have more healing to do! It's forever ingrained in me so…
What made you ready to heal?
It's because I cheated death so many times. I overdosed on heroin three times in one summer. On the surface you would be like, "Joe looks like the life of the party." But really deep down inside I was fucking miserable, man! It was a lot of unresolved childhood trauma that still lingered, and I was taking it out on the booze and the drugs. Toxicity still rears its ugly head every once in a while, but I know once I pass these tests, the creator will bless me with more gifts. Rock-bottoming was the best thing ever, because it made me fucking analyze my shit and all the hard times I've endured. As soon as I had this, I realized that I didn't need alcohol to function, ever again. I found strength I never even knew I had. That particular feeling is my new addiction. It's unexplainable!
You had many offers, but Colonialism Skateboards was the company that finally got you to go pro and put out "Pitikwahanapiwiyin (Poundmaker)," your pro model. What changed your mind?
It just seemed right. Micheal Langan, owner of Colonialism Skateboards, is using his platform to educate people on what really took place in Canada's dark history. My story matches all the stories he tells. I was going to put that board graphic [by Vince Dumoulin] out on a different board company, but it wouldn't have had the same impact as launching it with Colonialism. Speaking truths and educating the masses is the aim! Beautiful time to be alive!
What does that board mean to you?
A serious sense of accomplishment after all these years growing up skateboarding. I was presented with opportunities before, but I always thought I wasn't professional enough. Again, it stems back to these institutions, where you're constantly being told you ain't gonna be shit, don't bother trying. You hear that enough you eventually start believing it. So definitely having my name on a board, I can breathe now, and pass along good vibes, and show a strong message to indigenous youth; It's possible if you dream of it! Might have taken 35 years, haha, but it can happen!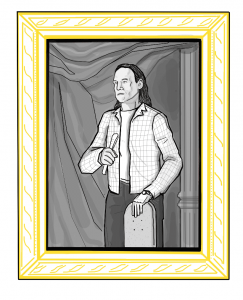 Is skateboarding a platform for activism for you?
I was born into this. Having a board, and being a part of a company like Colonialism, that's just an added bonus on top of it. I've always been educating people, and my mum plays a huge part in how I roll. She definitely instilled my morals and values in me. Sure, she'd be compassionate with you, but she wouldn't hesitate twice to stick up for herself and educate you either. 
What is she doing?
She served as the National President of the Native Women's Association of Canada from 1997 to 2000. Right now she is the Chief Executive Officer at Nechi Institute: Center for Indigenous Learning. Marilyn Buffalo, […] she has a 50-year history of activism and Indigenous policy development behind her, and just keeps on kicking ass and persevering. A truly badass single mother of six whose "make it happen" attitude is how I was raised! I'm so proud of her.
The acting started out kind of accidentally?
Back in late 2015, in Alberta. I was not doing so well, and I got contacted by a skateboard friend of mine, Liam Mitchell, who also made local skate videos. He was filming a music video for A Tribe Called Red and thought I would make a great fit skateboarding in it. Through this, I met short film director Kevan Funk and he was like, "I'm making my first feature film and I'm kind of stuck on casting the costar… it's about hockey and the dark side of it." Immediately my residential school hockey stories started coming out — it was sort of an audition that I didn't even know was going on. When my phone rang again in February, it was Kevan. He asked "Have you ever acted?" I said "no." He flew me in, and we shot in Prince George for 8 days. That film, Hello Destroyer, then went on to win all sorts of major awards — we killed it. I ended up getting nominated for a Leo in my first film ever. It has opened the door to so much for me, super fortunate and grateful.
What happened afterwards?
Other people were approaching me for work and I was like, what have I gotten myself into? At the same time I wasn't considered an "actor" because I wasn't properly trained. Back then I was on a street level — I was just starting to get myself together and giving it a go. It became obvious that I couldn't juggle my addictions and acting. It was a whole new world I had to learn — by sobering up, reaching out, getting training and actually doing the work. Of course, I can shoot from the hip, but to be able to harness that skill and unleash it, that's when you can truly call yourself an actor. I'm still new at this, so it's all pretty intimidating but I'm learning! 
There seems to be a family history here too?
My namesake is from my great grandfather, the late Joe Buffalo, who acted in "The Sheriff Of Fractured Jaw" in 1958 with Jayne Mansfield. So we both have an IMDb page, haha. My great-grand-uncle is late actor Gordon Tootoosis, so acting is in my blood. Acting chose me, so I'm gonna channel my energy, hard work, and focus into this and see what can come of it all. 
Next to a lot of filming, any other exciting plans coming up?
Colonialism Skateboards has plans of launching another board graphic of mine soon. And there's a fun skate video we're gonna be working on for Menu Skateshop. Aside from the COVID-19 pandemic, I had made some plans for Indigenous youth skateboard workshops this summer alongside Nations. As soon as the dust settles, we can move forward in helping provide for the youth. 
Big shout out to my mom Marilyn Buffalo, @Nationskateyouth, Vince Dumoulin, Micheal at Colonialism Skateboards, Syd and Teen at Menu Skateshop for being super supportive. Vans shoes, Sky Extracts and Michelle Pezel for being so awesome! Also to @Coastterrabc.    
Check out Pitikwahanapiwiyin (Poundmaker) here and follow Joe @therealjoedionbuffalo.