[Discorder had planned on sitting down with Jessica Johns, managing editor for Room magazine and programming director of Growing Room Literary Festival. Of course, in the wake of the pandemic, this brief needed to pivot. Facing the redirection head-on, I sat down with Jessica and fellow writer/programmers, Aimee Louw, Jillian Christmas and Serena Bhandar to talk post-cancellation thoughts, ideas, emotions, and liberations. That way, we could still orbit the ideas Room Literary Festival sparked, just in a way that makes sense for right now. ]
Tasha | Today at 12:39 PM
Hello everyone! First I want to say, thank you for meeting with me, especially under these funny circumstances — I have never used Discord to conduct something like this before. Coming to you all from my single-windowed living room, messing with my split ends in front of a computer screen. <3 
We're here to talk about Growing Room, the annual literary arts festival Room Magazine hosts, which was sadly cancelled as a cautionary measure in the COVID-19 outbreak. Was there anything particularly challenging, or even enlightening about this decision?
Jillian | Today at 12:47 PM
From the perspective of a programmer and artist, it was devastating to know how much work Jessica and her team put in, and how little would be seen. But honestly, there was something really important in the knowledge that care is always first and foremost. I think all of the writers really appreciated and acknowledged how impactful that was.
Jess | Today at 12:50 PM
It wasn't a hard decision to make in the sense that it was for the safety and care of the community; however, it was certainly difficult to do. This festival was a year in the making. It was made up of love, hours and hours of labour, and care from the festival staff, volunteers, and artists involved. So making the decision to not see it through is one that still hurts my heart. But the enormous amount of support we received from our artists, even though they were negatively affected as well, and from the community was amazing. It reminded me why we did all that work in the first place.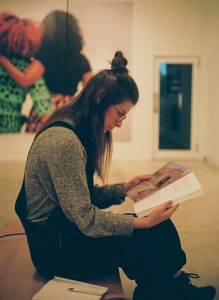 Jess | Today at 1:00 PM
I also think it's important to mention that I felt a lot of guilt afterwards. I felt guilty for feeling so, so, sad about something that was ultimately the right thing to do. But I had to learn that just because it is right, doesn't mean that the feeling of loss — grieving something so important — was negated.
Jillian | Today at 1:01 PM
Ooof, that's so true. Grief was the feeling for sure. I think paying attention to that, and honoring when it shows up is really important.
Serena | Today at 1:03 PM
I also had a poetry residency at the Banff Centre get cancelled soon after the festival, and I felt a lot of grief for that too. In general, I know a lot of artists and creators are grieving what we've lost while trying to celebrate what we've gained through these challenging times.
Aimee [transcribed from voice chat] 12:55 PM:
I would agree [there is a] potential gain. It would be great to maintain the attention, and energy in web collaborations after quarantine ends. Not in the context of Room specifically, but just in general, to make sure that we remember that this is a helpful way of connecting across distance and different access needs.
Jess | Today at 1:10 PM
Yeah, I agree Aimee. I also think there's a critical lens to apply to this method of gathering as well. Because, as with any gathering space, we still need to think about equitable access, and what safety measures mean in this method.
Jillian | Today at 1:11 PM
That is such an important point. I think one big thing that this highlighted for me, is how infrequently this type of access is offered. I really hope that people continue to be creative about connection beyond quarantine. Feeling very grateful to Room folk for directing their focus toward that. It's exciting. We're at a turning point and people are paying attention. It's really promising that Room is putting energy towards that. 
Tasha | Today at 1:17 PM
Jillian, you were on the panel "Radiant Flesh: Black Femme Writing & The Body," which discussed this idea of "embodied memory". To stay on this interesting divergent in the conversation, how has embodied memory adapted since our retreat from physical gathering spaces?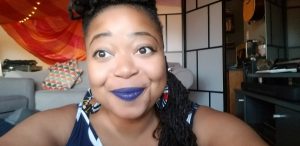 Jillian | Today at 1:20 PM
Unfortunately, that panel did not go forward, […] as for how my engagement in the digital space has adapted, bringing my work into an embodied place is fundamental to my practice as a spoken word performer and sometimes clown. I've been trying to find ways to utilize the online space to deliver pieces of that show, and I feel lucky to have access to my tools here in my little East Van apartment […] Trying to find new ways to bring voice to these pieces without the connection of being in shared space. I've had some troll action in zoom, not nice, [but] I'm preparing all my readings with troll responses, lol. All my poems with teeth are ready. Just in case.
Tasha | Today at 1:29 PM
Yeah, it's a challenge to adapt your practice to a new medium, but it repositions us almost necessarily (we should be so lucky to have more poetry with teeth). I'm thinking about Aimee, being a moderator in the "Accessing Ourselves: Crip Poetrics and Writing Our Desire" workshop. It came with the lovely assertion: "witness our origin stories, our fire, the shit we can't say on the city bus or at the doctor's office that we long to say to ourselves, or each other" which I found so striking. Stories affect how we see our lives. What we consume, or create — and representation is at the kernel of all of this. Can you comment on how this practice, this advocacy, has been impacted?
Aimee | [transcribed from voice chat] Today at 1:41 PM
Representation is important when I think of people that I want to speak to — but it's almost more fundamental than that. A lot of my writing is about actually creating possibilities for the people that I love, and imagining new ways of being together. I got my start online, blogging. So in a way it feels like a bit of a return. It doesn't seem foreign to me, returning to online spaces more. But I miss contact, for sure, I miss gathering in person. 
Tasha | Today at 1:49 PM
Serena, you were involved in "A Scale Not Merely Human", the panel which had the description, "Speculative poetry borrows techniques from fiction, using storytelling's narrative, character, and plot while still eating language alive." Can you elaborate on the capacity of speculative poetry to bend to, or benefit from, this adaptive moment?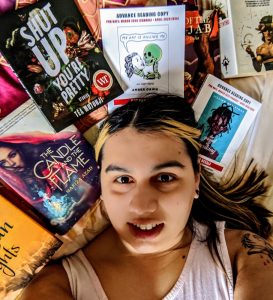 Serena | Today at 1:52 PM
Totally. […] I have a strong background in fantasy writing — it's really where I got my start as a writer growing up. The way I approach fantasy is the same way I approach speculative poetry — the story, at its core, must tell something true. I'm currently working on a book of poetry and lyric prose adapted from a Punjabi folktale […] and the truth of that story, and my reinvention of it, comes from the parallels it bears to my own life and the experiences of trans women of colour like myself. So, in fact, I see speculative poetry not reimagining bodies so much as I see it affirming knowledge and truths that we have always known.
When my residency got cancelled, I had the temptation to just finish the book during social distancing and self-publish it online. While that idea was a bit too big, I am really grateful for the lessons I've learned from this transition. That we need to prioritize self and community care […] This crisis has illuminated all the diverse ways we can be reaching more audiences — particularly underserved ones — beyond the end of social distancing. I'm excited to see how we can move forward with these panels, and our own creative projects, through this. 
Aimee | [transcribed from voice chat] Today at 2:00 PM
I'm glad to hear that you also think [we] should focus on being ok first. Because I've heard a lot of people say this is the "perfect residency". If that's true for people, great! — and I'm not judging that — But I'm also aware it may be hard to concentrate while things are so uncertain. And, you know, creating something isn't just about having a few available weeks. It's about being in the right mindframe. Having the right energetic resources, and being able to balance in writing. Like, for me, I swim a lot. Not having that, […] I don't have the same balance, and it takes a different type of focus to center myself. 
Serena | [transcribed from voice chat] Today at 2:05 PM
I really appreciate you adding that. So much of my writing style — my ability to write — is based on my ability to connect with my community. So the fact that we have all this alone time is actually counterproductive, in a way, because so much of my writing is based on my communal relations, which I can't really engage with in the same way.
Jess | Today at 2:28 PM
One of the main things I kept coming back to was wanting to honour storytelling in its many different forms, not just the written "literary" form. […] Because storytelling surpasses writing, historically and personally. This meant working collaboratively with many different people […] Making this thing, and saying goodbye to it, has made very apparent the ways in which we do adapt for survival. It didn't feel right to me that this festival, this thing that so many people put SO much into, would just be cast aside. […] So while we first, of course, thought of moving everything online, we realized very quickly we just didn't have the resources, background, or support, for that. I also had to shake off this idea to react instantly. […] I realized moving with care and intention meant moving slowly. So we've been sitting on it for a few weeks, and we think we want to instead have the festival and its artists come together as a special edition of Room magazine (also surprise Serena and Aimee because you don't know this yet lol). We haven't announced this yet, though we will be soon.
So that's a long ass way of saying that it has made apparent that the worlds we want to see don't die because they don't form in the way we originally imagined. We just have to reimagine them differently, and that people have really surprised me in their ability to do this in light of everything that's happened.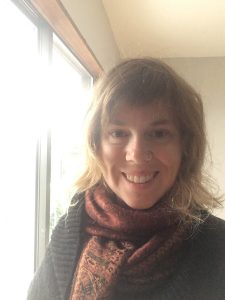 Tasha | Today at 2:35 PM
Friends, I have two last questions for everyone. They're somewhat parallel, so I'm going to drop them at the same time. What has been the most important thought you've been carrying around with you this week? And/or, what have you let go of recently that you no longer needed?
Aimee | Today at 2:37 PM
For me, I've been trying to actively let go of shame around resting/being witnessed when resting.
Serena | Today at 2:38 PM
Taking this time to slow down and reconnect rather than speed up. I said previously that I feel like a coiled spring, and while that is true, I think there are ways to relieve that tension, through small projects and conversations like these, so that I don't explode at the end of this, haha.
Jess | Today at 2:41 PM
For some reason when I read the second question, I got really emotional. That's a really important and tender question. I feel like I've let go […] of the idea that I need to care for others before myself. I have grappled with this a lot (which my therapist knows): I have always thought my worth to be in what I can do, rather than just who I am. But I feel this time of isolation has made me really have to look at my own needs first, and that's been a really unexpected gift.
Tasha | Today at 2:43 PM
Couldn't agree more with everything that's been said! I feel like I ask this question a lot in order to figure it out for myself — so it's a little selfish of me, but i'm happy it can bring some insight. Thank you everyone for making the most of all of this!
Jess [transcribed from voice chat] Today at 2:43 PM
I just wanted to say I really appreciate this conversation, and for the idea around this [interview]. It is really great, and is really important to me — which I didn't realize at first. This whole festival was so collaborative, and all three of the participants in this interview were so integral to the creation of it, so it's really important that this was a collaborative conversation, and I want to thank you for that.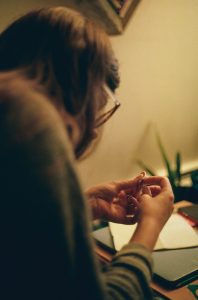 <3