Front stage at the Rickshaw, I stood casually leaning on the barricade, curious about the openers. Nonchalant, they strode out, flipped their amps from standy-by mode to ON. A swell of feedback. Drum sticks counted it in. Immediately, my entire being perked up. Punitive Damage plays punk like a chainsaw fighting a barbed wire-wrapped baseball bat. Loud, fast, and pummelling. I was struck by the precision of the rhythm section, the ferociousness of the vocals, and the power of a violent riff to deliver just the right amount of catchiness. The songs are short, to the point, and pack more hooks than a tackle box. It's intimidating being the first band on a stacked bill of Canadian heavy weights (Cancer Bats, Comeback Kid, and Misery Signals) but PD made it look easy. 
They've seen some members come and go, but currently PD is Alex on drums, Kristin on Bass, TJ and Czecho on guitars, and Steph Jerkova on vocals. I caught up with TJ, Czecho, and Jerkova over zoom, as they're scattered across cities and countries until they reconvene for their trademark mayhem.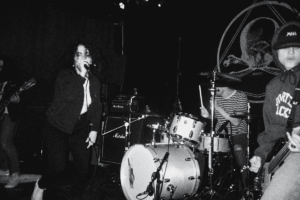 PD started as a different band, which dissolved, but the songs were too good to ignore. "Those recordings haunted us", says Jerkova. While on tour with Daggermouth, Czecho showed Kenny Lush (currently on tour with Rest Easy) the songs. "Why aren't you doing THIS?!" recounts Czecho. "Musicians are rarely in just one project, so we just pulled from our pool and got the ball rolling" explains Jerkova. PD played their first show in 2019, shortly after they released their demo. Since then they've put out two EP's and have an LP on the way. Czecho laughs and says; "Having written an LP feels like a huge accomplishment as a hardcore band. Most bands barely get past their first show." With way more than their first show under their belt, PD wrote their upcoming LP from across multiple cities. "We were sending voice memos of us humming riff ideas back and forth — shit like that. Czecho is the riff factory, really,,  explains Jerkova. "I definitely have an idea of how the songs should be, which often gets challenged," says Czecho as his bandmates giggle. "It's pretty collaborative. I generally bring the main meal to the table, and then these folks season the hell out of it. But on this LP, everyone has at least one song." Jerkova writes the majority of the lyrics, while keeping it open to collaboration with her bandmates. "I feel as though I'm given an opportunity to write about things that burn in my mind, that frustrate me, that I see around me that I can't fucking stand, this really becomes a cathartic release. It's how I take the heavy load off." The lyrics are direct, to the point, and punk as hell. Case-in-point, on "Red Serge" Jerkova shrieks; 'I won't smile with your boot on my neck / Threat after threat / You demand my respect.'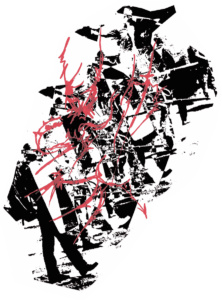 After two years of social distancing and missing human contact, collectively the hardcore scene is ready to unload. TJ elaborates, "I was so used to playing for maybe 30 people a night, but lately we've been playing to 300 people down in Seattle. In Vancouver, shows are selling out before the opener even goes on stage! That would never have happened before the pandemic."
"Guitar-driven music is resurgent. You've got bands like Turnstile and Scowl really blowing up. I wasn't old enough to experience when bands like Green Day broke into the mainstream in the 90's, but it really feels like we're on the cusp of that again now. I'm really just excited to be a part of the noise." Says Czecho. Riffing off that, Jerkova chimes in with; "We're getting a really cool mix of genres in hardcore. People are really allowing themselves to be themselves, doing things that are true to them, and beyond what we usually see. It allows more people to get involved — and that's fucking cool. It's way less boring, I love punk and hardcore, but there was a mould. It's great to see that mould get broken. This is arguably the coolest hardcore has ever been." I couldn't agree more. 
Bands like Punitive Damage prove that punk isn't dead — it's just sick of your shit. Sick of the old uniforms, sick of the old moulds, and trends, and rigid thinking that has plagued punk and hardcore since the inception. Sometimes there is a shift, and we're all witnessing it. Make no mistake; this is a band to watch.  
Punitive Damage's first LP will be out this summer on Atomic Action. Catch them on tour along the west coast, and beyond later in the year.