OPENING
The scene opens onto a studio. Jack and Cam sit at the mixing table, murmuring enthusiastically. Zach and Avery are on the sofa, and Ethan is practicing his guitar in the recording room.
[Audience Cheers]
JACK (excitedly): I think we got it, folks. It took a solid two days, but I think it's our best one yet.
"Without You Around" starts playing. The drums start it off, and the synth melody soon joins in. Finally, Jack's mellow, slightly nasal voice overlays the music with the song's cathartic, empowering lyrics. The band listens as the final notes fade out. 
Zach is the first to break the silence.
ZACH: I can honestly say the bass was the best part.
[Audience Laughs]
AVERY (rolling her eyes): Yeah, because I worked on it.
[Audience ooohs]
CAM: Ok, ok, settle down. I can't believe it's finally done though!!
ETHAN: Yeah, now we need to think about the music video now. We need to make sure it's spect-ah-cular
[Audience Laughs]
JACK: Uh…Do you mean spectacular>
ETHAN: Yeah, that's what I said. Spect-ah-cular
[Audience Goes Wild]
Jack, Avery, Zach, and Cam burst into an argument. Ethan looks stubborn.
CAM: Okay, I give up. We gotta think ahead. When do we record the video?
AVERY (opening up her laptop): I can call Raunie and brainstorm ideas. I think she said something about freestyling dancers?
SCENE ENDS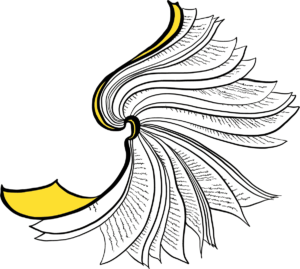 There's a certain charm about Bookclub I couldn't quite put my finger on until a few hours after my interview with them. I realized it's the same charm that made Seinfeld, or Friends, or any other 90's sitcom with its indulgent laugh track and cheesy-yet-ultimately-wholesome philosophy so popular. Bookclub, as a band, reminds you of a sitcom. It's filled with likeable, funny people, sharing likeable, funny moments. They seem to have misunderstandings, and they seem to have heartbreak, but there is always an underlying sense of camaraderie. A sense of optimism. You know that at the end of the day, they're going to be just fine. 
Bookclub channels this 90's-sitcom energy into their music as well. Their music has a dewy, nostalgic feel to them, and Jack Williams, the songwriter of the group, credits this to his generous use of synth-pop beats as a consistent undertone. Bookclub, their self-titled debut song, is very nostalgic, perhaps sad, presenting an almost passive rumination of life, of being dissatisfied but not knowing why. With jangly guitar riffs courtesy of Jack Williams and Cameron Blake, the song may sound upbeat — but it also clearly indicates this discontent.
"Daylight Savings", the duet by Cameron Blake and former bandmate, Siobhan Lawson, has similar lines to that in Bookclub, but seems to be more escapist. One can close their eyes and this song will take them to a similar memory of their own. The song, as Cam and Jack describe it, was written to release anger and frustration, and a certain sense of that release seeps into the music. What's perhaps most charming about the song, though, is that Cameron was high while writing it — which is maybe why he calls it 'psychedelic synth pop'.
"Without You Around" is their most recently released song, and it is clear that this is the song they are most proud of. And one can understand why. It almost sounds like a sadder, more reminiscent version of Blinding Lights by The Weeknd. The synth melody recalls 80s disco, and the lyrics are telling of a newfound sense of direction. With this song, Bookclub establishes that they are more than capable of delivering, but can keep the lyrics authentic and true to themselves.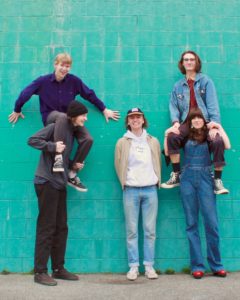 Their music videos are genius as well, completely in keeping with the vibe they want to portray. Shot purposely low resolution, with a mockumentary-level expertise of camera-panning and capturing expressions, and the videos fit the music perfectly, while also catering to a larger idea, a higher level of creative self-expression. The band was effusive with their praise to director Raunie Mae Baker, and bassist Zach Wismer explained to me that she was their first legitimate connection in Vancouver's bustling music scene.
I was curious about their exceedingly comfortable dynamic. The simple reason being: they've had practice. Originating from their school's rock band club, they're all used to being part of a band — even Avery Johnson, the keyboard player, has integrated herself into the group easily, despite having a separate origin story. They're constantly cracking jokes and making fun of each other, and I am included in these jokes, a surprising but welcome change of pace for me. All of them are head-strong, decisive musicians. For people so young, they seem to be impressively sure of what they want to do in life. And this is the second reason they work so well together — each of them is committed, and it seems like they know the ramifications of the life they've chosen. I asked them when they knew that this is what they wanted to do as a career, and what made them sure that it would support their lifestyle, and the only answer they could provide me with was hysterical laughter.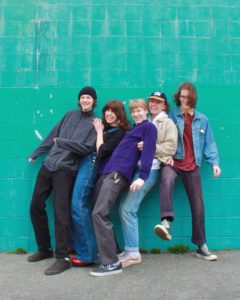 If you enjoy bands like Wallows, Mild High Club, and MGMT, there's a pretty good chance you'll love Bookclub. They're indie pop with a twist — alternative with a side of whimsy. The simple melodies, coupled with the synth-pop beats and nostalgic lyrics to match, creates a masterpiece even Mac DeMarco would be proud of.  They've said they have new songs in the works, and are going to be releasing them in the next few months. I'm excited to see what they come up with next.
This is what is unique about Bookclub: their music offers you a comfort a lot of people rarely get in real-life. It offers you true, raw friendship, the kind that will be with you to pop open a bottle of champagne for your smallest victories, the kind that will get mad at you because they miss you, the kind that – perhaps rarest of all – is not going to get buried under misunderstandings. It's the type of companionship Corey and Shawn shared on Boy Meets World, and I think most people will agree when I say that was one of the most pure relationships ever portrayed on television.
Bookclub's music certainly speaks to deeper themes of nihilism and depression. This can largely be credited to their melancholic – or at the very least – reflective lyrics, and of course, their interaction with their audience. Of course, Bookclub is not a neatly packaged sitcom, where all their conflicts can be resolved in twenty-two minutes.  But in the shitshow that life can be, it's nice to imagine them as a talented bunch of artists going through zany misadventures, with music to match.