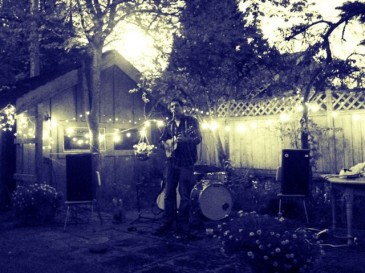 An accidental double booking at Café Deux Soleils led Princeton, B.C.'s singer/songwriter, Pat LePoidevin, to an unexpected new location: a reincarnation-themed birthday party at a house in the heart of Kitsilano.
For such a quaint and low key location, you wouldn't expect much from the acoustics. However, when LePoidevin and drummer Matthew Sarty started playing, it became apparent that the tiny backyard, complete with people in random animal costumes and soft dangling lights, complimented LePoidevin's blend of Celtic sounds and indie-folk, far better than any actual enclosed venue. LePoidevin's husky, Bon Iver-esque vocals resonated throughout the entire yard, impressing even the neighbours, whom applauded politely after each song.
The most captivating moments are when it is just LePoidevin and his ukulele, and watching him gradually build a layered backtrack with a loop pedal. The beautiful song "You Know Your War," displays LePoidevin's talent for effectively looping his vocals, into an ethereal and dreamy three-part vocal harmony.
The set ended with "The Moonwolf Departure." The foot-stomping track loosened everyone up and when the guests in costume started twirling and swaying, I felt like I had been transported to some whimsical renaissance fair. The crowd immediately demanded an encore and by encore I actually mean, we demanded that he play the same song again. He happily complied.
Like a true rock star, LePoidevin stepped into the crowd, and got everyone bouncing and singing along. I found myself in the midst of a dance circle, consisting of LePoidevin himself, and people dressed as an owl and an arbutus tree. It was then I realized this show, was something special.