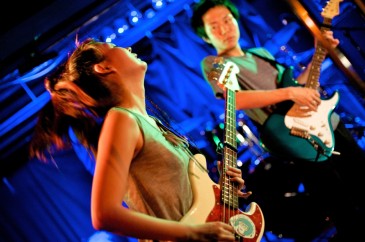 Promoter Steve Tanaka is the brain behind Next Music from Tokyo Vol. 1. His love of Japanese indie music lead him to bring five bands to Canada that most of us would have never heard about, let alone get the opportunity to see live.
Kulu Kulu Garden kicked things off. Sounding like a revved-up Sonic Youth, their pop-rock was infectious. Singer Kotone Miyahara was so endearing and, for lack of a better word, happy, it was impossible not to get caught in their freak out of a show.
Goomi were up next. Royogo Kobata's violin playing was inspiring and a beautiful accompaniment to their pretty harmonies. Gentle but never submissive, these two girls and one guy delivered a rapturous set.
Owarikara. Were they ever loud. Their music came at the audience like a wall of sound. Showing they have listened to a few Jimi Hendrix records in their time, the guitar playing was incendiary. They played like demons and had the best example of 'extreme' keyboard playing ever and even threw in a few choice moves by playing guitars behind their heads. Awesome.
Mothercoat were pure pop-perfection and the highlight of the night. This is a band to really get excited about. They belted the crap out of their instruments and put on a hell of a show.
Andymori were the last to take the stage. Pop-rock, that was simple but effective, they were the least impressive of the group. However, given how high the bar was set by the previous bands, they have nothing to be ashamed of. Sushi between sets and the occasional t-shirt give away made this gig feel like a real treat. Seriously, when was the last you went to a gig and they fed you? Free food aside, is it to early to call it one of the best gigs of the year?
This was fantastic opportunity to see some really amazing musicians. Tanaka is considering putting the event on again later in the year so hopefully this is the start of a semi-annual event.