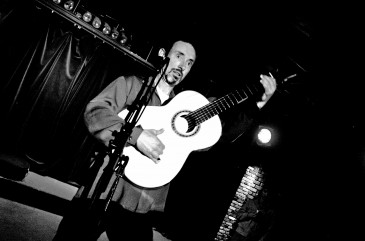 Despite a desire among local artists to open for Mr. Richman, there would be no opener. The former Modern Lovers' frontman would be performing with only his drummer Tommy Larkins. Still skinny, scruffy and irascible, Richman performed tracks from across his catalogue including such memorable songs as: "That Summer Feeling," "Pablo Picasso" and "I Was Dancing In The Lesbian Bar." Richman commanded the stage with his presence and flipped back and forth between fun, raucous numbers and softer songs. In fact his ability to keep the audience's attention was so mesmerizing that the Biltmore reached new levels of quiet.
"I've never heard anyone play so quiet before," commented Richard Sexton, who plays saxophone in Role Mach and Bleating Hearts, after Richman had finished a particularly hushed number to a rapt audience.
Richman's roots may be in the rock and punk of Boston in the late '60s and early '70s, but his music has developed a European flair to it. His guitar playing has developed the classical guitar sounds of Spain and Italy and occasionally his singing would lapse into Italian or possibly Spanish or French, my ear for Romance languages is far from perfect.
Richman sang his songs with a jokey, charming attitude that was punctuated by calling out what was about to happen in the song, as he said midsong towards the end of his set "I'm pointing out to you what's happening" in between singing out "Guitar!," "Chorus!" and "Tommy!" This last one he said before his drummer Tommy Larkin would bust into a solo. Larkin, Richman's only backing, is a very talented drummer. He is capable of effortlessly filling any gaps in the music and backing Richman's various songstylings.
Though it would have been nice to hear some more of Richman's hits—"Roadrunner" was particularly missed and was an ignored request—an artist with such a winning stage presence and diverse catalogue can be forgiven a lot. Well worth seeing if he breezes through town again.