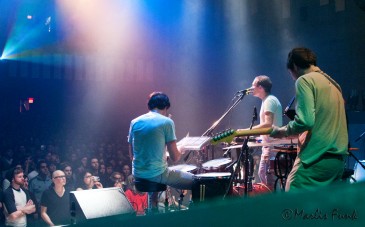 The first time I saw Toro Y Moi (a solo Chaz Bundick opening for Islands) it was awash with rocking disorienting level changes that make you feel like maybe you are losing your hearing prematurely or need to shake some water out of your ear. This time around, the full band was there to flush out the sound—I don't know if it's the way sound travels in the Rickshaw, or if it was just a function of having a guitarist and drummer, but the effect created was less engaging—a bit more chill. I did really get mesmerized by their projection: beach scenes and boogie boards in forward and reverse. Thematically relevant both for Toro Y Moi's association with the beachy keen chillwave sound, and to whet the palette for Caribou's set.
By the time Caribou hit the stage, the Rickshaw was packed and I was glad I had a spot right in front of the first row of theatre chairs, limiting the radius of close, sweaty bodies. Dan Snaith mostly played songs from Swim ("Sun," "Leave House," and "Odessa," notably), peppering in a couple I recognized from Andorra and The Milk of Human Kindness. The opening of "Odessa" got people hopping, me included, but the audience was more into the sway-back-and-forth-a-bit style of showgoing.
I was wondering how Swim's clubby, dancey, pop-infused electronic music was going to translate from the album to a live show, and it turned out to be one of the most engaging parts of the night. My highlight was probably the mid-set "Bowls," a percussive track that I fell in love while watching it come together onstage. Snaith and the three members of his touring band were set up as if they were about to start playing a game of foursquare—the percussion-heavy songs had Snaith and the other drummer facing each other in front of hypnotic projections and a strobe light, which created a symmetrical, kaleidoscope-like effect. The only thing I could've done without was the fog machine (which Snaith likened to burning toast). Overall, though, the night was great—it totally sated my current obsession with all things Swim.