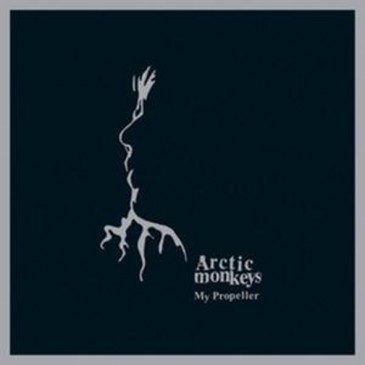 Listen to My Propeller
The third single to follow up last year's full-length album Humbug, My Propeller solidifies the band's departure from its faster, more furious roots. Gone are the days of upbeat, angular party songs about scummy men. Instead, the Arctic Monkeys have crafted a croony collection of melancholic commentary on shitty bars, wasted evenings and arguably frontman Alex Turner's penis. [Ed.note: Hilarious!](Renowned for his cunning wit and attention to detail, the title track's lyrics "My propeller won't spin/And I can't get it started on my own/When are you arriving?" seem concerningly straightforward.) 
Sure, the driving beats, skillful riffs and detail-driven poetics that first caused an indie media ruckus in 2005 still make valuable contributions. However, again with the help of Queens of the Stone Age producer Josh Homme, the tempo is decidedly slower, and the atmosphere more brooding.
B-side "Join the Dots" is the EP's catchiest effort, even if the riff sounds as though it was nicked from Nirvana's "About a Girl." Syncopated rhythms and chilling electric organ lines on "The Afternoon's Hat" draw memories to a bygone era when psychedelic drug references were in vogue, and Jim Morrison was still alive. Vocals on "Don't Forget Whose Legs You're On" are reduced to an overdramatic whisper.
While respectably venturing into unexplored territory, one can't help but crave the guts and grit that first made the band popular. But for die-hard fans of the Sheffield boys, My Propeller is certainly worth a spin.